Potato Pizza with Onions, Fresh Rosemary, Olive Oil, Sea Salt
April in New York. Cool grey days of drizzle and rain showers, interspersed with gloriously sunshiny warm days when all seems right with the world. New Yorkers celebrate – sidewalk restaurants and cafes fill with people soaking in the sunshine, there are impromptu get togethers in the parks, people are out everywhere rejoicing in being able to be outside after the months of hibernation. It's one of my favorite times of the year. Life is peeking out of the earth, the birds are all excited in their bright shiny new feathers, the neighborhood tree-lined streets are sheathed in gorgeous white and pink blossoms. And everywhere you look, there seem to be daffodils. And I'm reminded of the William Wordsworth poem from my childhood, which probably every schoolchild was forced to learn, which I quite like now to be honest, for the lovely imagery of nature it conjures:
…I saw a crowd,
A host, of golden daffodils;
Beside the lake, beneath the trees,
Fluttering and dancing in the breeze.

…Ten thousand saw I at a glance,
Tossing their heads in sprightly dance.
These golden yellow daffodils inspired me to make one of my favorite food items, potato pizza. I know, it sounds odd – daffodils, poetry, and… potato pizza? The brain works in mysterious ways. Anyway… The freshly baked warm thin crunchy bread, coated with delicate layers of pale golden yellow potato slices and onions crisping and curling at the edges, drizzled with olive oil, sea salt and fresh green rosemary – is so simple and comforting, light and just right. It's rustic elegance.
I'd discovered potato pizza soon after I moved to New York. Until then I'd never conceived that something like it could exist. I remember I was at a party at one of my friend's places. I was in grad school, had just arrived in NYC a few months before that, after spending my undergrad years in the Boston area. My friend was chic and stylish, and we had hit it off as soon as we met. She had gotten food from a place called Sullivan Street Bakery, and one of the items was potato pizza. One bite of it and I was in heaven. How was it that no one had ever thought of it?
After some years of addictively eating Sullivan Street Bakery's pizza (which was conveniently located in Soho, a few blocks from my apartment), I discovered that this kind of a simple light pizza was apparently common in northern Italy, in Rome. It's just that no one in the U.S. seemed to be making it, other than Sullivan Street Bakery.
A few years ago, I decided to try to make it myself. It was pretty simple looking, it couldn't be that hard. Initially, I used to buy frozen pizza dough from the store, and it turned out quite tasty actually. Since then, once I started baking my own bread, I've been making the pizza dough from scratch. So much tastier, and super easy. Enormously satisfying too, to watch the dough rise and double in size, to knead and stretch and pull the dough.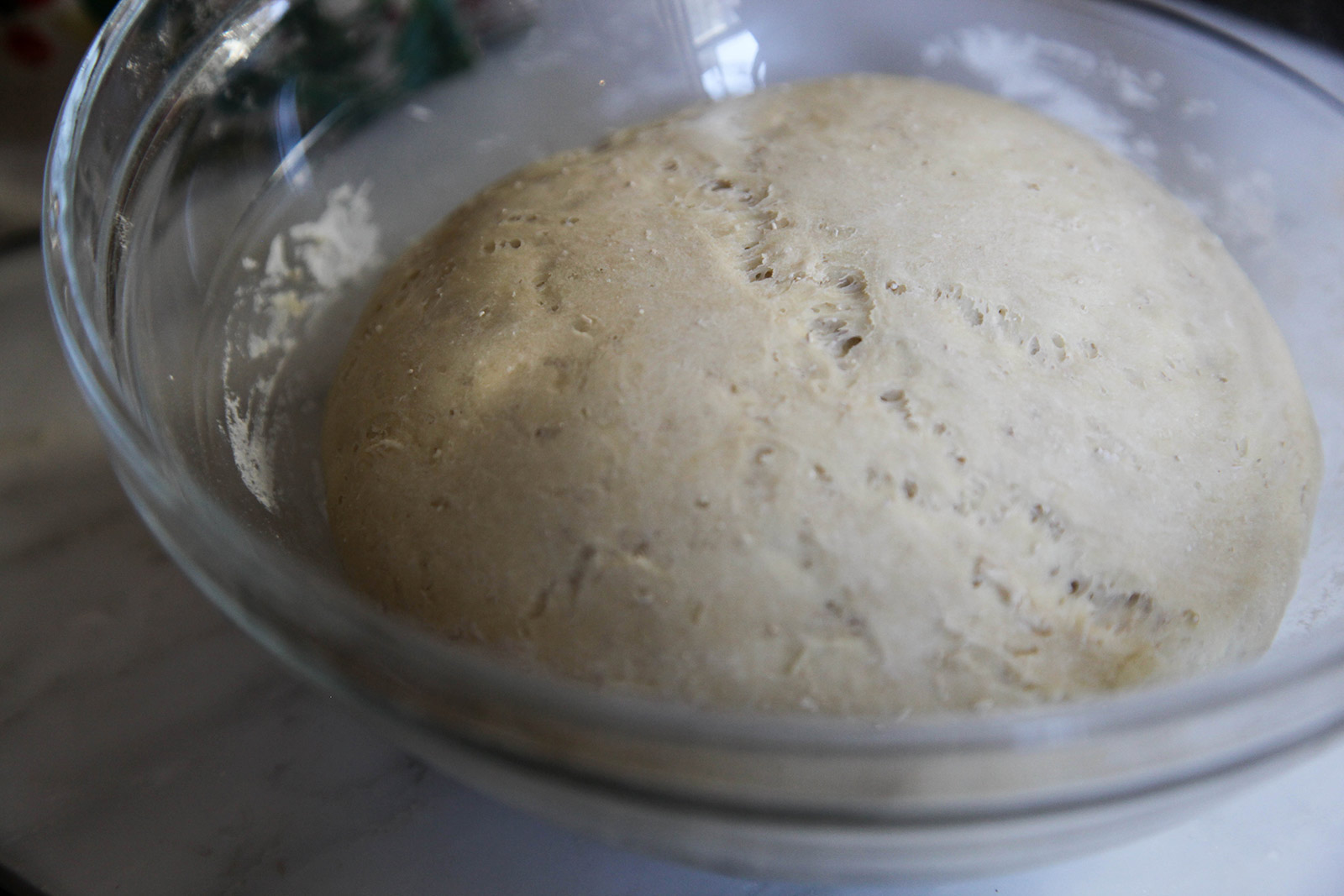 This recipe, inspired by Sullivan Street Bakery's pizza, is very simple. You have to plan ahead a little bit, allow a couple of hours for the dough to rise before you can bake the pizza. But while the dough is rising, you can go around doing whatever you need to or want to with your day. So I spent 5 minutes preparing the dough, let it sit and rise. I then sliced the potatoes, submerged them in water so they would stay that beautiful yellow color (and not turn red); also soaking the potato slices in salted water helps soften them. Then I went for a run.
When I came back, the dough had risen; all I had to do was stretch out the dough (which is actually a fun process), assemble the potato and toppings, and stick it in the oven. It was all ready when I got out of the shower. The potato, thin crust dough, onion and rosemary smelled heavenly, and the pizza looked really good too! And it tasted fantastic. We had it with chilled white wine (albariño is perfect with it). I like munching on the leftovers the next day. While it's delicious straight out of the oven, it addictive at room temperature too (in fact, that's how they serve it at Dean & Deluca's in Soho).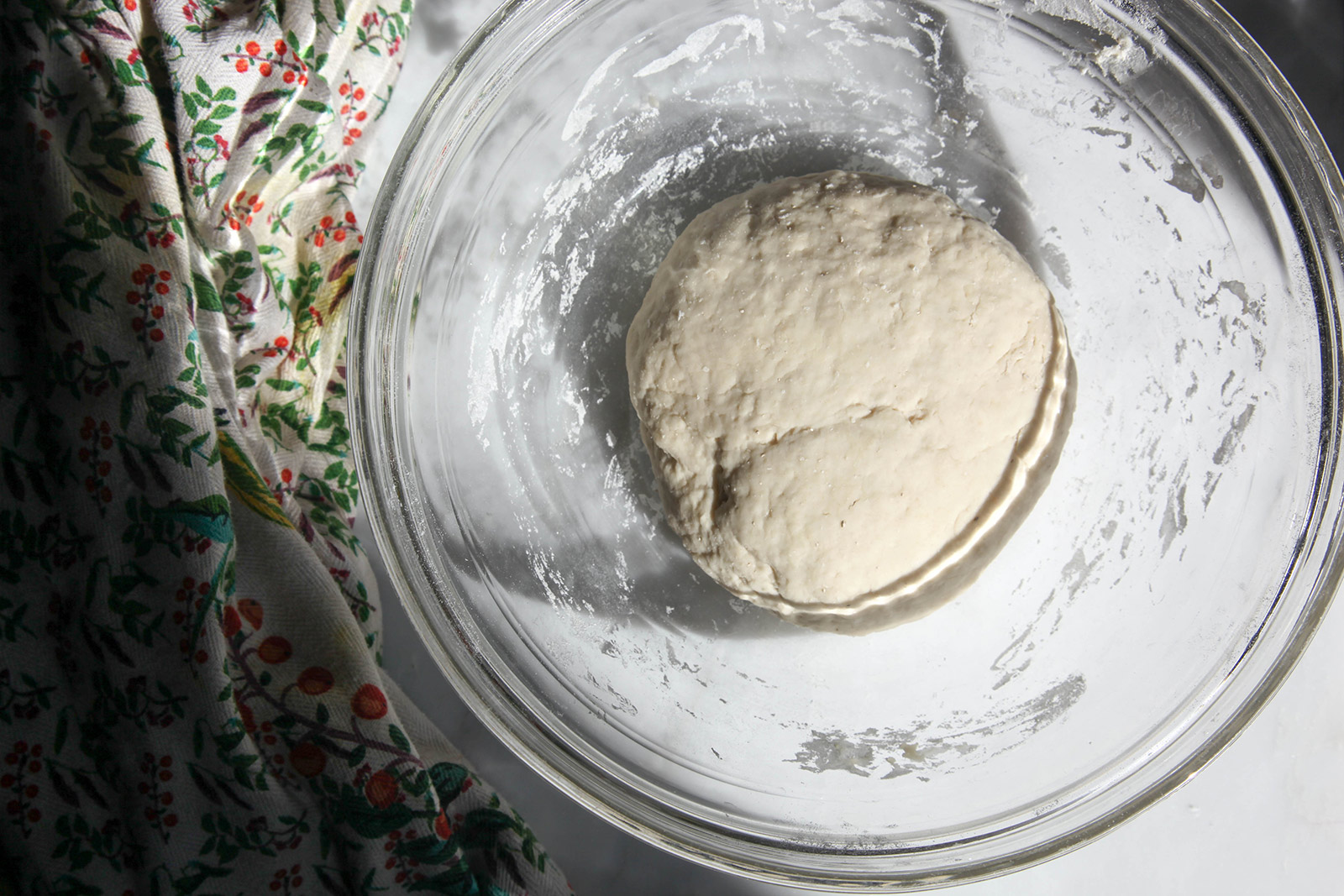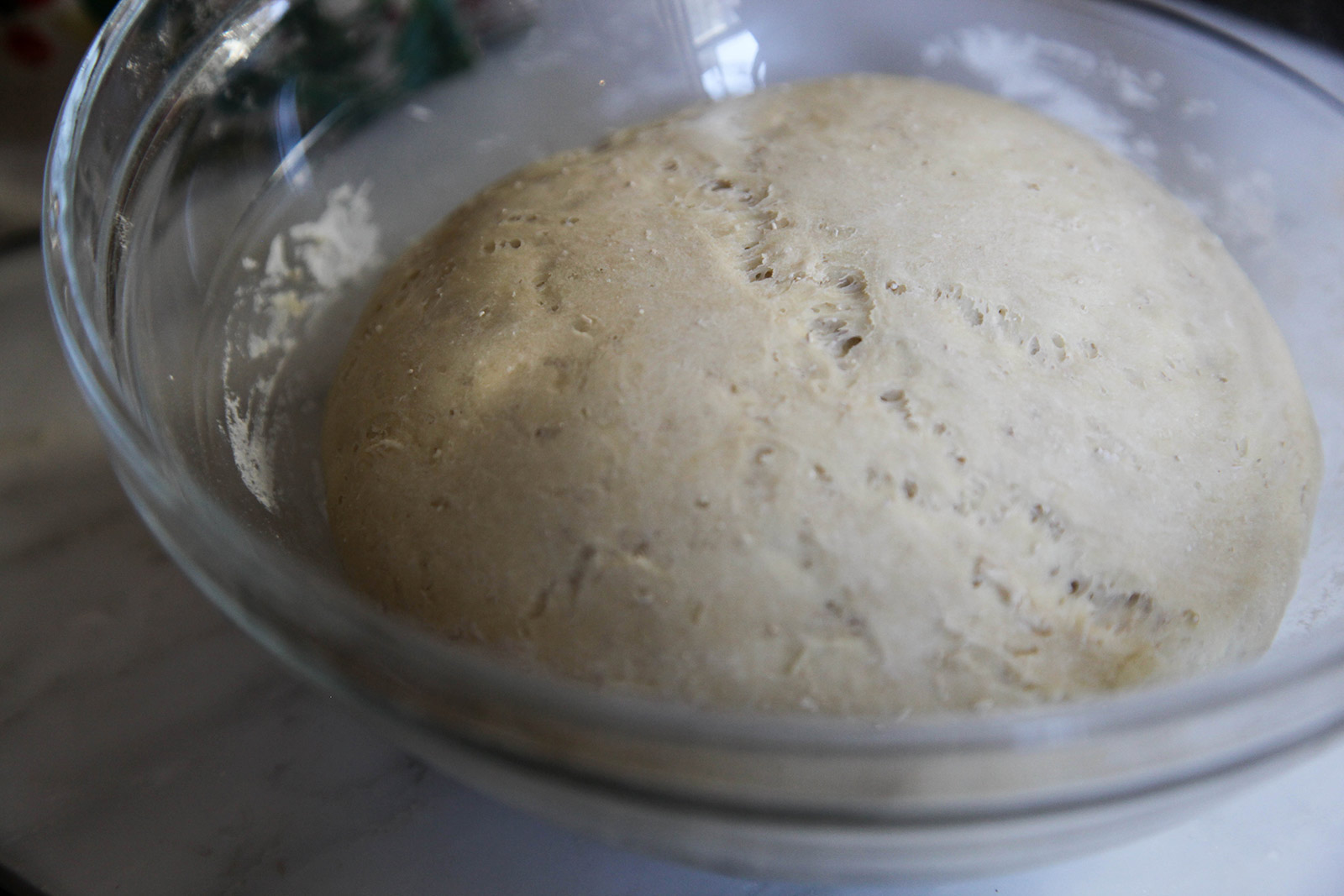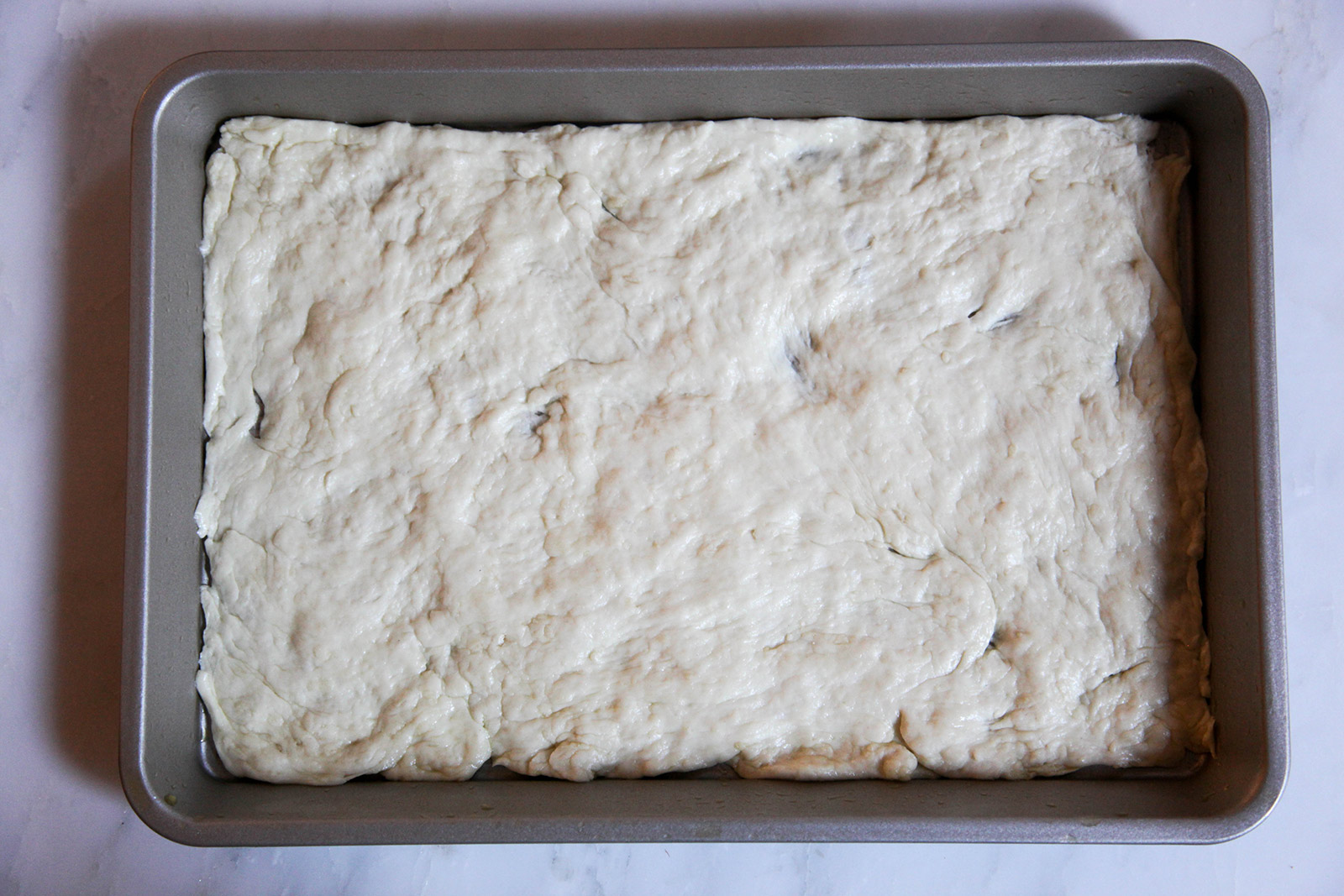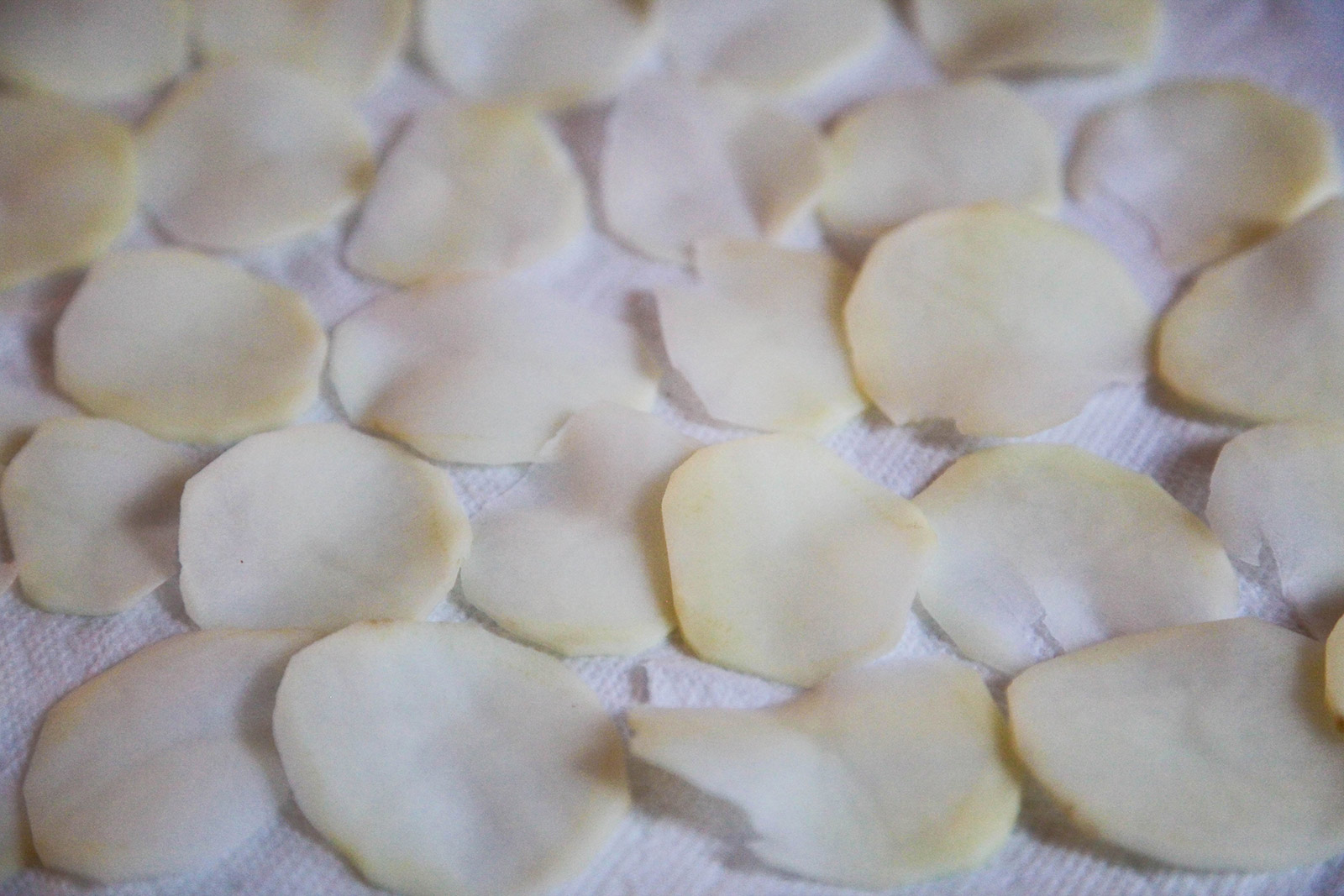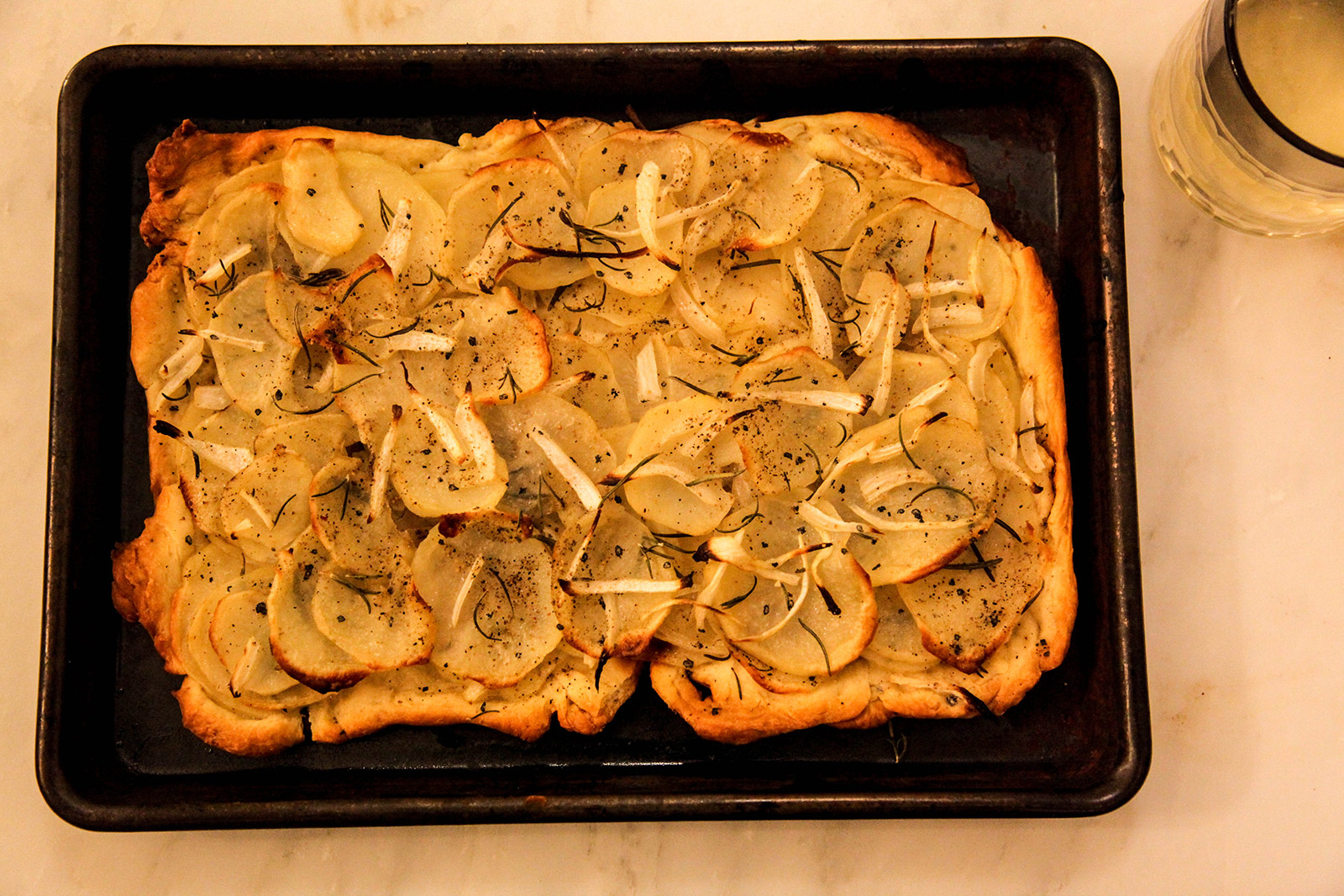 Potato Pizza with Onions, Fresh Rosemary, Olive Oil, Sea Salt
SERVES: 4
INGREDIENTS
Pizza dough
2 cups all purpose flour
1 and 1/4 teaspoon active dry yeast
1/4 teaspoon salt
1/4 teaspoon sugar
2/3 cup room temperature water
Pizza toppings
2 large Idaho potatoes

1 tablespoon salt

1 and 1/4 cup sweet onion, sliced, and halved

3 tablespoons olive oil
2-3 sprigs fresh rosemary, de-stemmed
coarse sea salt for sprinkling on top (I use black Hawaiian sea salt)

fresh ground black pepper
METHOD
Take a large glass or plastic bowl (don't use metal). Add the flour, yeast, salt, sugar, and water. Mix thoroughly (I use my hand) until the dough is combined well together. It shouldn't stick to the sides of the bowl at this point, it should form into a small ball. Cover the bowl completely with a tea towel or cloth and let it sit in a warm spot (don't put the bowl by a cold window, and don't put it in the fridge). Let it rise for about 2 hours; if it's a little less or more than 2 hours, don't worry, this is a stress-free dough.

While the dough is rising, prepare the potatoes. Take another large bowl, fill it with cool water, and add a tablespoon of salt to the water. Peel and slice the potatoes. Try to slice them as thin as you can

– this way you can have delicious layers of potato on the pizza, and the slices will bake fast along with the dough (otherwise the dough might overcook and burn, while the potato stays undercooked). Drop the potato pieces in the salted water as you slice them, so they don't oxidize and discolor. Let them sit completely submerged in the water, while the dough continues to rise.

After a couple of hours, come back and check on the dough. It should have risen beautifully by now, about doubled in size.

Preheat oven to 500F. Take two 9×13 inch baking sheets and rub them generously with olive oil (about 1 tablespoon). With your hands coated in a little oil, take the dough and divide into 2 balls. Gently knead each ball for about a minute, and keep pulling and stretching the dough until it forms a rectangular shape. I use a cutting board to do this, and once it's close to a rectangle, I transfer it to the oiled baking sheet. You'll need to poke it down, flatten it, and stretch it some more once it's on the sheet, till the dough fits nicely and reaches close to the edges of the sheet. The flat dough should be quite thin (this is what will make a nice thin crispy pizza crust). If you accidentally make holes in the dough sheet, just pull it together and close it up

– you don't need perfection, the crust will still be good.

Now drain the potato slices in a colander. Dry the slices on paper towels. Try to absorb and remove as much water as possible

– I put a sheet of paper towels on the cutting board, put a layer of potatoes, lay another sheet on top and pat down to absorb the water. Transfer the dried slices back to dried bowl.

Thinly slice the onion (slices shouldn't be paper thin), and add to the bowl of potatoes. Add 1 tablespoon of olive oil, toss and mix the potatoes, onions and oil thoroughly, till the pieces are nicely coated with oil.

Arrange the potato slices in a single layer on the dough in the baking sheets. Sprinkle onion slices on top. Sprinkle fresh rosemary leaves, some coarse sea salt, and a little freshly ground black pepper. I use black Hawaiian sea salt

–

it adds a beautiful visual contrast to the golden potatoes, and also has a nice sharp taste. Add another layer of potatoes, onions, rosemary, salt, pepper on top. Repeat this process till you have at least 3 layers (try to add some extra potato slices around the edges, as those will crisp more).

Place the two baking sheets in the oven, and bake for 25 minutes. If the potatoes don't seem golden and slightly crisped on the edges, bake for 5 minutes more. Don't overbake, because otherwise the thin dough crust will burn at the bottom.

Remove from the oven, serve immediately. This pairs well with chilled white wine, like an 

albariño

. Enjoy!