Food is one of those pleasures in life that I can count on regularly – breakfasts, brunches, lunches, dinners, wine & cheese, tea-time and snacks, picnics in the summers, campfire cooking… I love food from all over the world. Sharing food is another great pleasure – I grew up in a household where life was all about gathering with family and friends around food. I believe in living a balanced life overall, and so while I mostly cook healthy tasty food, I think once in a while it's ok to indulge in some deliciously rich food too. I'm going to share a little bit of my story here and my reasons for starting this blog.
I'm lucky to live in one of the most culinarily diverse places on the planet. In the Manhattan neighborhood where my husband and I live, we're surrounded by over 300 restaurants within a square mile, serving cuisines from all over the world. With the crazy amount of choices available, one could eat out all the time. And that is, in fact, what we did for a long time. But at one point I started feeling sick from months of non-stop restaurant food – my body and mind craved real food and home-cooked meals. That got me started on cooking at home on a fairly regular basis. I've been doing so for years now, and enjoy the process – it's soothing and creative, and it also gives me happiness making food that keeps us healthy.
Another aspect of cooking that I love is having friends and relatives over and hanging out over meals. Often I'm still finishing up my cooking while friends are arriving, and everyone inevitably ends up hanging around the kitchen area, snacking, drinking, talking, listening to music, sometimes even dancing. We move over to the dinner table when people get in the mood to eat, and linger there over food. My kitchen gatherings…
Over the years, many have asked me for recipes. Recently I thought it would be useful and fun to start a blog and share my recipes. So, here I am! It's been fun designing and making this myself, with technical help from my husband (thank you my love!). I've been doing photography for fun for years now, though I've never taken many photos of food before. So that's also a new adventure – taking photos of my food, the ingredients and the cooking process – in the hope that it'll be helpful for anyone who wants to explore these dishes.
Living in NYC, I come across so many good, fresh ingredients at the farmers' markets and at the great grocery stores, that I often end up buying random ingredients and experiment with them. When I was younger, my parents lived in Kenya for some years; they would take us to spend blissful days in a cottage by the beach in Mombasa, lined with white sand and coconut trees. That's when I truly fell in love with all things coconut (even though there were a couple of coconut dishes I loved from childhood, I generally wasn't a fan of coconut until the time in Kenya). And over the years, I've gotten obsessed with food from the many diverse parts of the world my husband and I love to travel in. So my inspiration comes from many places and I tend to cook quite eclectic dishes.
When I was learning to cook years ago, following recipes, dishes didn't often turn out as they should. This was incredibly frustrating and disappointing after all the effort and time spent in buying ingredients and cooking. I've realized over the years it's not always possible to recreate a dish based on simply ingredients and a superficial list of steps. You have to know certain other things too, such as how to cook different spices and how long to cook them, to get an authentic flavor. This is especially true of the recipes I'd initially started out trying to cook – Bangladeshi food.
I grew up in Bangladesh, and living in New York I missed food from my childhood. While we use a lot of the same spices that are used in the north Indian dishes served in restaurants in the US, Bangladeshi food tastes very different. The sauces are lighter, vegetables are cooked differently so they retain more of their original texture, and the flavor and blend of spices are different in comparison. Bengalis eat a wide variety of vegetables and fish, most of which aren't available in restaurants here. We eat some rich meat dishes too, but those are typically reserved for parties and special occasions. My parents had both been quite conscious of avoiding high-cholesterol artery-clogging food, so in our household, I grew up eating mainly healthy nutritious meals.
Over the years (mostly from watching my parents cook when they'd visit), I learned that what these recipes were missing were details about the techniques and process that are essential to have them turn out right. Most recipes are actually easy to make if you know the technique. I'm trying to include those details here, with pictures of what the food looks like along the way.
Food is not just about eating healthy, although that is very important. Food is so woven in the fabric of our lives that it's almost impossible to dissociate any of our memories from food and eating. So many of my memories are wrapped around food – family meals, picnics, parties of 70 people or more at our home when my parents as well as our cook and other help would prepare for days, sneaking and eating forbidden snacks from street food vendors with my friends…
Regular everyday dinners in our house would be lively events – in addition to us three siblings, our parents, my grandmother who lived with us, we almost invariably had random guests drop by every evening on social calls, and they'd be invited to stay for dinner. My mom always had fresh snacks for the evening and extra portions for dinner, prepared to accommodate any unanticipated visitors. We'd linger at the dinner table filled with a variety of dishes, engaged in lively discussions on all manners of subjects. My parents encouraged us to express our opinions from a young age and it was democracy at the table.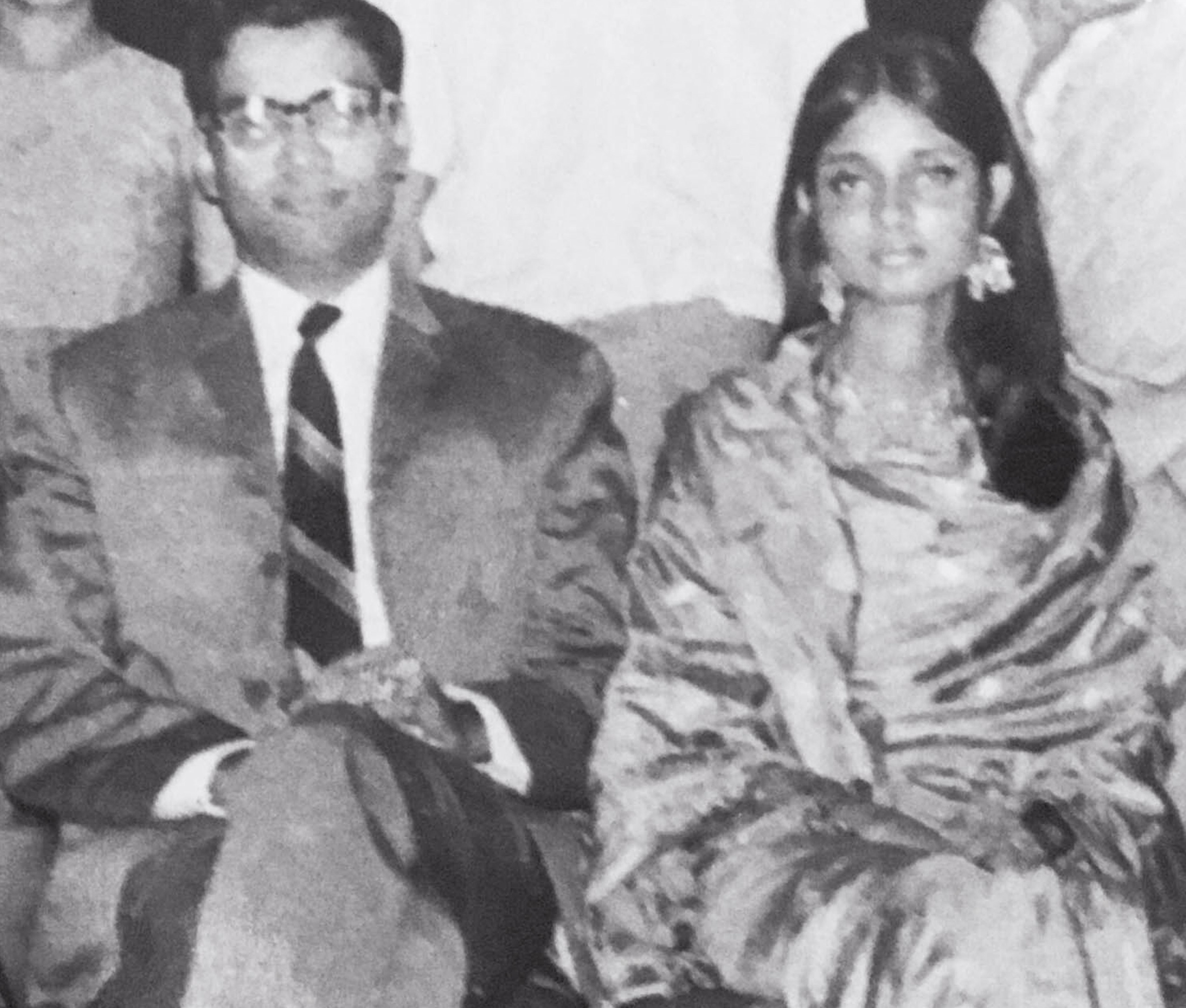 It's impossible not to have memories rushing back when I think about many of the food and dishes from those days. Unfortunately, I lost both my parents recently, so now, all the more, I want to keep their approach to creating that joyful life alive. I hope to share here recipes of some of the tasty and healthy food I had growing up. And maybe share some of the memories and stories I associate with them. And so, this blog is also in memory of my two amazing and loving parents, who were so full of life, and who gave us such wonderful lives.
Many of the Bangladeshi and other eclectic dishes I cook are fairly easy to make. I hope you'll enjoy making and eating them as much as I do.