Alu Chop (Potato Chop) – Croquettes with Ground Meat
Bangladeshi Alu Chop
I just got back recently from a long trip to Bangladesh, and I want to share a recipe that's a favorite from my childhood. Alu Chop, or potato chop filled with ground meat. It's such delicious comfort food. Universally loved, it can be served as a snack or main meal, be eaten with the family at home or served at parties, tastes fantastic warm after it's just made or at room temperature after sitting for a few hours or as cold leftovers after a few days. So versatile! Which made me think it's the perfect holiday season food – you make a batch, and when you have family or guests visiting, they're so easy to have around. 
Technically the alu chop (potato chop) is really a croquette – as it's made with mashed potatoes, filled with ground meat, dipped in beaten egg, coated in bread crumbs and then deep fried. While it's ubiquitous in Bangladesh now, it originally entered the cuisine as an Anglo-Indian dish. Guessing the British colonials missed their shepherd's pies, and their Indian cooks took the concept of those meat and potato dishes and created this new version, putting their unique subcontinental stamp on it over the years.
These potato croquettes are absolutely delicious. My husband (who is from New England, but spent his childhood in Brussels) loves them. Of all the dishes I cook, these are probably among his favorite. I have to make a large batch because we enjoy eating them for days after. He'll grab one from the fridge and eat as a quick snack too in between meals.
For me, alu chops are pure nostalgia. As kids, we used to beg to have these made for dinner. And the left-overs we would take to school as tiffin. So these humble potato croquettes evoke in me a sense of family, warmth, love, safety, a time of innocence and unadulterated happiness. In other words, just the perfect food for the holiday season – which we want to be about love, family, and creating all those warm memories.
This Christmas I am especially excited because we are getting the gift of family! My little nephews will be coming from Switzerland this weekend and our whole family will be together after a long time. I was trying to think of what to make that that the kids will enjoy (and so will the adults), that will last a while, we can eat easily anytime, and make life simple so that we can focus on hanging out and doing things other than cooking. Potato chops /croquettes fit the bill or course!
I ended up making a huge batch. And we already ate quite a few, couldn't resist! Along with my recipe here I'm also sharing my tips. The tips are important since alu chops can be tricky when frying. They are easy to make, but can fall apart when frying if you don't know the right method. And there's nothing as frustrating to have your effort wasted, to end up with sad, greasy, fallen-apart croquettes. I've learned from my mistakes, and through trial-and-error I've figured out how to make perfect alu chops that don't fall apart when frying.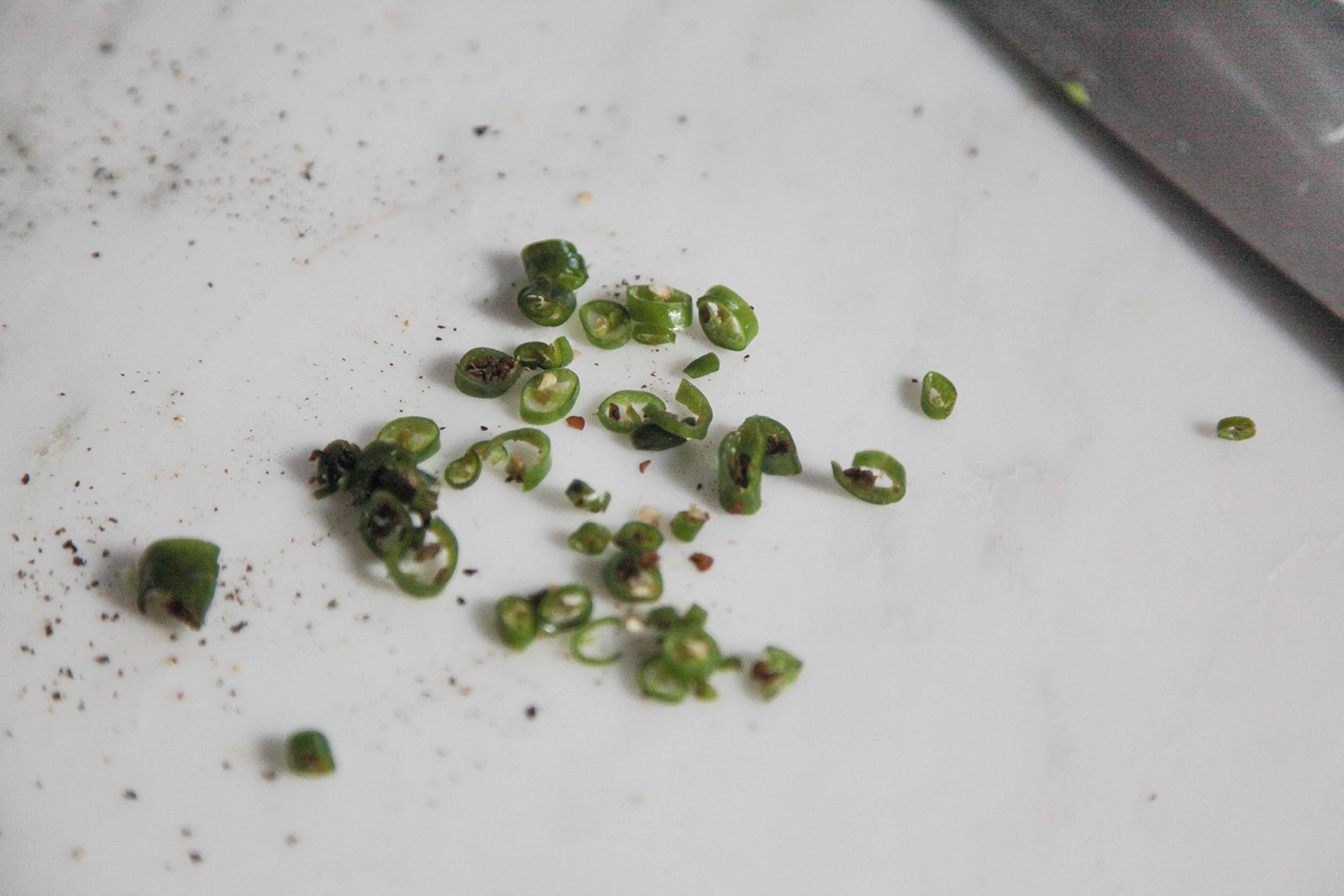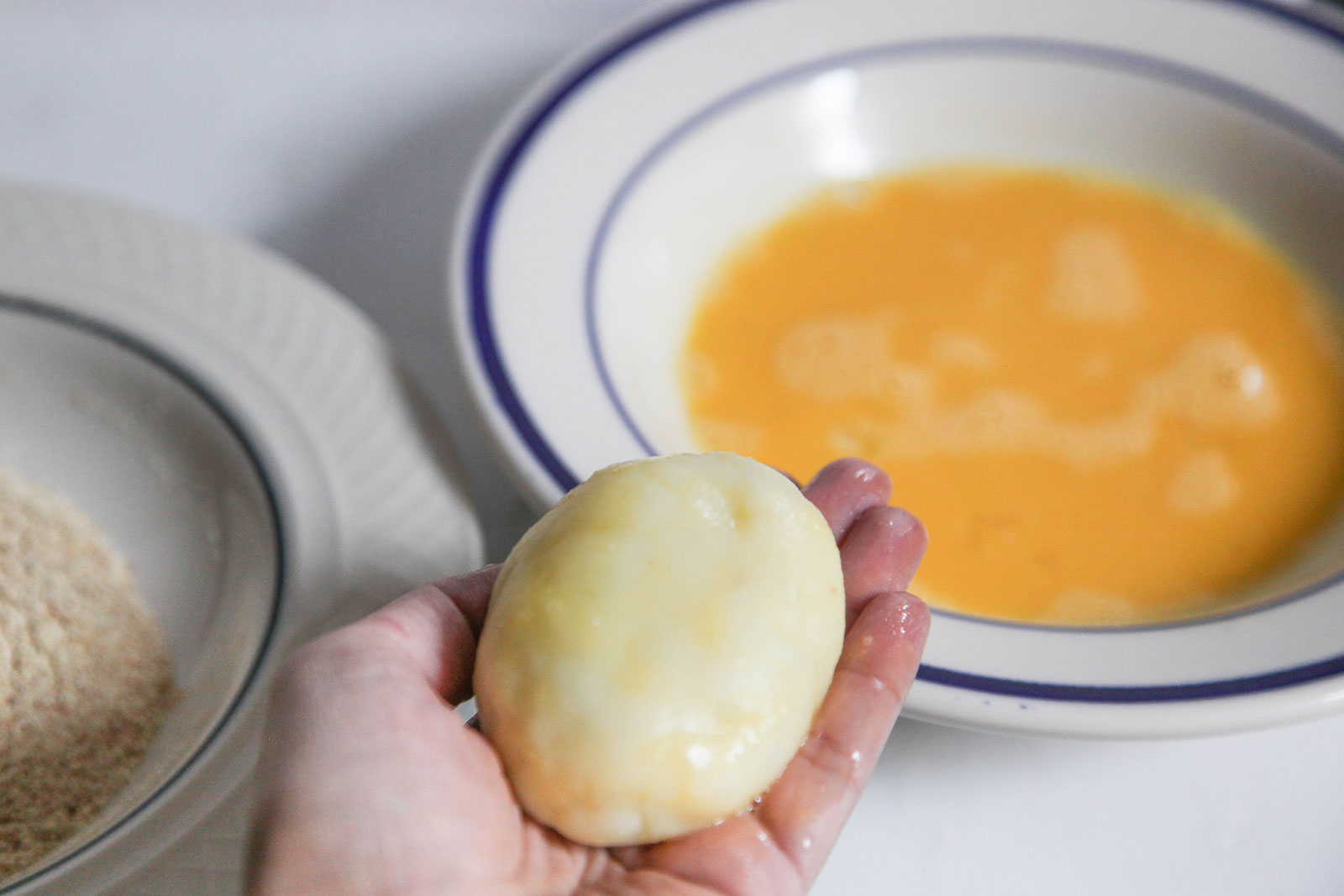 Wrong way to fry – using too little oil will cause the alu chop to fall apart:
Perfect Alu Chop (Potato Chop) – Croquettes with Ground Meat
YIELD: about 18-20 (2.5″x2″) potato croquettes/alu chops
INGREDIENTS
4 pounds russet/Idaho potatoes (about 8)

1 pound ground beef

1.5 cups onions, chopped

1 tablespoon ginger, chopped

2 tablespoons garlic, chopped

4 tablespoons ketchup

1 tablespoons worcestershire sauce (optional)

1 teaspoon freshly ground black pepper

3 small green chilies (Thai bird's eye chili), seeds removed and chopped fine (optional)

1 cup fresh cilantro, finely chopped

Salt to taste

2 eggs, whisked lightly 

2 cups plain breadcrumbs

1/4 cup oil (for frying onions)

Oil for deep frying (will need a large amount, see tips)
METHOD
Cooking potatoes
1. Peel and cut the potatoes into small chunks (speeds up boiling). Boil till soft enough to mash.
2. Drain throughly in colander. There should be no water left, if the potato is wet the croquettes will fall apart. Sit and let cool.
Tip: I use a metal colander, and after draining I place the colander with potatoes in the emptied and cleaned pot. Heat the pot over low heat for a couple of minutes, this helps remove liquid. Don't over-heat. The potatoes need to retain some moisture, otherwise they'll get dry and crumbly and it'll be hard to form the croquettes.
3. Mash the potatoes when no longer steaming.
Tip: I find it easier to form the croquettes with slightly warm or room temperature mashed potatoes. They're easier to form and hold better than mashed potatoes that have been cooled in the fridge.
Cooking ground beef
4. While the potatoes are boiling (after step 1), in a heavy bottomed pan over medium heat fry the chopped onions in a quarter cup of oil till soft.
5. Add chopped ginger and garlic, continue frying for a couple of minutes till light brown.
6. Add the ground meat, ketchup, worcestershire sauce (if you're using any), freshly ground black pepper. Mix well and cook till almost all the liquid is dried up.
7. When almost dry, add the de-seeded chopped green chilies. Continue cooking on low heat to dry out the moisture.
8. When completely dry (the ground meat will not be sticky, there should be little steam rising at this point), add 1/2 cup of the chopped fresh cilantro. Mix well, let cool completely. Taste for salt and pepper, and add as necessary. Mix in the remaining cilantro once the meat has cooled.
Tip: make sure that the ground meat is dry (it'll be crumbly and not sticky) in order to easily form the croquettes.
Forming croquettes
9. Before you start forming the croquettes, have ready the beaten eggs in a wide bowl, and the breadcrumbs in another wide bowl.
10. Take mashed potato and form into a little ball in the palm of your hand, then shape into a bowl (see photo).
11. Add in ground meat and cilantro mix.
12. Add mashed potato to cover up the top, form into a slightly flat oval shape.
Tip: if the potato starts cracking or falling apart, add little bits of potato to cover the cracks, and gently pat till the cracks disappear.
13. Dip the croquette in the bowl of beaten egg (egg will help bind it and prevent the potato from cracking).
Tip: the croquette shouldn't be dripping wet with egg mix (otherwise the chops will get frothy as you fry).
14. Dredge in bowl of breadcrumbs till the whole potato chop is covered.
Tip: gently slide the croquette back and forth a couple of time between the palms of your hands to shake off excess breadcrumbs. Excess breadcrumbs will make it oily and greasy.
Frying croquettes
15. Take a small heavy-bottomed pot or deep pan to deep fry the croquettes. For best results, don't fry more than 2-3 croquettes at a time, so you don't need a wide pan. Fill with enough oil to submerge the croquettes.
Tip: the oil should at least be as deep as the height of the croquette, otherwise the croquette will fall apart when frying. The change in temperature from the hot lower half to the colder top will cause the croquette to crack when you flip it over to fry the other side. See photos for the "wrong way to fry".
16. Heat the oil on medium low heat. To test if the oil is hot enough, drop in a couple of grains of breadcrumb as it's getting hot. When small bubbles start to form (but the oil isn't so hot that it's smoking – which would burn the croquette), it's time to fry. Slide in a breaded croquette with a slotted spatula and fry for a minute or two. Watch to make sure the bottom side isn't getting burnt. Flip over when bottom looks nicely golden. If you're using enough oil to completely submerge the croquette it will cook fairly evenly, but you'll still have to flip it over for a little bit. If you're using oil that reaches just to the top of the croquette but doesn't cover it, "baste" the top with oil a couple of times before flipping it (helps prevent cracking); see photo.
Tip: fry one croquette first and make sure you get it right. After frying it, let it cool enough (don't burn your mouth!) and taste it. If you need to adjust salt or pepper in the meat or potatoes, you can do so before you start making the rest.
Remember not to fry more then 2-3 croquettes at a time, the pot should have enough space so the croquettes don't touch.
If the oil is getting too hot as you finish a round, before you add in the next round of croquettes turn off the heat and let it cool down a bit so it's still hot but not burning.
17. Remove the fried croquette with a slotted spoon from the hot oil, and set on paper towel to cool. Serve when the croquettes have cooled down enough. If you're serving later the same day, you can leave outside and serve at room temperature. Don't cover the croquettes, otherwise they'll get soggy. Serve with ketchup, or flavored hot sauces for dipping. Enjoy the deliciousness!!!
Tip: to reheat leftover refrigerated croquette, dry-heat (on low) in a cast-iron non-stick pan, about 2 minutes on each side.