Crispy Spicy Fried Okra Snack
We are in the age of the coronavirus, and it's a very surreal and unsettling time for all of us. Businesses, schools and universities in the US and around the world have shut down or are in the process of shutting down their physical locations. Those fortunate enough to still be employed are working remotely from home. We are hunkered down in our homes, engaged in social isolation. Other than going for walks or runs outside, most of the time we are forced to be indoors in order to keep ourselves safe and also to do our part in not inadvertently spreading the virus to others, particularly the vulnerable.
Suddenly finding time on my hands at home, I've been thinking of things to do – other than the usual reading, watching Netflix with my hubby… I still cook of course, that's one of the things that are fun and bring joy to me. I've been gravitating to simple dishes with ingredients I've bought from the grocery store on my now infrequent trips. I'm still buying vegetables to stay healthy, but focusing more on those that will last a few days without spoiling. Okra is one of them.
Fresh okra lasts about a week or more in the fridge before you need to cook them (and of course frozen okra lasts for months in the freezer). I've always liked okra. It's loaded with vitamin C, which I want more of, to keep my immune system strong to fight the virus. It has fiber and antioxidants, and is low in carbs. Only problem is while I like okra, my husband can't stand it. He dislikes the slimy texture. Of course while I sometimes make food that only I like, majority of the time I like to make things that both of us can eat. So, I thought of a way around the okra situation. Instead of having it as a dish as part of the main meal, which is what I usually do, I decided to make okra as a snack. Crispy spicy fried okra might be something that my okra-hating spouse might like.
I sliced the okra thin, deep fried with a mix of powdered spices. Cumin, coriander, ginger and paprika add tasty flavor, without any spicy heat. The okra loses slimy texture in the process of frying and turns out crispy and crunchy. Eating crispy spicy fried okra hot as a snack, with a glass of wine is so satisfying! And it's healthier than potato chips or fries. The whole process takes less than 15 minutes – from slicing the okra to deep frying. So it's an easy snack and an interesting variation too to the usual ones.
I've used burgundy okra because I couldn't resist the beautiful color. It turns green when cooked though – it's basically the same as regular green okra. 
Indian Black salt is a spice you can find in Indian or South-Asian grocery stores. I have some in my cabinet, it gives a very specific tart, sulphuric, umami taste.  It's used in street-food type vegetarian snacks mainly in south asia, and I wanted a little bit of that taste. The okra is good without it, and it's not necessary to use it.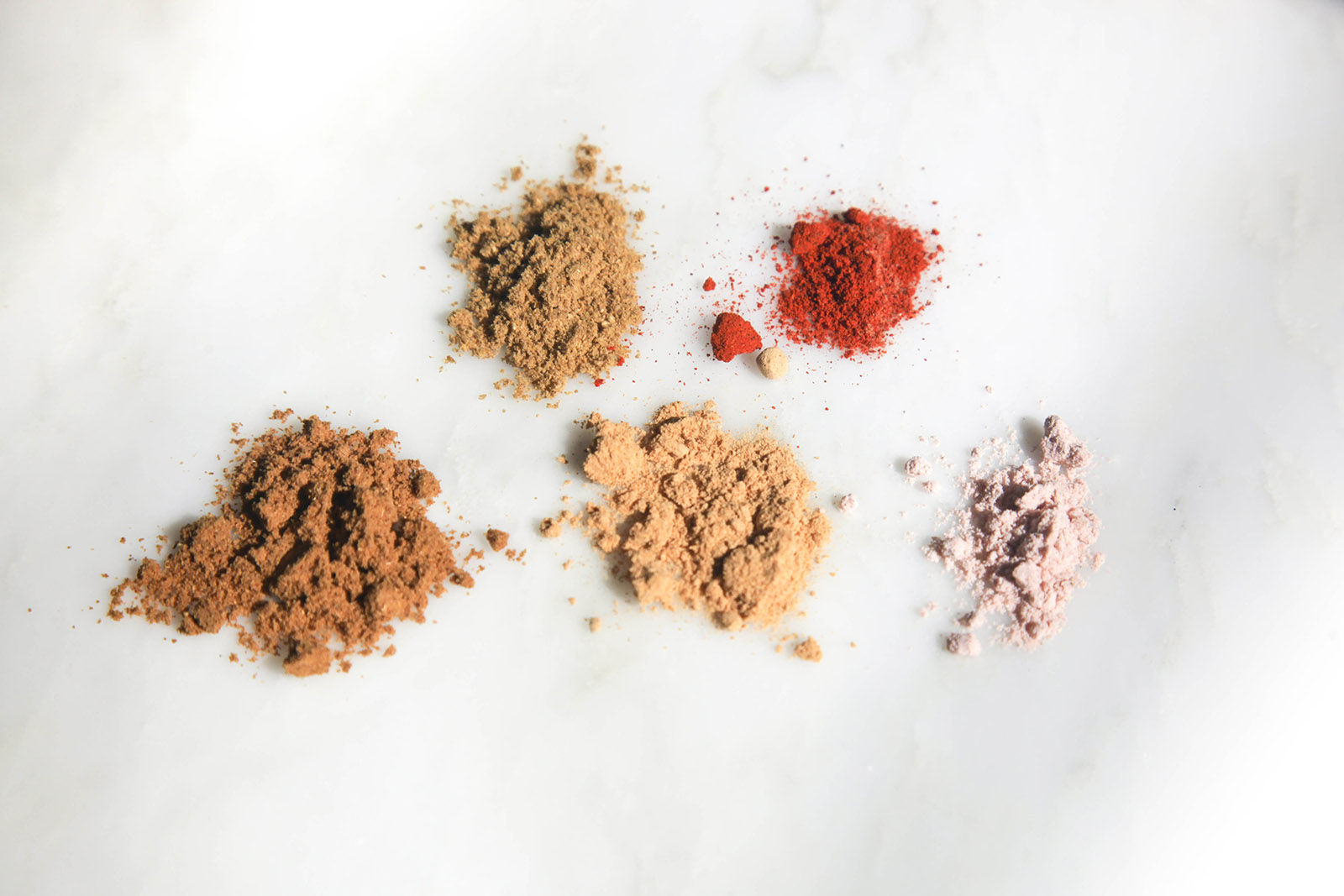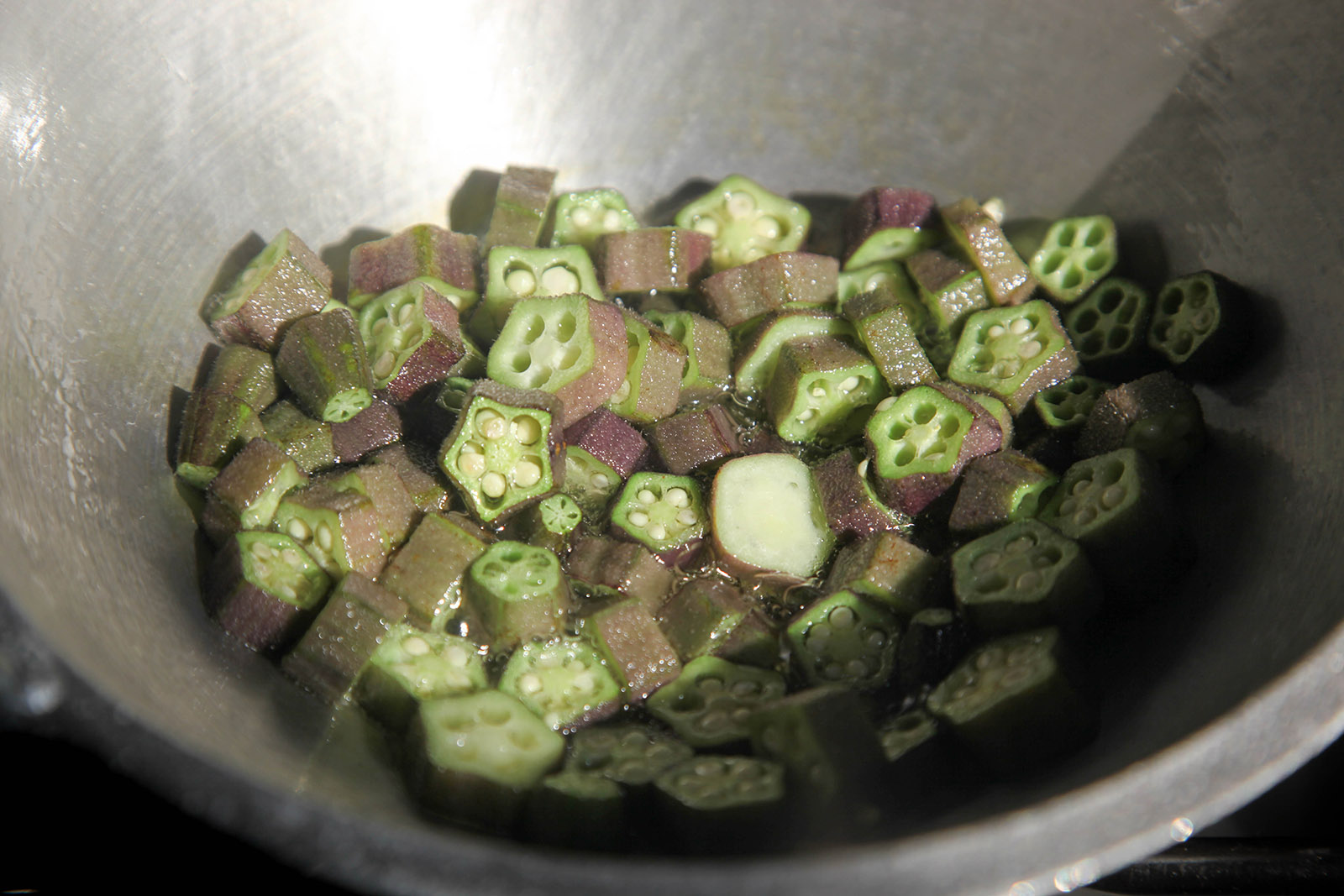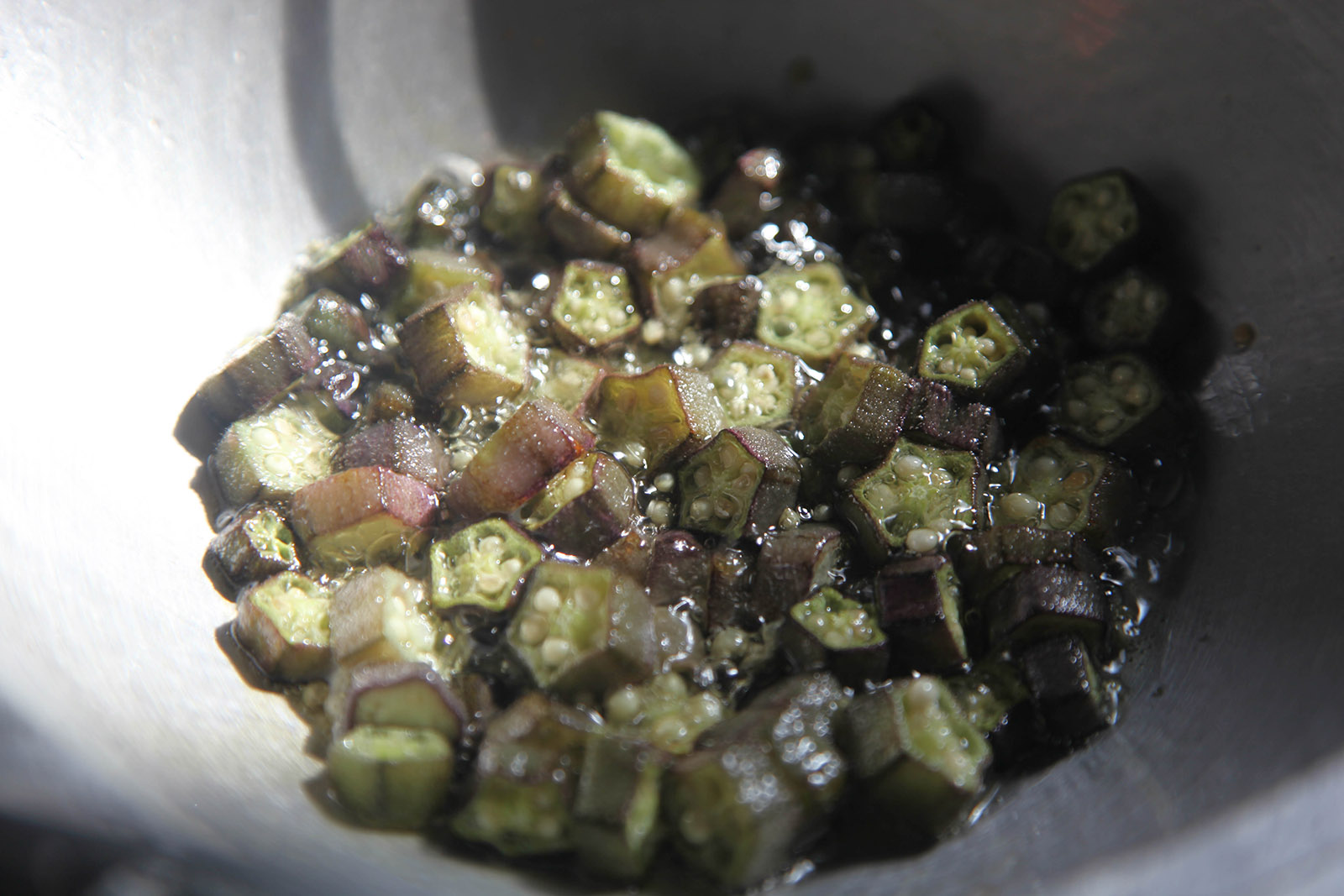 Crispy Spicy Fried Okra Snack
YIELD: 1/2 cup fried okra
INGREDIENTS
1 and 1/4 cup sliced okra

(use tender young okra pods)
1/4 teaspoon cumin powder
1/4 teaspoon coriander powder
1/4 teaspoon ginger powder
1/4 teaspoon paprika powder
pinch black salt (optional)
1/4 teaspoon salt

3 tablespoons oil
METHOD
Take the powdered spices, mix together and set aside.

Rinse the okra pods under cold water and pat dry.

Slice the okra into thin pieces with a sharp knife.
Heat oil in a small wok over medium low heat for about a minute or two till hot. To test if the oil is hot enough, drop in a slice of okra; if it starts bubbling it's hot. (Note: If you're using a large wok, you'll need more oil).
Add in all the okra slices.
Fry, stirring, till the okra slices shrink and start turning crisp and brown, about 8-10 minutes.
Add in the powdered spices mix, stir together well with the okra. Fry for a minute.
Remove the okra with a slotted spoon onto to a paper towel (to absorb the oil).
Sprinkle with salt and a little bit of powdered paprika. Serve immediately while it's still hot. (If the okra gets cold before you're ready to serve, dry heat over high heat in a pan for a minute or so).