Sylheti Biron Polau (Sticky Rice) with Potatoes & Eggs in Caramelized Onions
Bangladeshi Sylheti Biron Polau ar Deem
We all have our rituals for lazy weekends. On these short winter days I've been getting up earlier than I used to, to catch the precious bright morning sunlight when the sun does come out. I make tea, hubby and I sit around and read, I'll sit in the sunshine as long as possible and soak up the rays. Cocooned like this in our apartment, I have no desire to venture outside in the freezing cold for brunch. So I'll think of something to make, from whatever we have at home. I always have eggs and basics in the apartment, so it's easy to whip up an egg-based dish. I love all kinds of eggs – omelettes, fried, poached, scrambled, hard-boiled… One of my favorites is a dish from my childhood that's simple to make, but very unusual. In fact, I haven't come across a recipe for it anywhere yet. It's a brunch/lunch meal comprised of two quick dishes. A unique utterly delicious sticky rice dish called Biron Polau, cooked with turmeric, ginger, bayleaves, onions and ghee. Accompanied by turmeric-coated hard-boiled eggs, cooked in onions that are slowly caramelized in ghee and as a result develop a wonderful sweetness that's infused with the fragrance of cinnamon, bayleaves, cardamom.
It's truly a lazy-day-at-home dish. The fragrance of the Biron Polau cooking, and the aroma of cinnamon, cardamom and onions caramelizing in ghee fill the kitchen – as I sit close by reading my book in the winter sun. It's like aromatherapy! Cinnamon helps reduce headaches apparently according to some studies, and I can totally believe it as a sense of wellbeing usually takes over me with all these warm fragrances floating around. And just to warn you, sticky rice has a filling sleepy effect, so after eating this I usually feel happy and sleepy and want to lie around some more.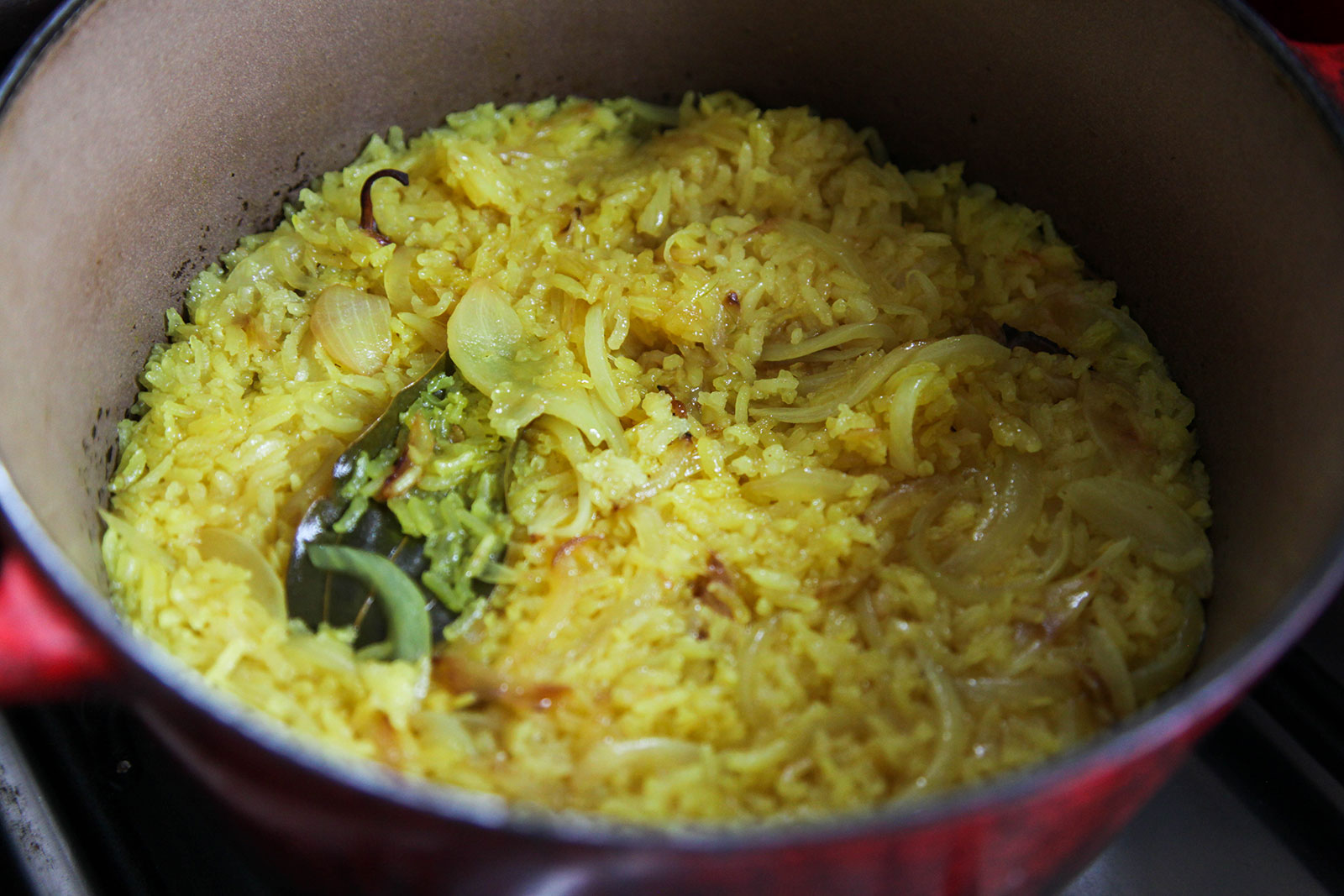 Biron Polau was cooked in our house on weekends once in a while thanks to my Dadu (my dad's mother). Most Bangladeshis don't eat sticky rice, so this type of rice wouldn't be available in the stores back when I was growing up. It's a specialty of Sylhet, the northeastern region of the country that my dad's family was from. My dad would have the rice sent from Sylhet, and when it arrived one of the first things my Dadu would make was Biron Polau. She had taught our cook how to make it, but I remember she would specially go to the kitchen on these weekends and lovingly prepare it herself for us. She would be literally beaming with happiness when we all sat down at the table to eat. And it felt all the more special because it was my Dadu's gift to us.
She was an amazing person. Strong and independent, she was quite unusual for a lady of her time. Physically she was petite and had a quiet gentle manner, but she could also be funny and sarcastic and liked to joke. She had visitors coming by almost every day of the year to see her, and she would host them in her part of the house, while my parents had their stream of visitors in the drawing room. She did mini "staycations" for days at a time at her best friend's house (her cousin's wife) who lived fairly close by with her family and we loved them too – we would miss Dadu so much at these times that we would go over after a few days and pester her to come back home. She would go away for vacations by herself to Sylhet a couple of times a year. We would be so upset when she would suddenly announce these vacations; we'd plead and beg her not to go. She would gently explain that she needed to see relatives, friends, her Sylhet, and take care of her business (her landholdings), and that she would be back soon enough in a month or so. She was always so sweet in her manners, that I accepted her strong independence as natural. What I miss the most is her love and affection, her long tight hugs and nose kisses.
My Dadu passed away many years ago. I'm thankful now that I can still conjure up vivid memories of her through some of the recipes she handed down, that were from her beloved Sylhet. My mom (who wasn't Sylheti) learned to cook Biron Polau from her, and I had learned it from her before she too passed away.
Biron Polau is really very simple to cook. From prep to finish, the polau and the eggs take about 45 minutes. While traditionally I'm used to eating it as weekend "brunch"/lunch, you can eat it for dinner too obviously. You can make a more elaborate meal around it; fried fish like Rui/carp go well with it, as does slow-cooked dry beef curry. 
The sticky rice (also known as sweet glutinous rice) is readily available in Asian and Japanese stores. It doesn't spoil, so I buy a big bag; this way I have some ready to cook when inspiration strikes. Ghee (clarified butter) is also widely available now. I have a jar around always, it doesn't need to be refrigerated and lasts a fairly long time too. So I can easily cook up Biron Polau without planning ahead, since I usually have eggs, potatoes and onions in the fridge.  I really do crave it a lot actually! Biron Polau is simply delicious.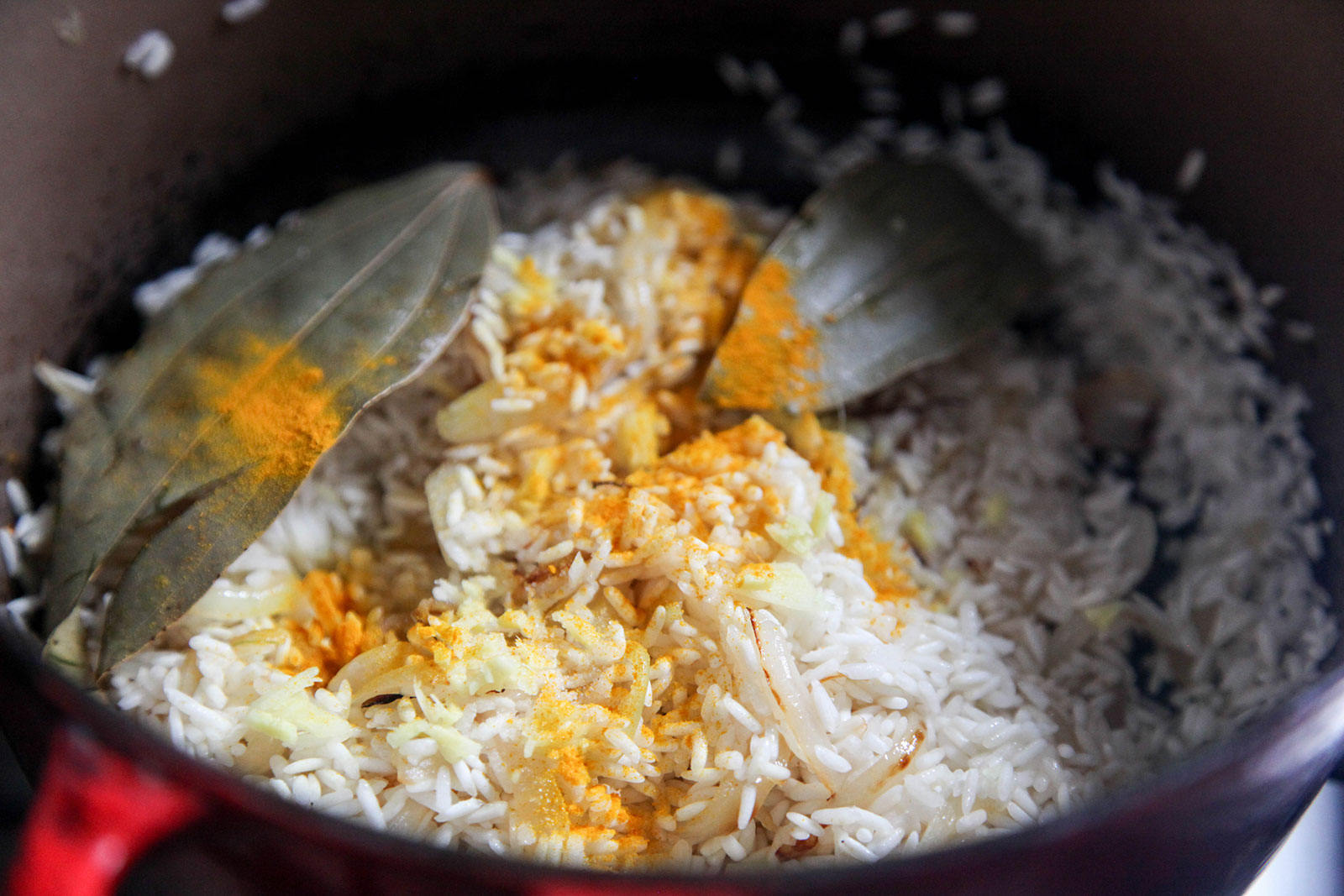 Sylheti Biron Polau (Turmeric Sticky Rice with Potatoes) & Eggs in Caramelized Onions
SERVES: 4
INGREDIENTS
Biron Polao
1 cup sticky (sweet glutinous) rice

1 and 1/4 cup onions, sliced in medium thick slices (I use sweet vidalia onion)

1 teaspoon fresh ginger, minced
2 bay leaves
1/2 teaspoon turmeric
1.5 tablespoon + 1 teaspoon ghee
12 small baby potatoes, about 1.5 cups in volume (note: you can use regular potatoes instead)
1/2 teaspoon salt or to taste
Eggs
6 eggs

2 cups onion, sliced in medium thick slices (about 1 vidalia onion)

2 bay leaves
1/2 teaspoon fresh ginger, minced
1/2 teaspoon fresh garlic, minced
4 cardamom pods
2 inch stick cinnamon, broken
1/4 teaspoon turmeric
1/2 teaspoon salt, or to taste
1 teaspoon oil
1.5 tablespoon ghee
METHOD
Biron Polau
Rinse rice under cold water till the water isn't cloudy. Drain and set aside.

Heat a heavy bottomed pot over medium heat, add 1.5 tablespoon ghee. When hot (but not burning), add onions and fry till soft and turning pale golden.

Add rice, ginger, bayleaves, 1/4 teaspoon turmeric, and stir fry for 30 seconds.
Add 1.75 cups water. Bring to a boil, then turn heat to low, cover and cook.
When the liquid dries up, in about 10-12 minutes, turn off heat.
In a separate pot, boil potatoes till just soft, but not falling apart. Drain, peel, sprinkle the potatoes with 1/4 teaspoon turmeric and 1/4 teaspoon salt. Rub in, till the potatoes are coated all over.
In a small pan, heat 1 teaspoon ghee over medium high heat. Stir fry the potatoes for a couple of minutes. Remove from heat.
When you're ready to serve, add the potatoes to the cooked sticky rice.
Eggs
9. Put the eggs in a pot and fill with water till the water just covers the eggs. Bring to a rolling boil, then simmer for about 12 minutes. Turn off heat, drain the water, and run cold water over the eggs till they're cool enough to touch.
10. Peel the eggs, sprinkle with turmeric and 1/4 teaspoon salt, and rub in till the eggs are yellow all over. 
11. In a wide pan, heat 1 teaspoon oil over medium heat. Add eggs and stir fry for about 2 to 3 minutes (make sure to turn the eggs around so they don't burn on one side). Remove eggs from pan.
12. To the same pan, add 1.5 tablespoon ghee and heat over medium heat. When the ghee is hot but not burning, add cinnamon, cardamoms, bayleaves and stir fry for 30 seconds. Add ginger and garlic, stir fry 30 seconds. Add onions, turmeric, salt, and stir fry over low heat for about 5 minutes till onions are soft and caramelized.
13. Add eggs and 1/3 cup water to the pan. Cover & cook, stirring from time to time so that the eggs don't burn.
14. Cook till the liquid dries up, about 10 minutes. Uncover, taste for salt, cook for another 2 to 3 minutes.
15. Remove from heat and serve the eggs, along with the Biron Polau dish.