Spring Pea Salad with Leeks, Radish, Citrus Zest and Aged Parmigiano & Pecorino-Romano Cheeses
I love spring. Crisp cool days, mixed with soft misty rainy ones, and then an unexpected sudden burst of a gorgeous beautiful sunny day – it's all lovely. Bright green foliage on the trees, colorful flowers everywhere, birds chirping, days getting longer – I can't help but feel happy when spring comes around. Also after months of heavy winter food, it's exciting seeing light fresh spring greens and veggies in the markets. I love the peas that are out now, so I got a bunch thinking of making a spring pea salad. I didn't have a recipe for it, but that's the beauty of a salad – you can put together a bunch of different ingredients and create a delicious one. Often I'm inspired by seasonal produce that's out in the market and this spring pea salad is definitely a seasonal inspiration.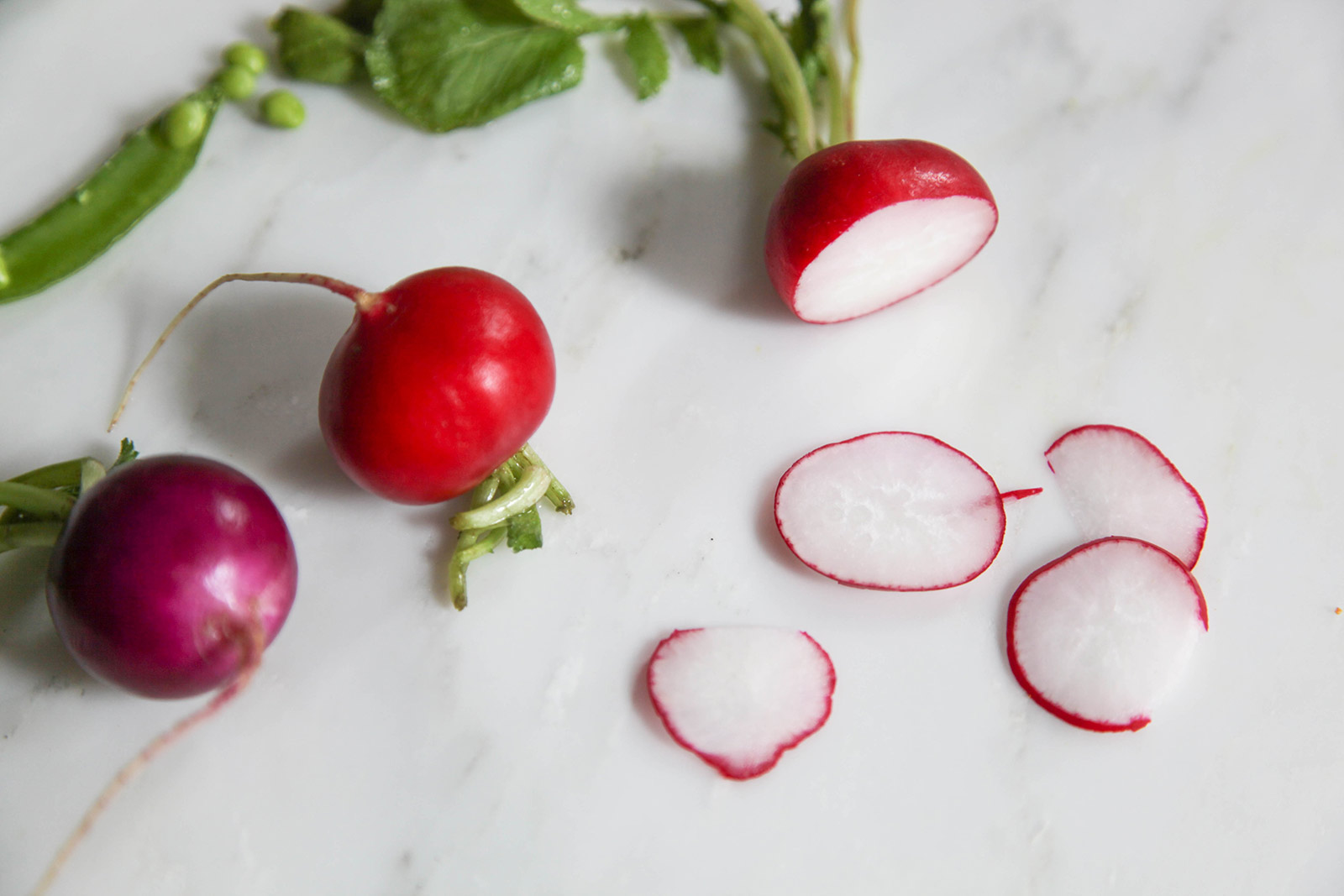 So around the market I walked, looking at other produce that might go well with the peas. Leeks are in season now and I could have a nice base of spring pea salad with leeks. There were multi-colored radishes that looked so beautiful I couldn't resist them! They would add a light fresh touch to the cooked leeks and peas. Those went into my basket.
I spied gorgeous yellow Meyer lemons; while I didn't want liquid juice in my salad, the sweet rind would be tasty. There were also beautiful deep orange tangerines – I could imagine the bright color of the skin as zest looking beautiful against the light green of the spring peas. And it would imbue my spring pea salad with leeks with a fresh citrusy taste.
The salad I was inventing in my head based on the produce in the market seemed good so far, but it wasn't complete. I wanted a contrast of sharp, dense, aged cheese against the soft peas. After spending quite a bit of time at the cheese section, I decided to get a block of aged pecorino romano from the Locatelli brand (which is excellent) – this I would shave on top of the salad. There were also delicious-looking chunks of two-year aged parmegiano-reggiano; these would be fantastic crumbled on the salad.
I rushed home and made the salad right away. The only thing that required prep was the leek, which I sautéed in a little bit of butter. I didn't want a buttery salad base though, so I added chicken stock, cooked and reduced it and then added the peas. The peas soaked up the stock and were nicely flavored after a couple of minutes. My salad base was done at this point. I added thin slices of the pretty radish, the shaved and crumbled cheeses, rind from the lemon, tangerine zest, and freshly ground black pepper.
My spring pea salad with leeks and radish was just as I'd imagined it – with a light warm soft comforting base, contrasted with cool fresh light crunchy bites of radish, and sharp nutty taste of cheeses. Kind of like spring days with all the variations.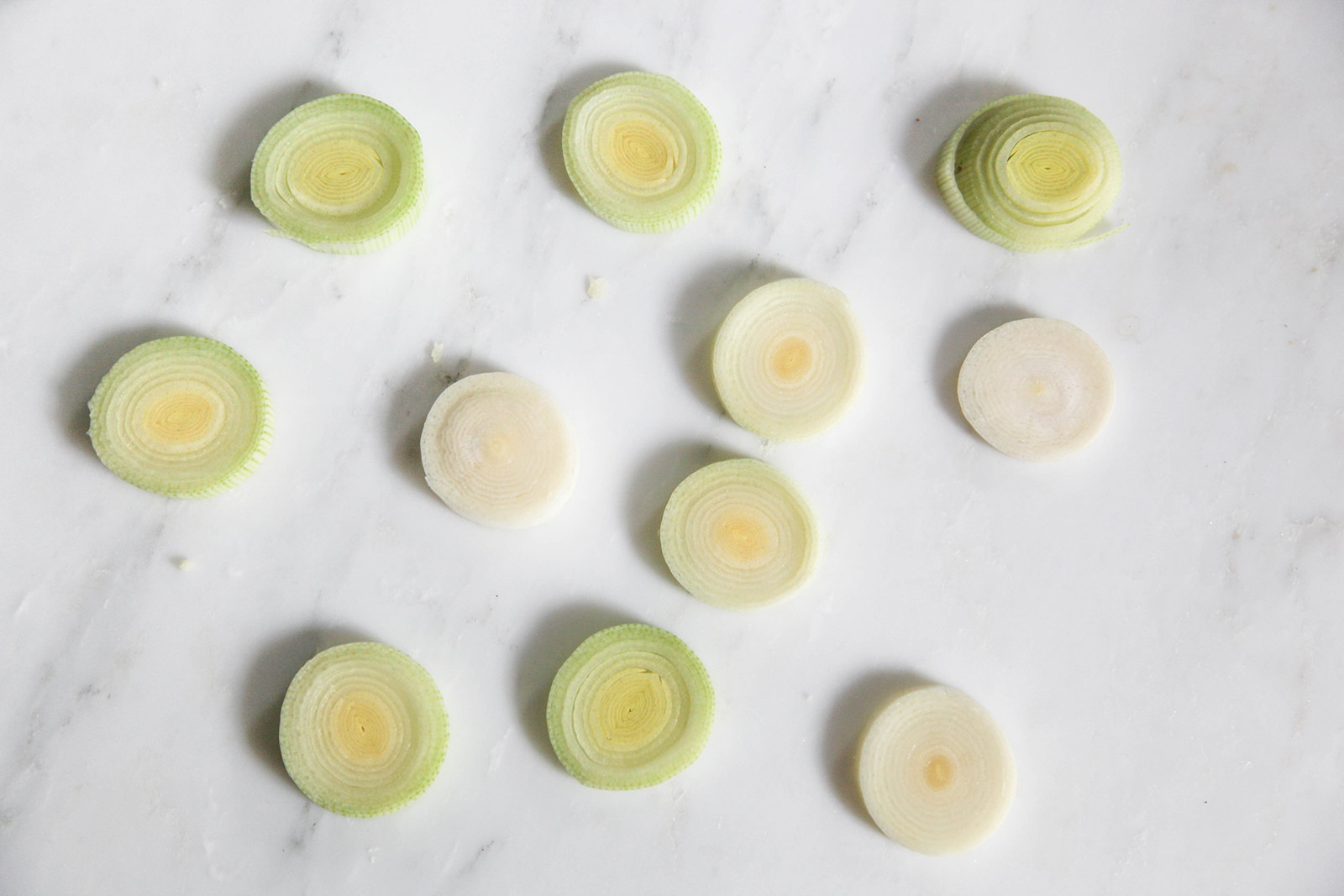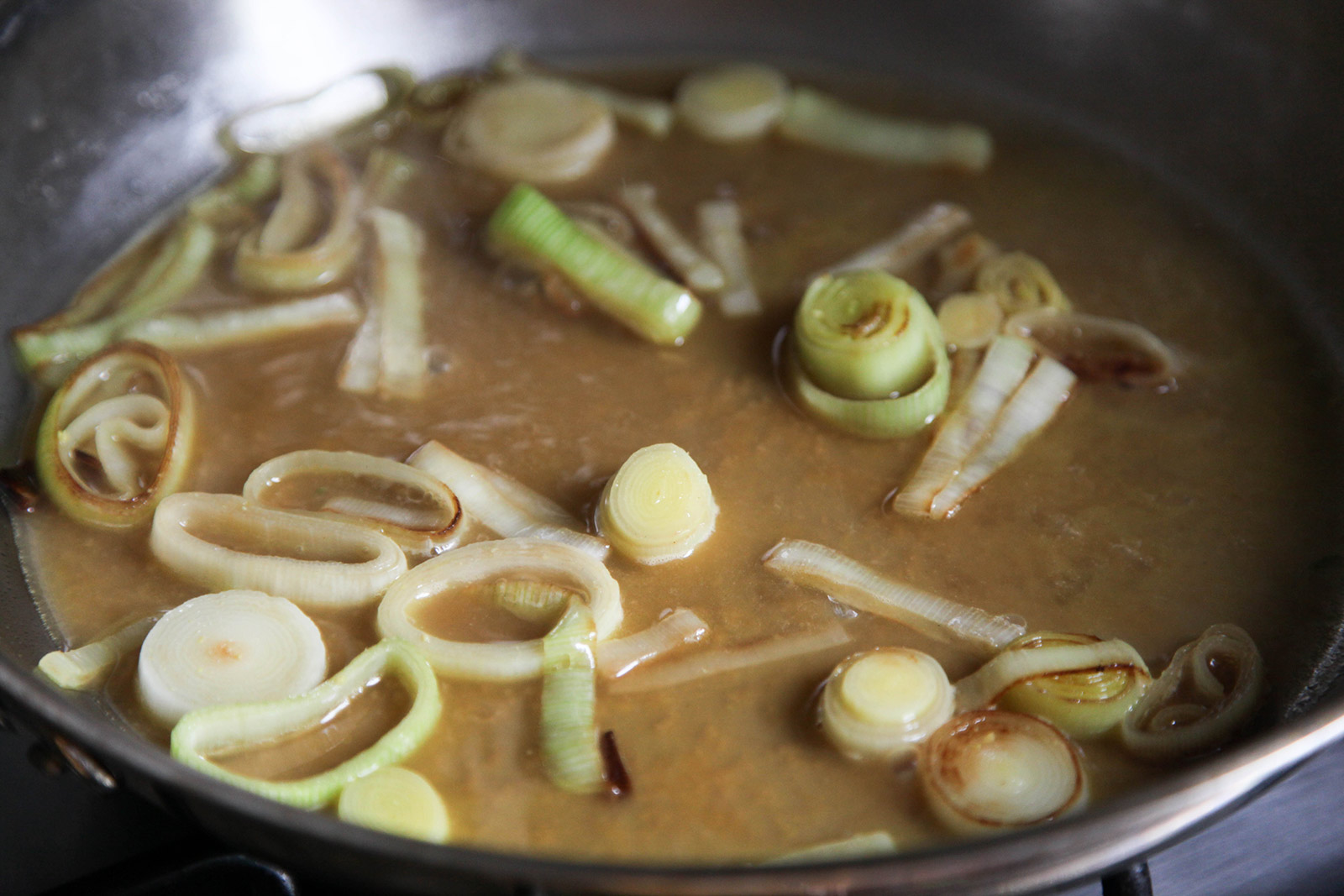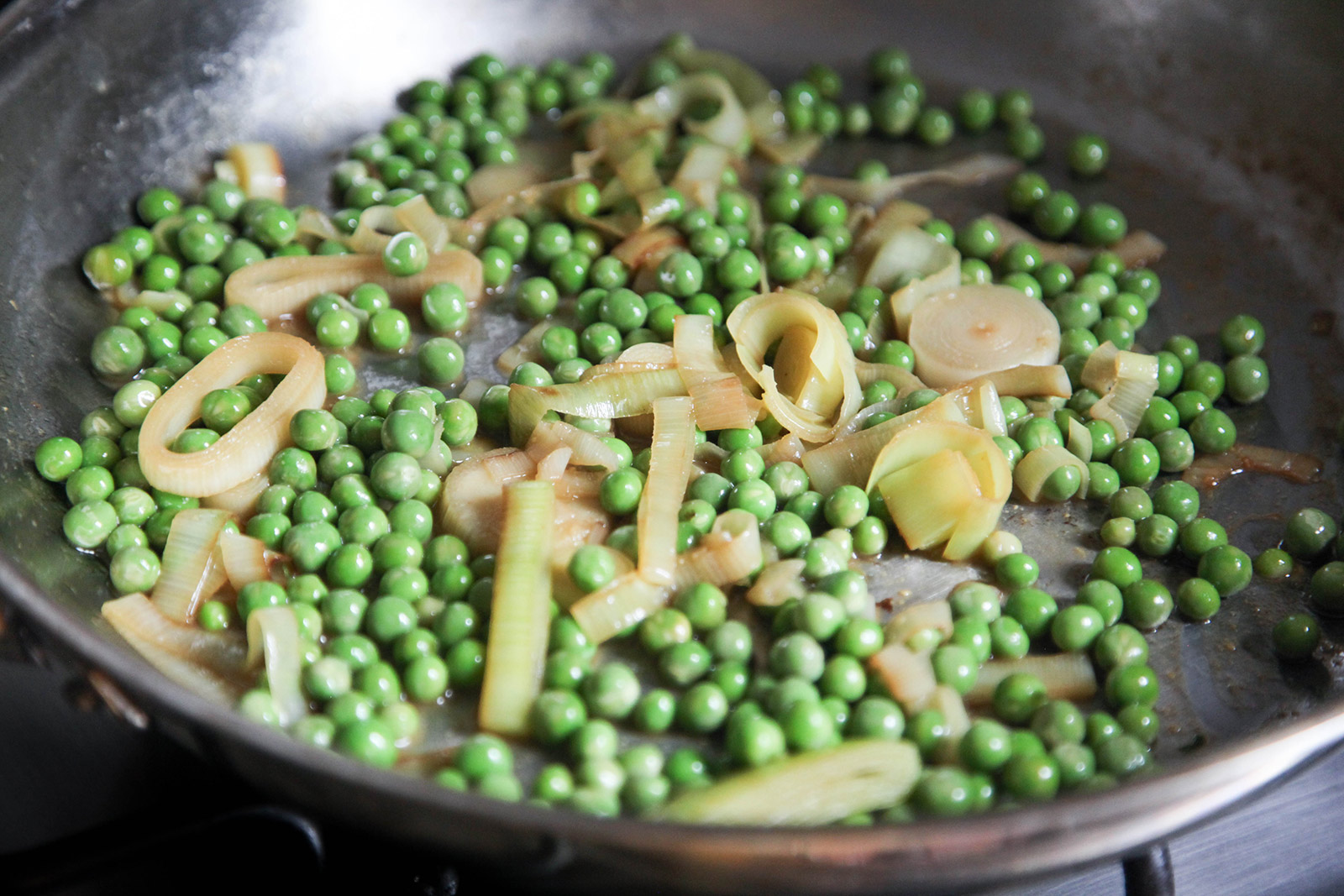 Spring Pea Salad with Leeks, Radish, Citrus Zest and Aged Parmigiano & Pecorino-Romano Cheeses
SERVES: 1

INGREDIENTS
1 cup shelled green peas

1 leek (white part only), sliced into 1/4 inch pieces
1 tablespoon good quality butter
1 cup chicken stock
1 radish, thinly sliced
Bit of rind or zest from a lemon (I used Meyer lemon)
1/4 teaspoon zest from a tangerine or orange
Parmigiano-Reggiano cheese (good quality, aged 2 years), crumbled; use as much as you want (I used about 1 tablespoon)
Aged Pecorino-Romano cheese, shaved (I used Locatelli Pecorino); use as much as you want
Freshly ground black pepper
METHOD
Melt butter over medium-low heat in a pan, add leeks, and cook for about 5 minutes till soft. Stir regularly to make sure leek doesn't burn.

Add stock and cook for another 4 minutes until leeks soften more and stock has reduced by about half (if leeks soften quickly, you can increase the heat to reduce stock faster; stir so that the leek doesn't burn).

Increase heat to medium and add peas. Cook, stirring, for another 3-4 minutes till stock is absorbed (don't overcook the peas). Remove from heat. 

Put the peas and leek mix on your salad plate.

Add radish slices, cheeses, lemon rind, orange zest. Sprinkle with freshly ground black pepper. Serve immediately and enjoy!