Savory Oatmeal with Leeks, Shiitake Mushrooms, Spinach & Thyme
Oddly enough, one of my favorite quick meals in the past couple of months has been savory oatmeal. I used to detest oatmeal as a kid, which we called porridge back then. I remember sitting at the breakfast table before school, trying to force porridge down my throat. So once I left home for college, I didn't touch oatmeal again. But a few years ago, when I started eating breakfast (which I had skipped for years), I tried oatmeal and realized I really liked it; my tastes had evolved as an adult. Oatmeal was warm, comforting, nutritious, and I could diversify it by adding different types of fresh fruit and other toppings.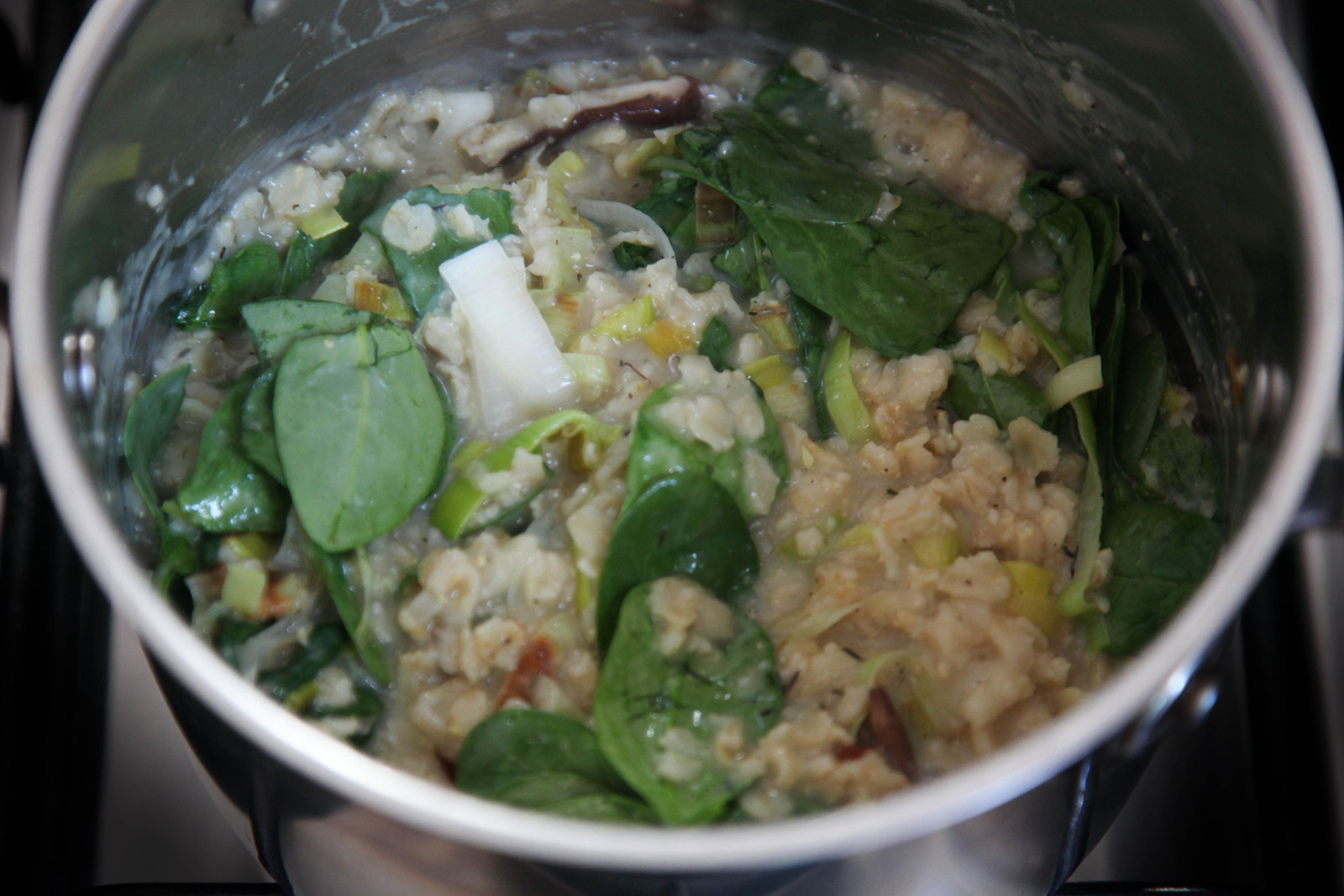 Then a couple of months ago, I was trying to think up quick easy healthy lunches and weeknight dinners, that didn't involve rice, bread, or potatoes. As I tried to think of what could incorporate vegetables, shrimp, etc. but was healthier, I decided to try using oatmeal as the base. I made a "congee" or risotto type of dish, but instead of soupy rice, it was soupy oats with chicken stock (to which I added veggies). The savory oatmeal turned out Delicious! And I've been making it almost every week since, trying out different variations.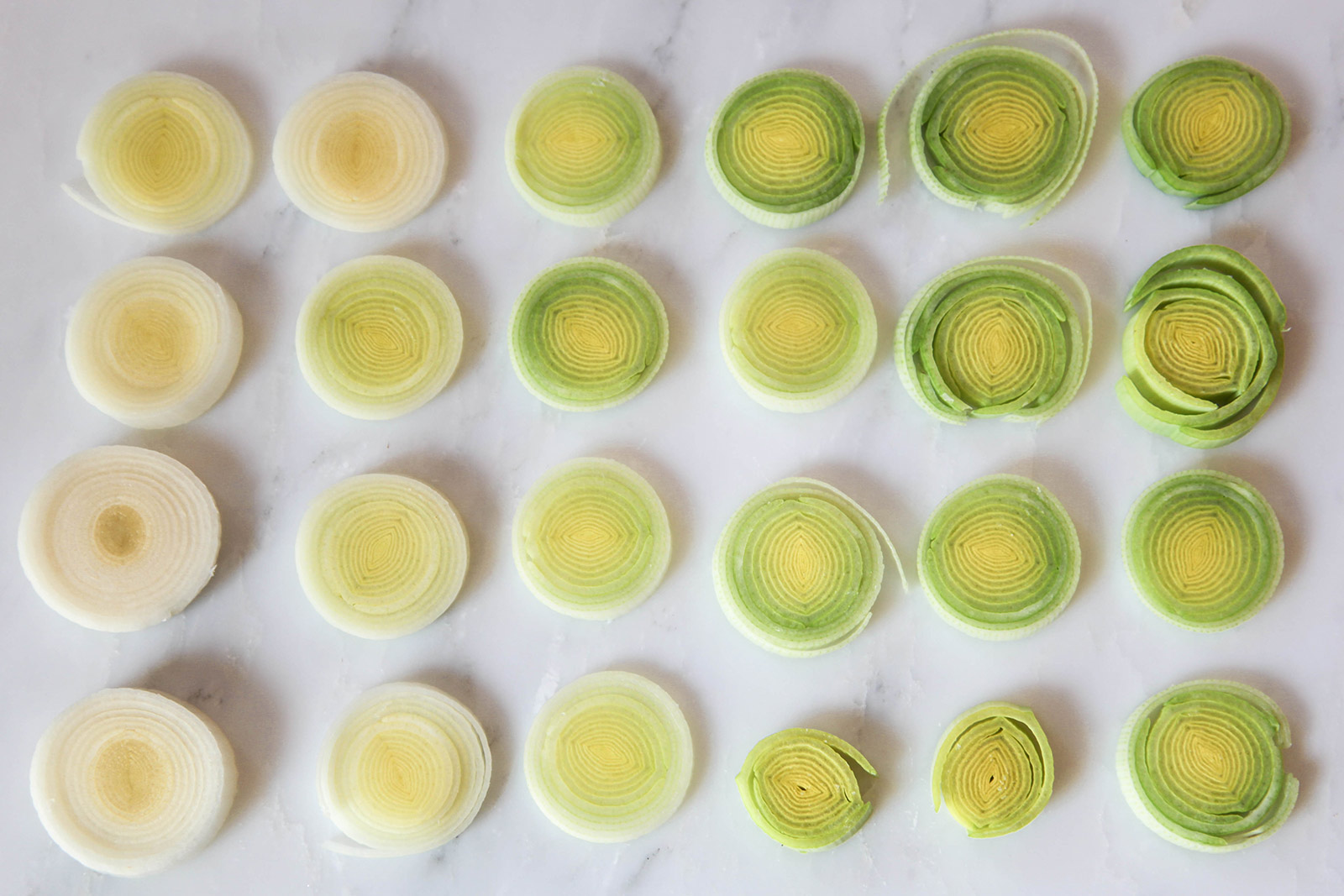 The version here is my favorite. It's so easy to make, takes less than 20 minutes from beginning to end. A whole meal ready that fast, with minimal effort! I use leeks, thyme, shiitake mushrooms, and spinach, so it's very healthy and flavorful. Packed with fiber, minerals, vitamins, it's super nutritious, helps lower cholesterol while stabilizing blood glucose levels. The entire portion here, which is about 2 servings (or one giant serving), adds up to about 350 calories – so it's low calorie, but you feel full after eating this.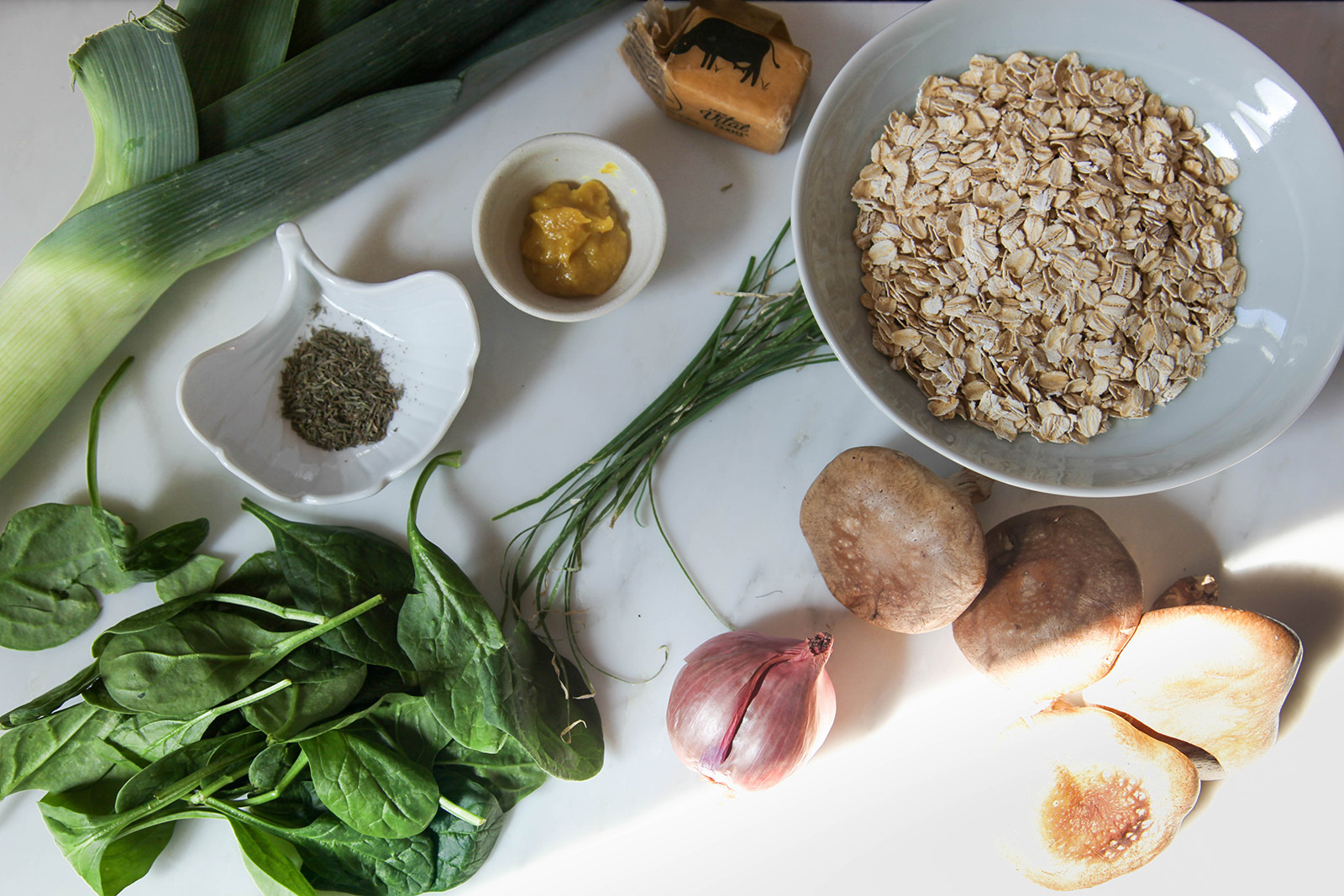 It's also very versatile. You can add sautéed shrimp (or whatever protein you like), or try other vegetables, such as asparagus. You can also crack an egg and drop it in, letting it cook for a minute before removing it from the heat. You can top it with fried shallots, or chopped cilantro, or scallions, or chopped walnuts. I've tried all these versions, depending on my mood (and also what I have in the fridge), and I enjoy them all. Honestly, it's the perfect quick lunch or weeknight dinner.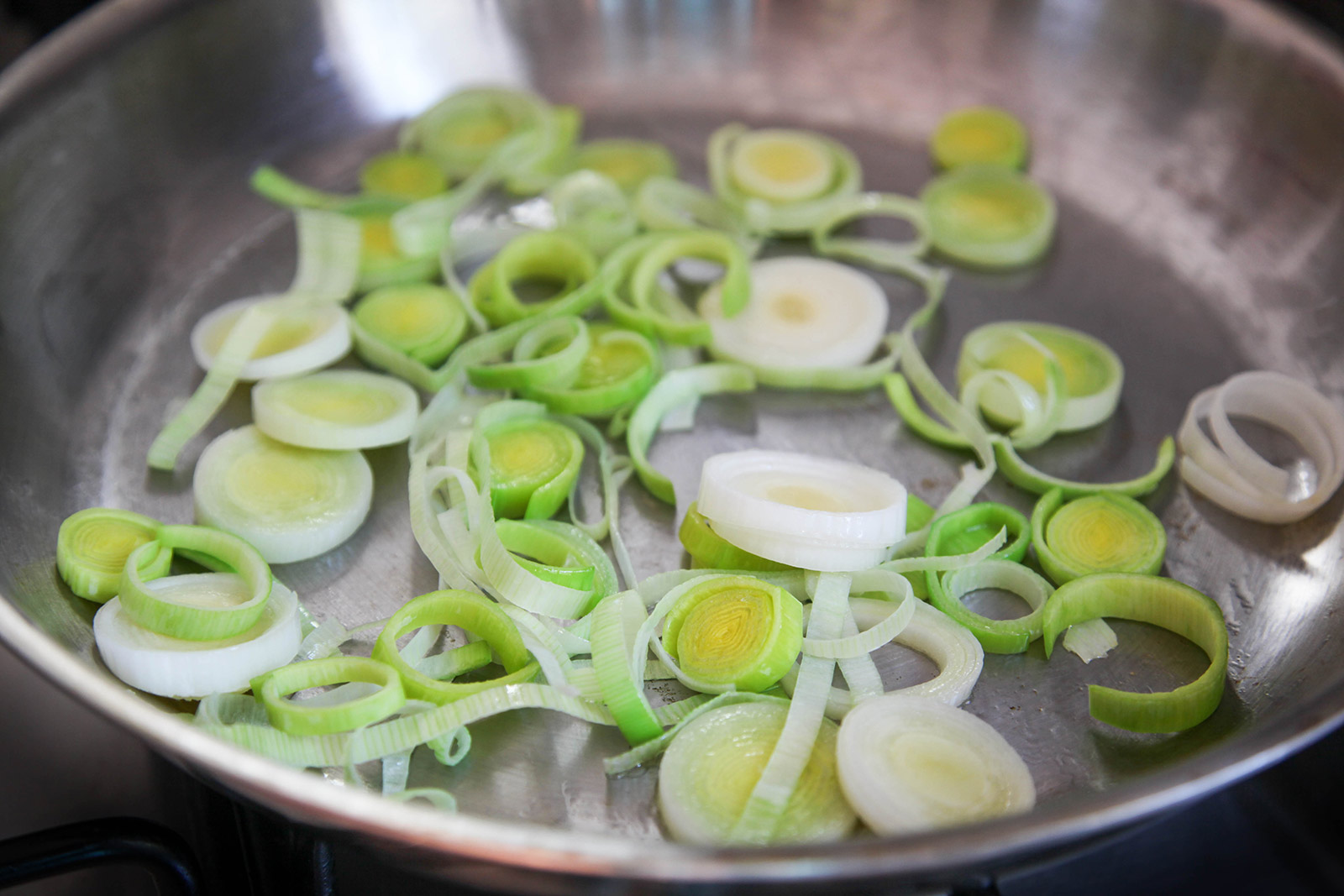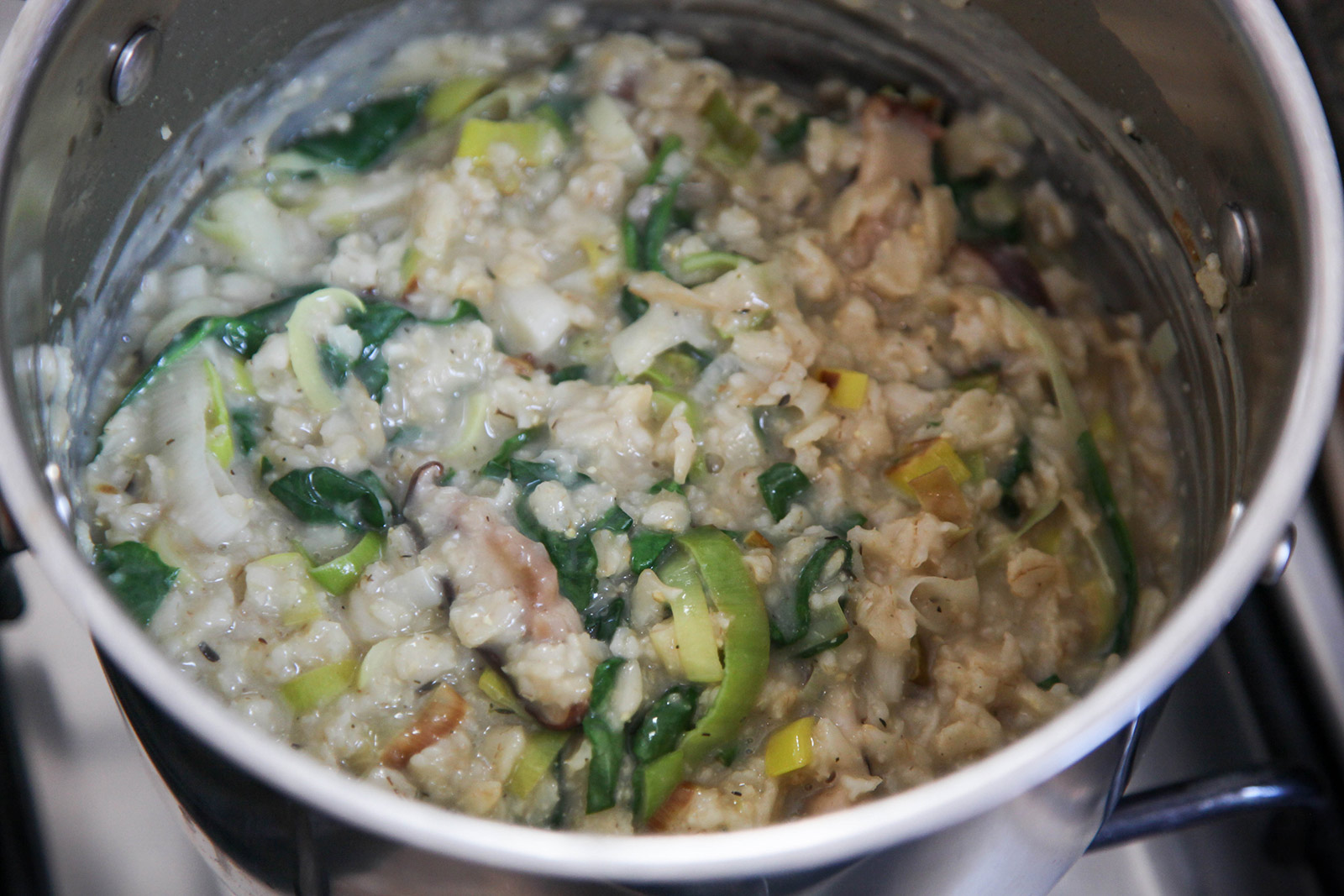 Savory Oatmeal with Leeks, Shiitake Mushrooms, Spinach & Thyme
SERVES: 2
INGREDIENTS
1 cup old-fashioned rolled oats (not instant)

2 and 3/4 cups chicken or vegetable stock

1/2 tablespoon butter

1 leek sliced, white and pale green parts only (or can substitute 1 large sliced shallot instead)

4 shiitake mushrooms, sliced

1/2 teaspoon thyme

1 cup baby spinach

1/2 teaspoon chopped fresh chives for topping (optional)

2-3 whole walnuts broken into pieces, for topping (optional)
METHOD
In a deep pot, prepare stock according to directions for stock (I use chicken stock paste).

When the stock starts boiling, add oats to the pot and cook for 5 minutes on low heat.

In the meantime, while the stock (from step 1) is boiling, separately in a large shallow pan, melt the butter. Sauté leeks for 2 minutes. (If you're using shallot instead of leeks, sauté till soft, about 4 minutes).

Add the mushrooms & thyme to pan, and sauté together till soft, about 5 mins.

Transfer the sautéed leeks and mushrooms to the pot with oatmeal and cook for another minute.

Stir in baby spinach & 1/4 cup water. Cook for 2 minutes until spinach has wilted.

Remove from heat into bowls, top with chopped fresh chives and broken walnut pieces. Serve immediately.