Melt-in-your-mouth Short Ribs Braised in Red Wine and Herbs
It's almost Christmas! Time for indulgence. The city feels so festive at this time of the year. Holiday lights and Christmas trees everywhere, pop-up holiday markets with stalls by artisans that have so many interesting hand-made things – beautiful lamps from Bali, gorgeous hand-painted bowls from Turkey, thick warm knitted scarves and hats… And then there are the food stalls with freshly made nutella donuts and hot chocolate and cheesy empanadas and hand-made chocolate… all calling out to me!
When Christmas season comes around, I just cave in to all those indulgent foods that I don't normally eat during the year. Christmas is an adopted holiday for me. I didn't actually grow up celebrating it, but my husband's family is really big into the holidays. And I've come to enjoy it too. I look forward to the food that my mother-in-law makes when we go over, the evenings hanging out drinking lots of wine, and even arguing about politics with my father-in-law 😉 And I always wish it'll be a white Christmas – the trees and the house and the little stream behind all covered in snow, it's so magical.
It's been snowing a little in the city too. With the cold and snow outside, I've been in the mood to eat rich comforting dishes. These succulent melt-in-your-mouth short ribs satisfy that craving so well. Beef ribs, braised in red wine, stock, and herbs, slow cooked for hours, the meat falling off the bone… The taste is so fantastic! And the sauce so rich and delicious. It really is one of those perfect holiday dishes.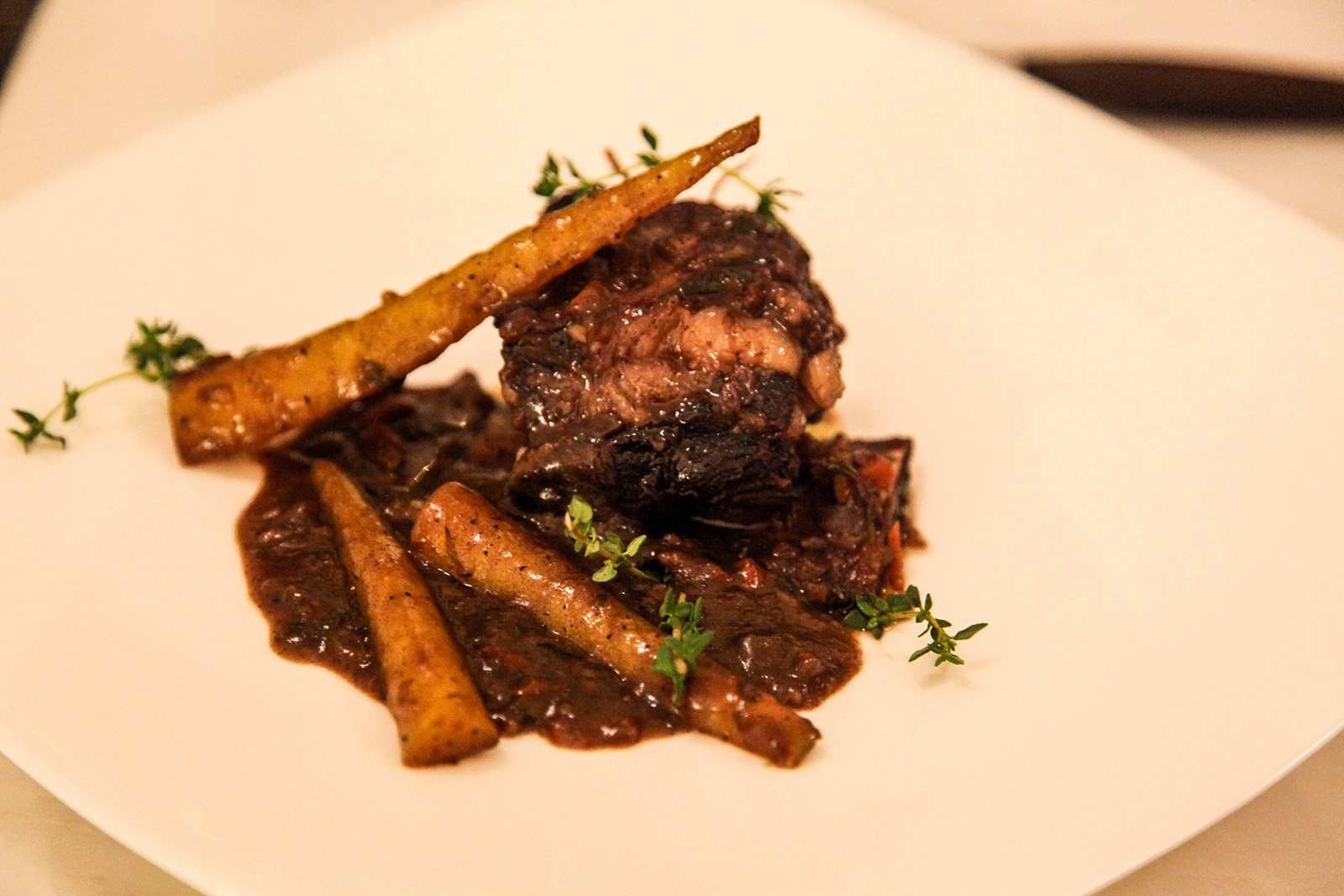 It's also easy to make. After the initial preparation, you just put it in the oven and then go do whatever you want – curl up with a book, catch up on a Netflix show, while your home starts smelling more and more heavenly. I serve the braised short ribs with risotto. Pairs very well I think. And I use yellow carrots that I get from the farmers market to go with the short ribs. The colors are beautiful!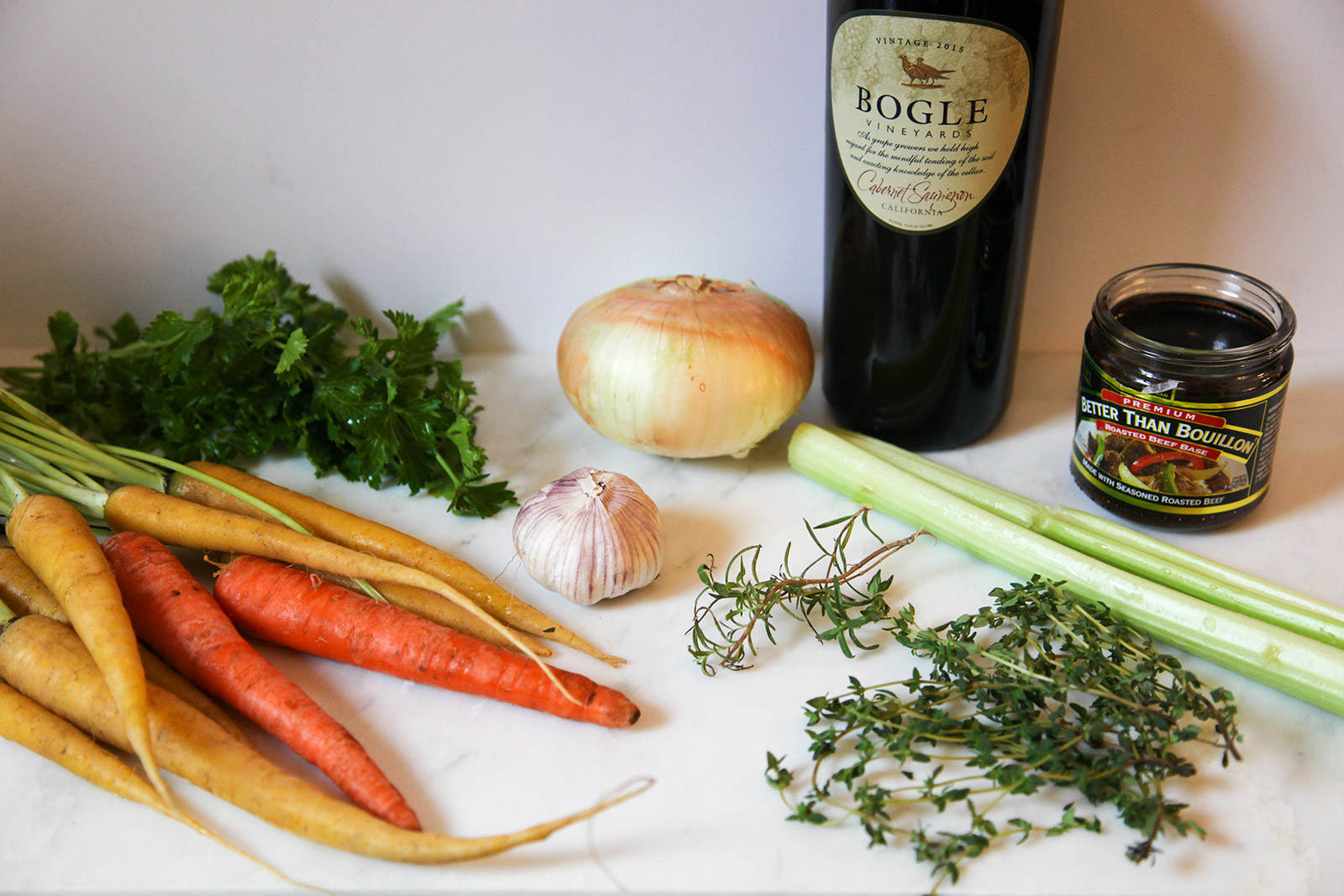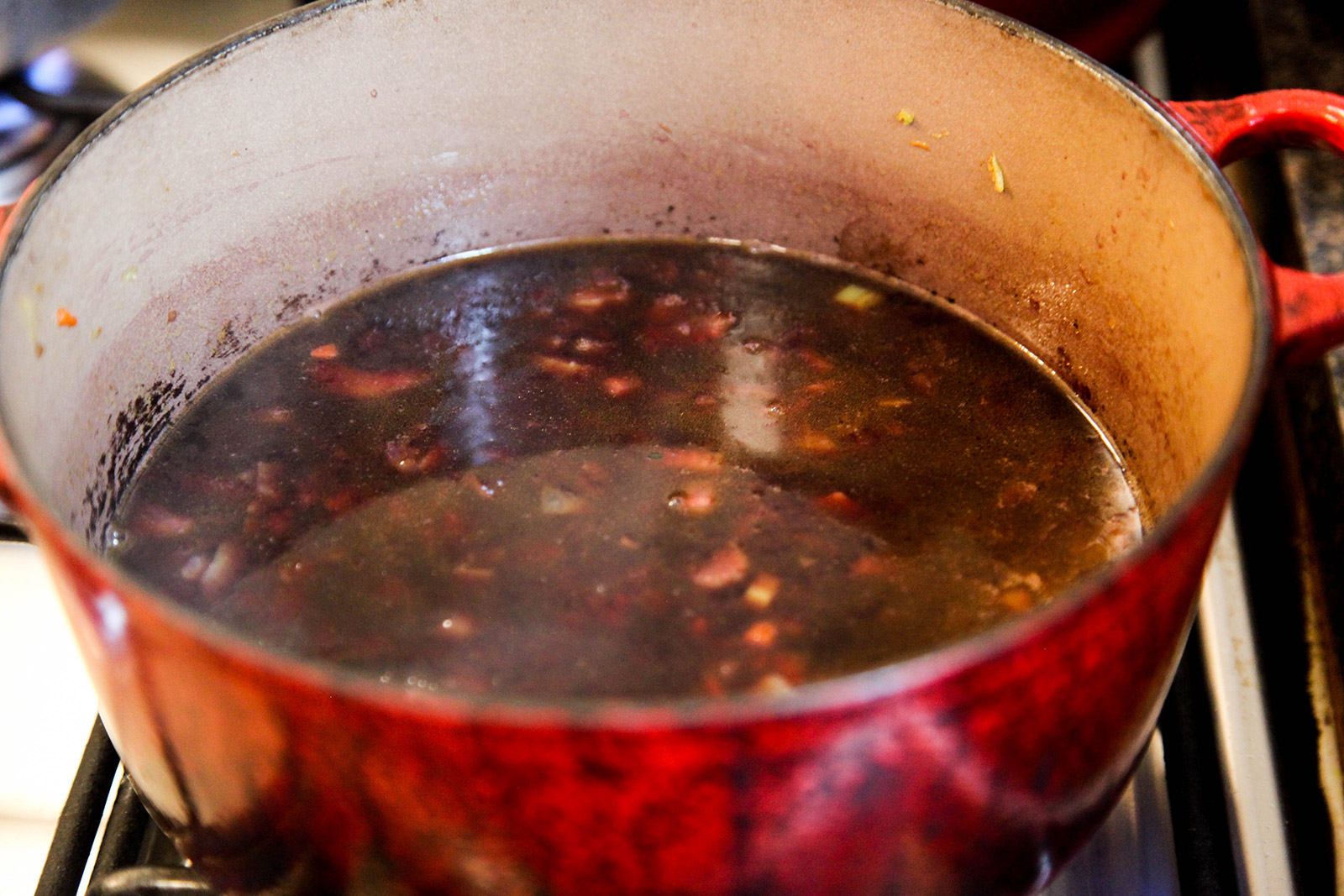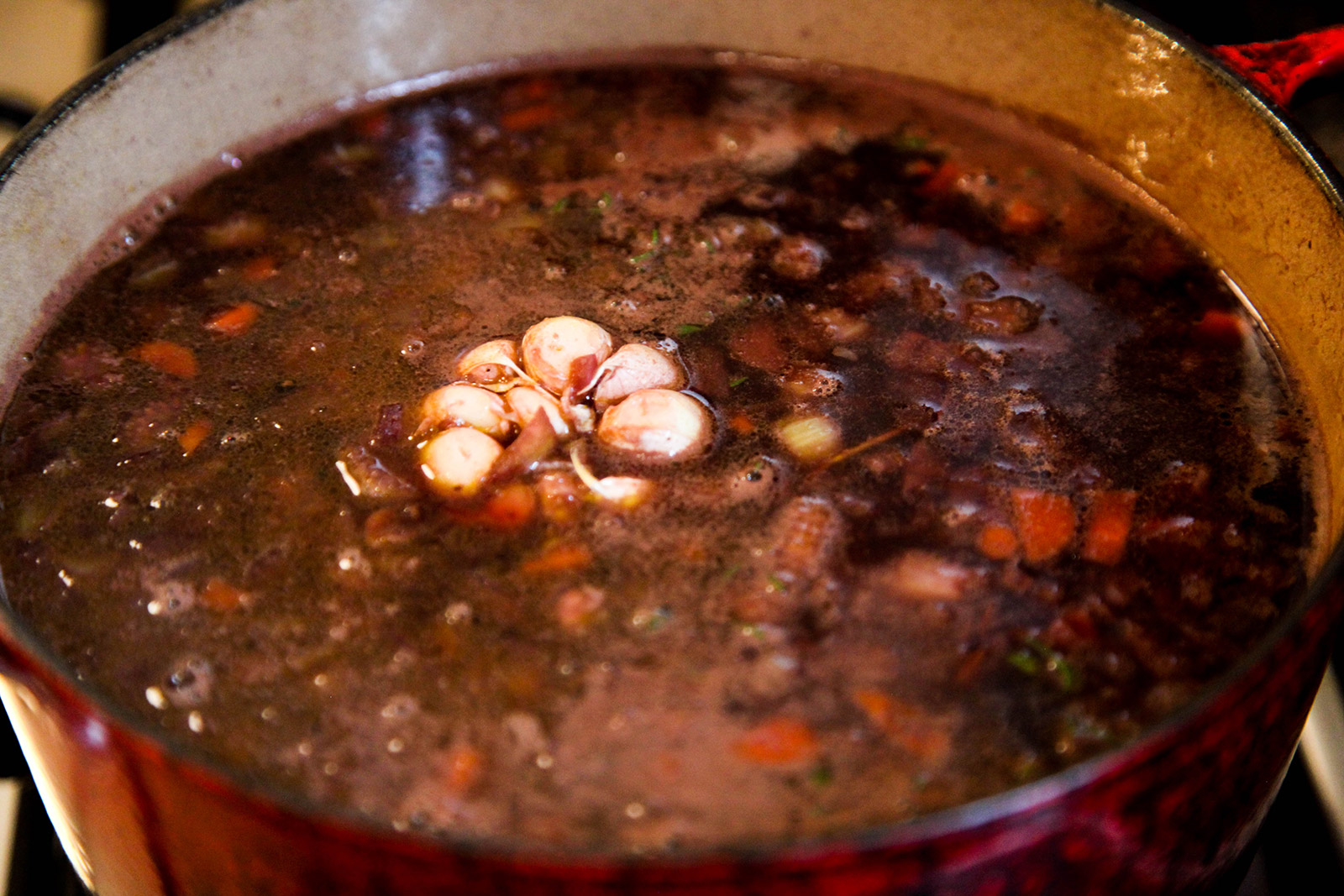 Melt-in-your-mouth Short Ribs Braised in Red Wine and Herbs
SERVES: 4
INGREDIENTS
2 pounds short ribs, bone in

salt and freshly ground pepper

2 tablespoons vegetable oil
1 medium to large (1.5 cups) sweet onion, chopped
2 celery stalks (1 cup), chopped
2 medium orange carrots (1/2 cup), peeled and chopped, for sauce
6-8 small carrots, halved lengthwise, for using later (I use yellow carrots)
2 cups red wine
3 cups beef stock (I use store bought paste to make the stock)
1

 

whole head of garlic, top sliced off
6 sprigs flat leaf parsley
6 sprigs thyme
2 sprigs rosemary
METHOD
Preheat oven to 350 F.

Rinse the short ribs and pat dry. Sprinkle with salt and pepper.

Heat oil over medium high heat in an oven-safe pot or dutch oven (you'll be putting this pot in the oven after the initial cooking, so make sure it's oven-proof).
When oil is hot (after about 2 minutes), add the ribs and brown each side, about 2 mins per side. Then transfer the ribs to a platter and set aside.
To the same pot or dutch oven (it should still be hot), add chopped onion, celery, and the 2 chopped carrots. Cook over medium heat until they soften (about 10 minutes).
Add red wine to the pot, stir throughly, and cook over low heat for about 10 minutes.
Add stock, parsley, thyme, rosemary sprigs, and head of garlic. Cook for about 5 minutes.
Add the short ribs back to the pot. Cook over low heat for about 5 minutes, until liquid is

 

boiling.
Cover pot with lid and transfer to the pre-heated oven.
Braise for about 3 hours. Start checking after 2 hours, to see if the meat is soft and falling off the bone (mine takes a little over 3 hours).
In the last 15 minutes, after about 3 hours, add the reserved halved carrots to the pot. Leave the pot covered in the oven for another 15 minutes.
The meat should be soft and falling off the bone at this point. Remove pot from the oven and remove the meat carefully to a platter. Leave the liquid, vegetables, and herbs in the pot.
Put the pot on medium high heat on the stove, add 2 tablespoons of flour, mix throughly. Cook for about 10 minutes, until sauce thickens.
At the time of serving, spoon the sauce on the meat, add the yellow carrots, and garnish with fresh thyme leaves.