Kacha Chana or Yellow Split Pea (Bengal Gram) Salad
Bangladeshi Kacha Chola or Kacha Boot, Snack for Iftar
Kacha Chana is a simple dish, easy to make and quite addictively tasty. It's made with raw "kacha" chana dal, which is a type of legume known as Bengal Gram or Indian yellow split pea. Chana or Indian yellow split pea looks very similar to the yellow split pea found in most American grocery stores, but is not the same (take a look at this article which shows the differences). The dish takes only a few minutes to put together – although it does require pre-planning as the legumes need to be soaked overnight or for a few hours to soften them. Mix the raw softened kacha chana with chopped ginger, shallots, green chili, and salt, and you'll get a wonderfully flavorful, salty, crunchy, light "salad." It's infused with the fresh zing of ginger and has a bit of spicy kick thanks to the green chili. It's very healthy too as Bengal Gram is rich in protein and folic acid, has a low glycemic index (i.e. doesn't cause unhealthy spikes in blood sugar levels), and helps control weight and lower cholesterol.
For me this dish is associated with a very specific time of year and rituals. My mom would prepare it during the month of Ramadan, which we call Ramzan. It was one of the staple items on the table every evening for Iftar (the meal at the end of the day for breaking the fast). Even though I didn't fast much while growing up, my mom and grandmother both did so – not eating or drinking even a sip of water from sunrise to sundown for the 30 days of Ramzan. While this sounds arduous – and no doubt it is, especially during very long hot days when not even a drop of water can cross parched throats – it was also a happy time of year.
The prolonged fasting seems to elevate one to a higher plane – people are more spiritual during this holy month, less focused on worldly needs for the self, more empathetic toward others, kindly and gracious. For Muslims charity is mandatory (one must give 2.5% of one's income & wealth to charity each year), and there's a special focus on almsgiving or charitable giving during Ramadan. When I was growing up in Bangladesh it was a busy month in our house – adults fasted, while working and going about their usual daily chores, made lists and arrangements to give to the less fortunate, spent the evening Iftar time joyously breaking fast together with the family (often including relatives and friends too), and the later hours of the evenings and nights were spent in prayer and spiritual meditation.
In between fasting and all this activity, my mom also found time to go shopping for Eid (the big celebration at the end of the month of Ramadan) when we traditionally wear new clothes. She would buy entire outfits for all of us, for our help, and to give as gifts to relatives. She seemed to have endless reserves of energy, and despite fasting all those hours she'd go from one shop to another in the intense heat looking for the perfect gift to suit each person. With her great sense of style and thoughtfulness, she didn't settle for just anything; no matter who the recipient was considerable effort went into their gift.
The afternoons during Ramzan would be spent preparing the Iftar meal. Iftar consists of a variety of very specific dishes, which are consumed usually only during Ramzan. The fast would be broken with rose-scented light milk. There would also be another drink called tokma, which was basil seeds soaked in water and sweetened with syrup. As an adult I've learned that basil seeds are very nutritious and also help control over-eating; so it's actually such a smart way to break a long fast – you may be excited about all the food after the long hours of fasting, but the basil seed drink helps you feel full and saves you from gluttony! There would also be a large number of dishes ranging from light and simple like the kacha chana salad-type dish, appetizer-ish ones like piyaju, to complex rich dishes like haleem, etc. In our house Iftar would never be a combined meal with dinner (a proper dinner would follow later in the evening, after Iftar). Even though every member of the household didn't fast, we all sat at the table for Iftar and helped break the fast together. As a kid, I knew exactly when sundown was each day because that's when my mom and grandmother got to break their fast – and I would count down the hours and minutes for them, excited for when they would be able to eat and drink again (and when we'd get to enjoy Iftar).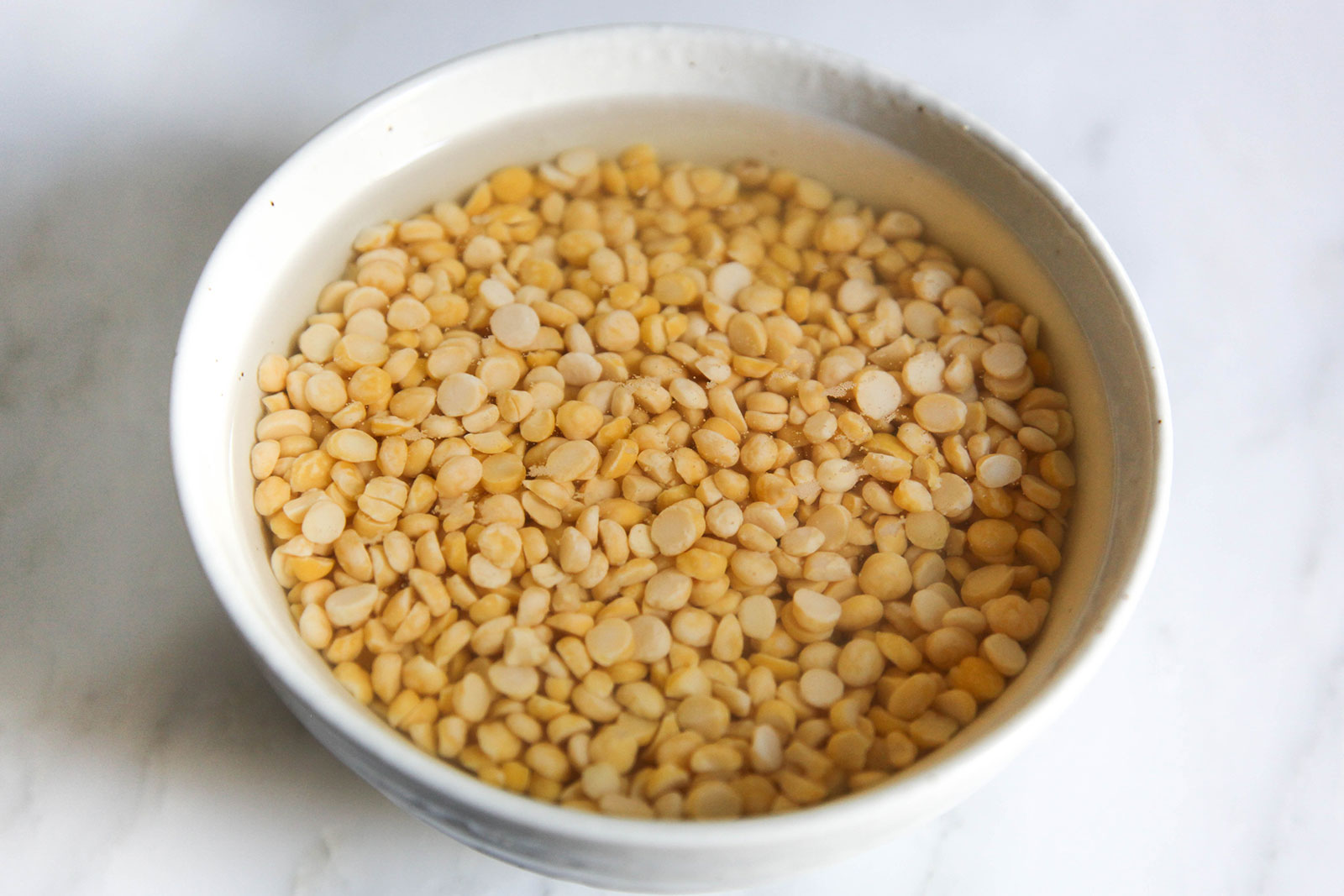 After Iftar and dinner were over, a big bowl of small dark chana dal seeds would be put out on the table to soak overnight in water. The next day, the tiny chickpea-like dark brown seeds would swell up after absorbing all that water. They would soften in the process and be easy to peel. As a child, I was excited to be given the job of helping peel the chana. It would be like a game to figure out a technique for peeling the seeds fast – if you pinched it at a certain point, the dark brown peel would slide off effortlessly revealing soft yellow seeds. And being that I was quite competitive as a kid, it was so fun to win at peeling the largest amount of seeds in the shortest amount of time. Oh to be a child and find joy in such simplicity!
A few years ago, out of nostalgia I got a big bag of unpeeled chana and followed the process from childhood. I'd decided to have an Iftar party and had invited a bunch of friends over. So I had to peel quite a bit of chana (in addition to making a number of Iftar dishes). About an hour into peeling, my fingers started throbbing with pain. The peels didn't slip off easily as I remembered, I'd lost my technique! Although at the end the kacha chana salad came together quickly after the peeling was done and was as tasty as I remembered, I vowed not to do this again. It wasn't the same without all those people around from my childhood to share in the labor and make it fun and non-laborious.
The following year when I was visiting a relative, she served the kacha chana salad. I asked if she had someone to help her peel all the chana and told her my story. She laughed and laughed! Apparently in NYC, they sell bags of chana already pre-peeled. You'll still have to soak it in water to soften the chana, but no peeling involved! Of course the next day, I ran to an Indian store and picked up one of the pre-peeled bags of chana dal. Life-saver!
Now I make the kacha chana salad as often as I want. It lasts about three to four days in the fridge, so I prepare a big bowl, and snack from it daily. I crave it specially during Ramzan. And this Ramadan, I've decided to share this very simple and flavorful recipe. Hope you'll try it.
Kacha Chana or Yellow Split Pea (Bengal Gram) Salad
SERVES: 2
INGREDIENTS
1/2 cup Indian Yellow Split Pea (also known as Bengal Gram or Chana Dal)

1 medium shallot, finely chopped

1 inch fresh ginger, finely chopped

1 to 2 fresh green chili peppers (I use thai bird's eye chili), seeded and finely chopped

1/2 teaspoon salt, or to taste
METHOD
Put the yellow split peas in a large bowl, rinse under cold water till the water runs clear. Then fill the bowl with water (about double the amount of water at least) and leave it out overnight. Soak the peas for at least 6 to 8 hours before you plan to use them. They should be soft when ready, if you pinch a pea it will easily break.

When ready to use, pour out the water.

Chop the shallot, fresh ginger. Slice the green chili lengthwise, remove the seeds by scooping them out with a knife. Finely chop the chilies.

Add the chopped shallot, ginger, green chilies and salt to the chana in the bowl. Mix throughly. Taste for salt, add more if necessary. Serve.