Golden Yellow Dal (Lentil Soup) with Turmeric, Garlic, and Cilantro
Bangladeshi home-style dal (lentil soup)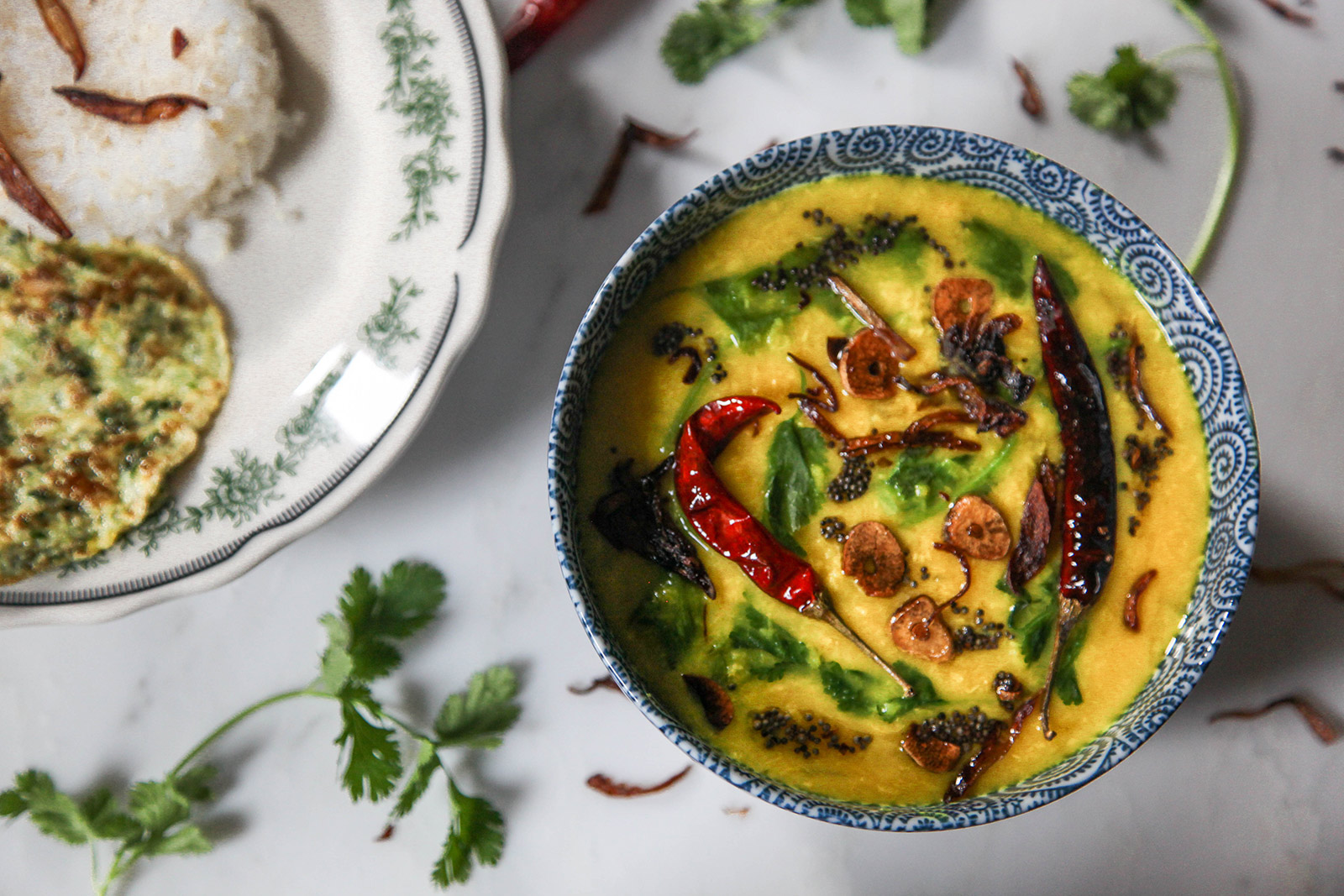 Happy New Year! Hope everyone had a wonderful Christmas and New Year's break. I got to spend some time in snowy New England for Christmas, hung out with in-laws, saw friends. Hubby and I came back to the city for a day, and then we were off to the Hamptons. More snow! This time we were at our friends' house, they had invited a bunch of friends for New Year's Eve weekend – we cooked, ate, drank, played games, sat by the fire, chatted, watched the snow fall… It was a relaxing and happy way to wind down the old year and ring in the new. Now we are back in the city again, and we have yet more snow. A proper snowstorm. And apparently this weekend temperatures will be lower than on Mars!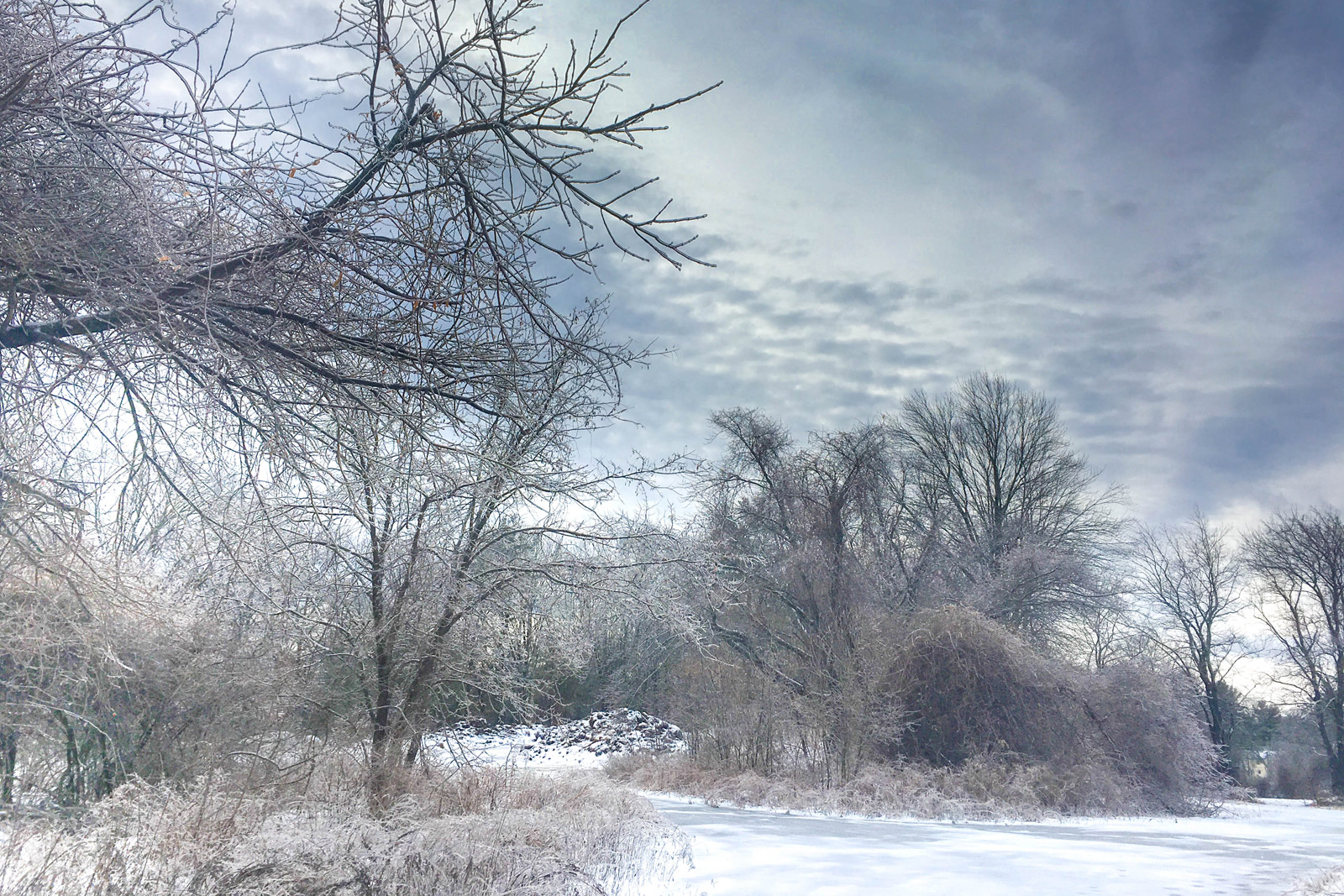 After all the heavy eating over the last two months, starting with Thanksgiving and all the way through New Year's, the usual heavy comfort foods just don't seem appealing at this time. And with this snow and cold, I haven't been able to motivate myself to go to the gym. So I definitely need to eat healthy at least, my body is craving healthy food. But I don't want to eat salads and raw veggies when we're in the deep freeze!
What I have been craving is dal (also known as lentil soup). Bangladeshi home-style dal is quite a bit different from the dal in Indian restaurants. It's fairly light in comparison. It's warm, nutritious and healthy, and Delicious! The perfect food for snowy cold January, when you want comfort food but you also want to avoid packing on even more pounds after the previous weeks of indulgence.
My dal recipe is basically my dad's, with a couple of minor modifications. My dad used to make fantastic dal. He rarely ever cooked while we were growing up; since we had a cook who made very tasty food, neither of my parents needed to cook, they would cook only when they were in the mood to make something special. Dal is a simple side dish that we'd have as a staple every single meal, and it was hardly "special". So I never got to eat my dad's dal until my mom got sick a few years ago and was going through chemotherapy.  The rest of us would cook healthy nutritious food for her, and my dad started making his dal then. It was simple, but so utterly delicious. My method of cooking dal had been different, and I prefer my dad's.
I've only made a couple of modifications to his recipe. I use ghee instead of oil; if you're having dal every single day, ghee is too rich, but if you have it only once in a while, a teaspoon of ghee adds wonderful flavor and aroma, and it's ok health-wise. I also add black mustard seeds at the tempering stage, I like the taste and texture it adds to the dal. The two dry red chilies added during tempering don't make the dal spicy; by charring them slightly you get a subtle nice smoky flavor.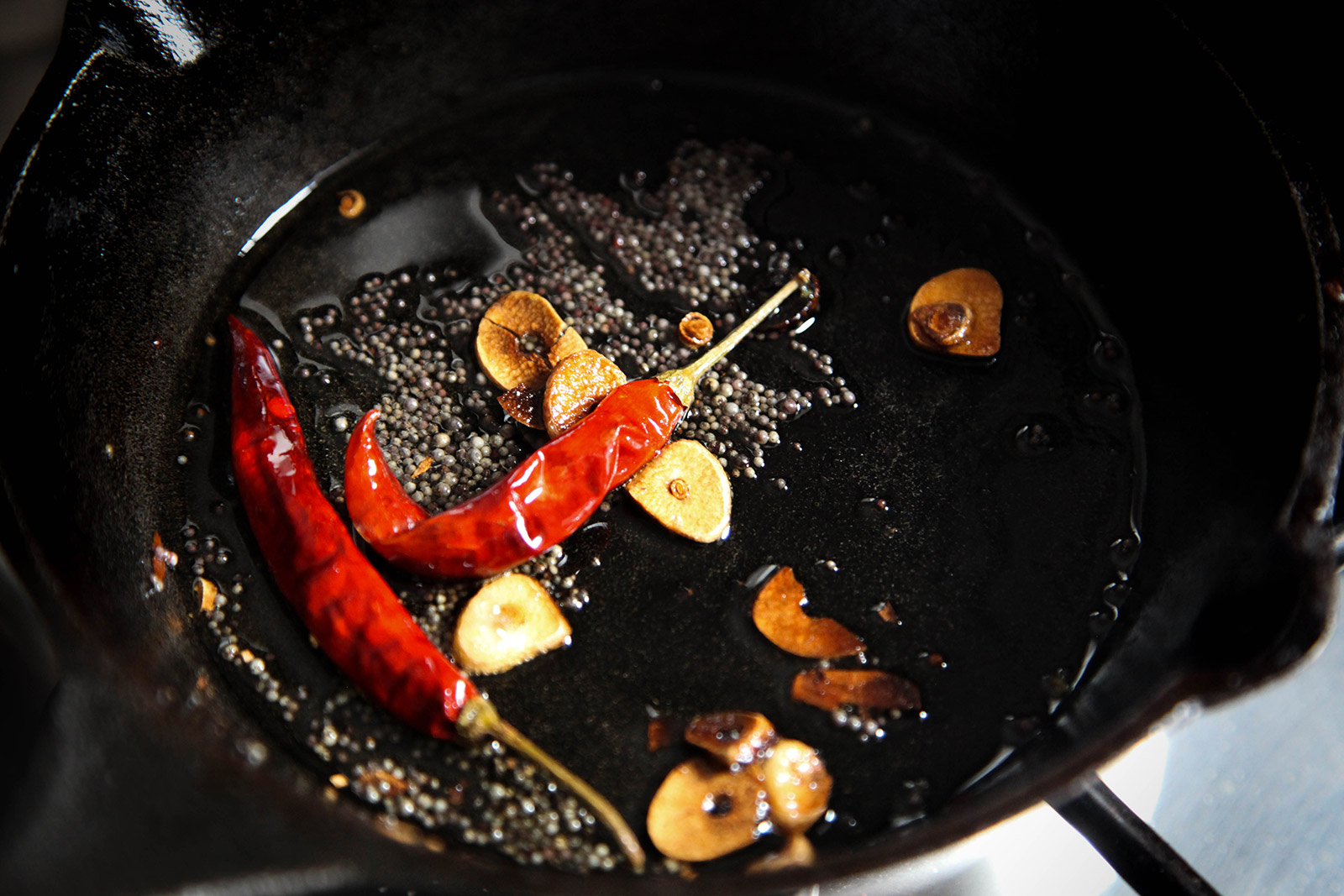 My dad used to add fried garlic at the end, whereas I added garlic cloves at the beginning. The taste is quite different with the addition at the end, and I've used my dad's method here. If you don't like garlic, you can skip it, or add at the beginning (you won't really be able to taste it then, but since garlic has so much nutritional value, it's better to at least include it at the beginning).
Lentils are highly nutritious, packed with protein, fiber, and essential vitamins and minerals – folate, iron, manganese, thiamin, B6, phosphorus, etc. It has selenium, which isn't found in most other food (selenium helps prevent inflammation and may have cancer fighting properties). So, basically – dal isn't just comforting and delicious, but it's also good for you.
I like to cook with the small yellow lentils, labeled as moong dal (or mung dal) in Indian grocery stores; it's split and dehusked mung beans. I prefer the smoother consistency of the cooked dal produced by moong dal (and my dad used to cook with it because it was better for his diabetes). Traditionally, Bangladeshis use the small red lentils, known as masoor dal, so you can use that instead.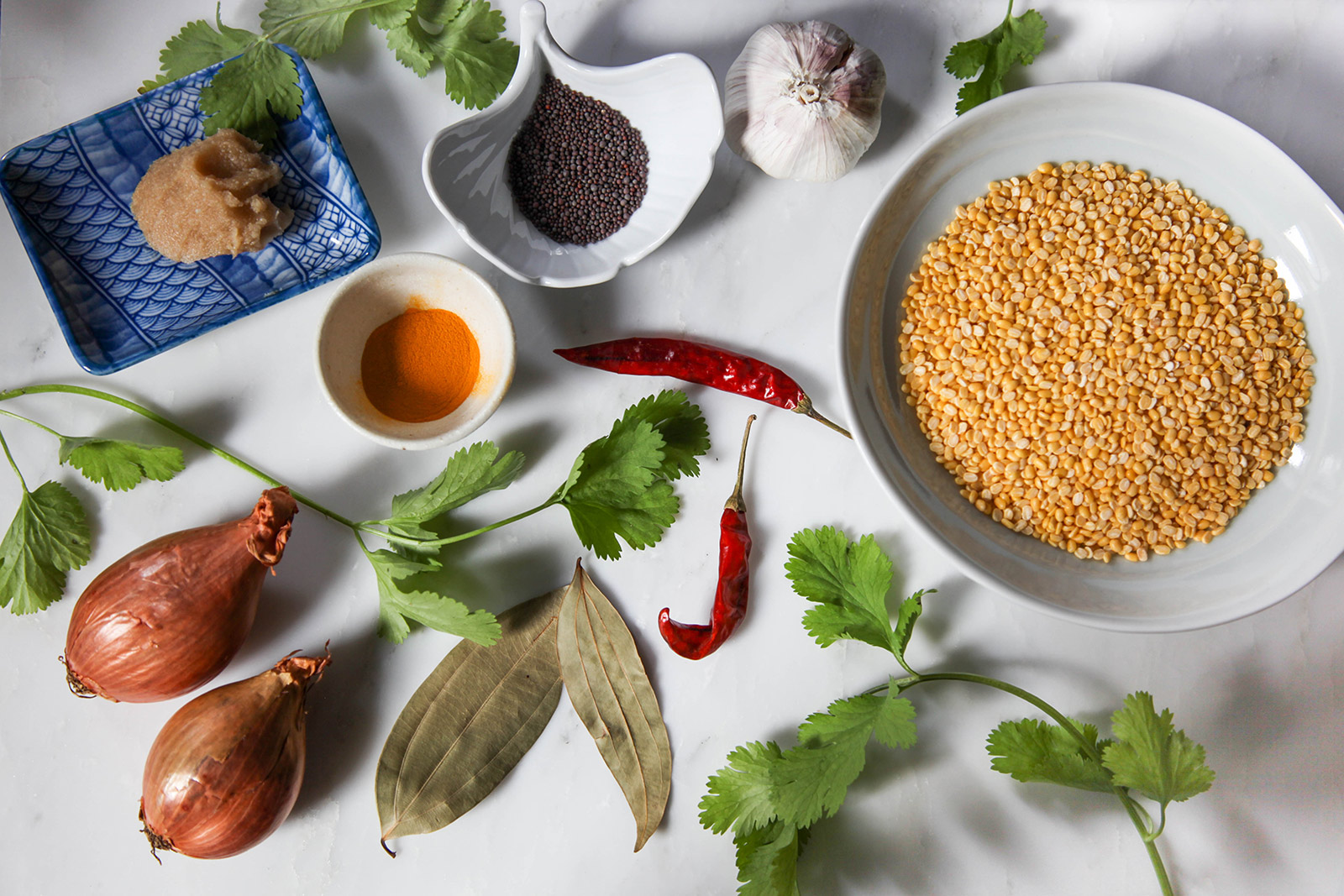 As I mentioned, back when I was growing up in Bangladesh, dal was always on the table at lunch and dinner as a staple along with rice (we would also have a couple of vegetable dishes, a meat, and a fish dish in addition). Now here in New York as an adult, I can't make that kind of a feast-like spread regularly. When I have time on a weekend, I'll make dal, plus a veggie or meat dish, and have it with rice. But if I want to make it on a weeknight, sometimes I'll have it with just rice and a Bangladeshi style omelette – simple, healthy, easy and fast, and the combination totally hits the spot! And then there are those days, when I'll just have it as soup, and skip everything else. It's always good, no matter what you accompany it with.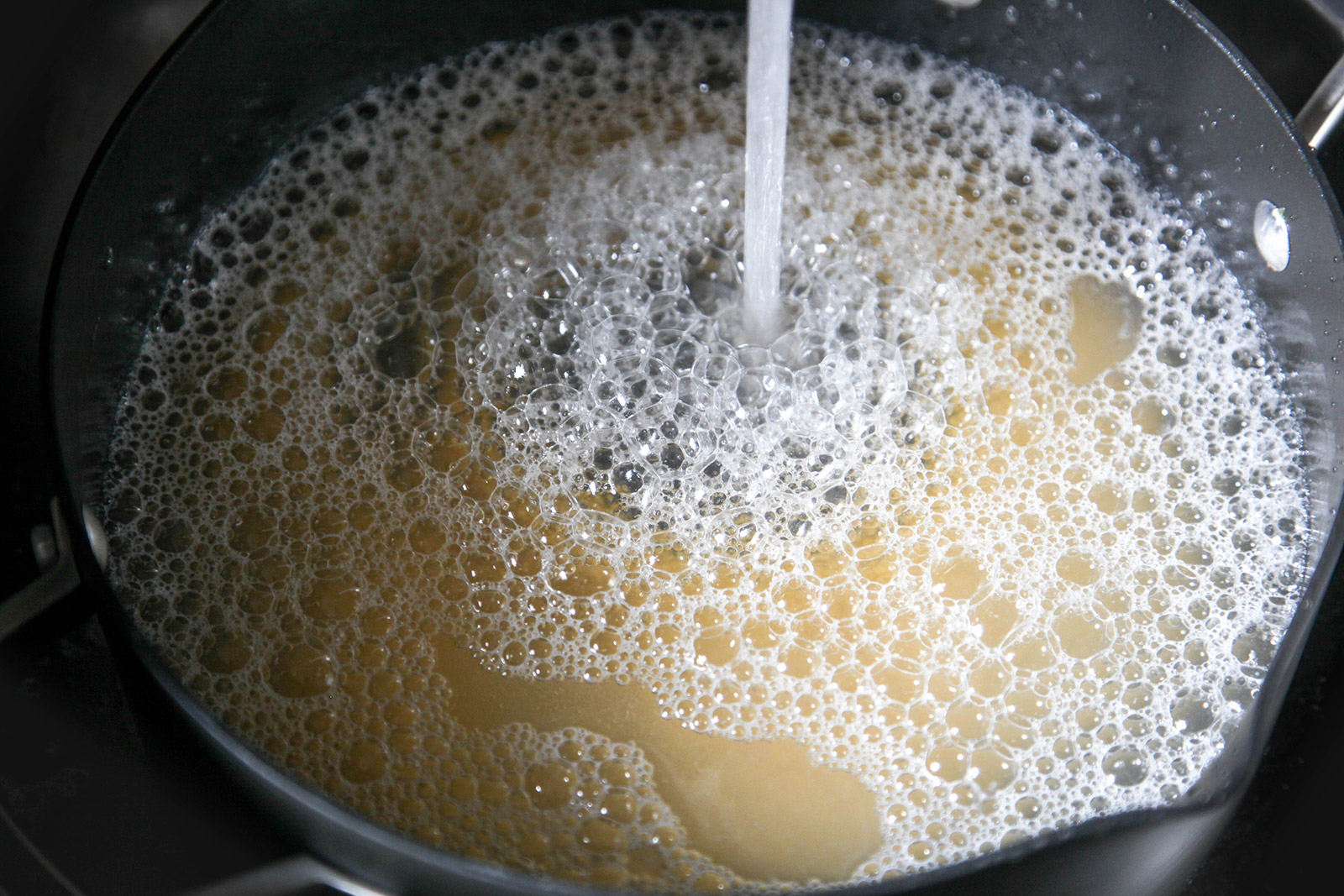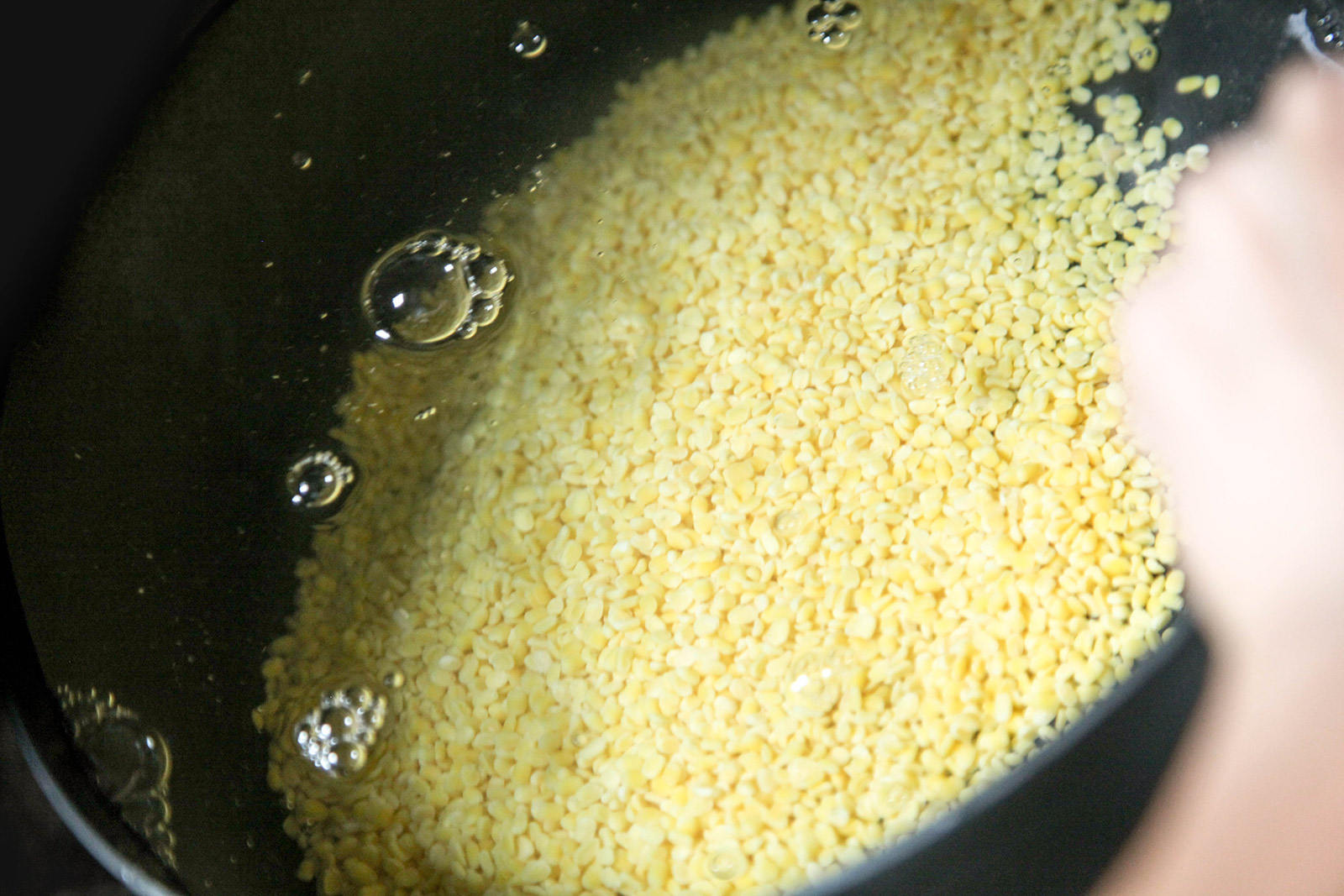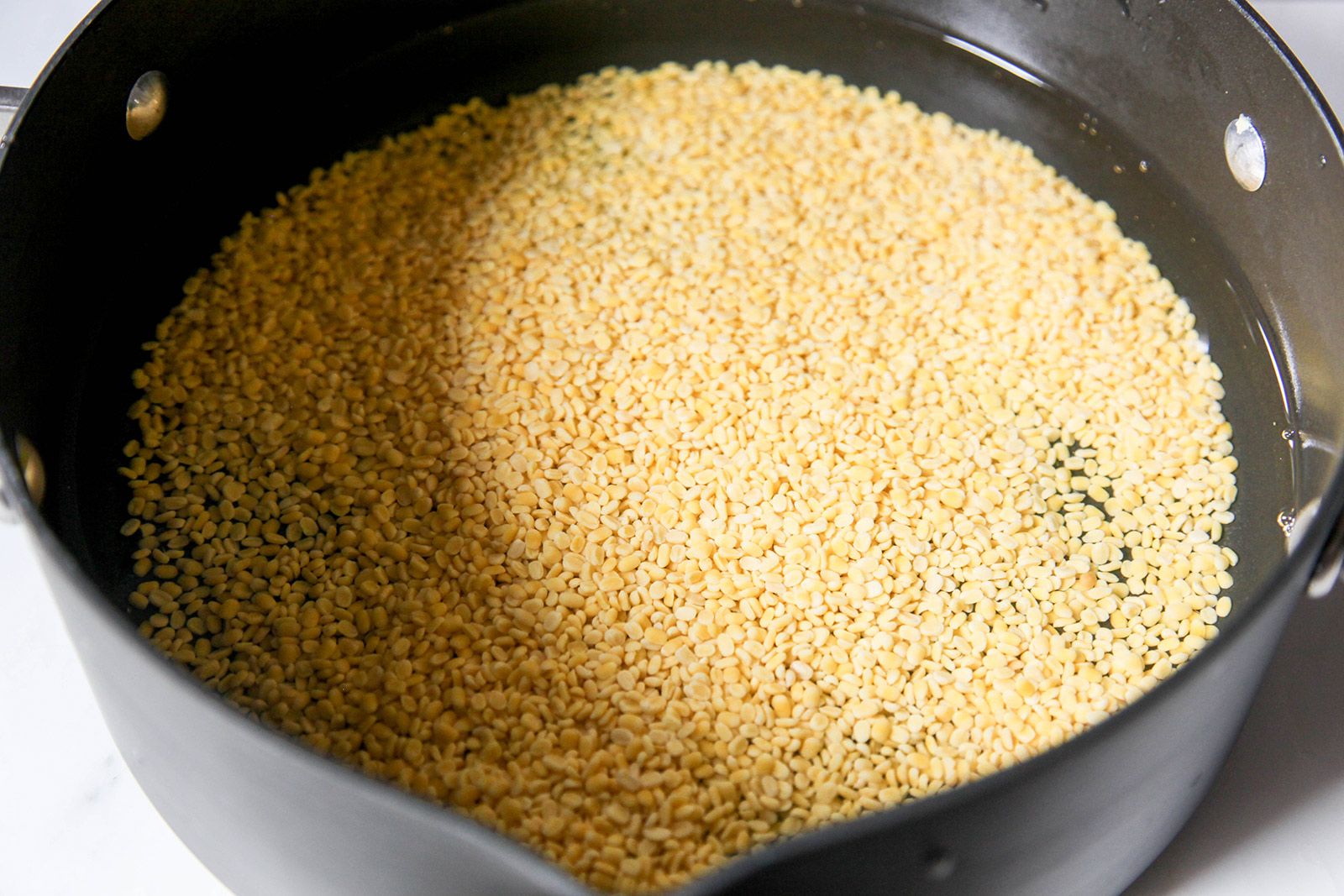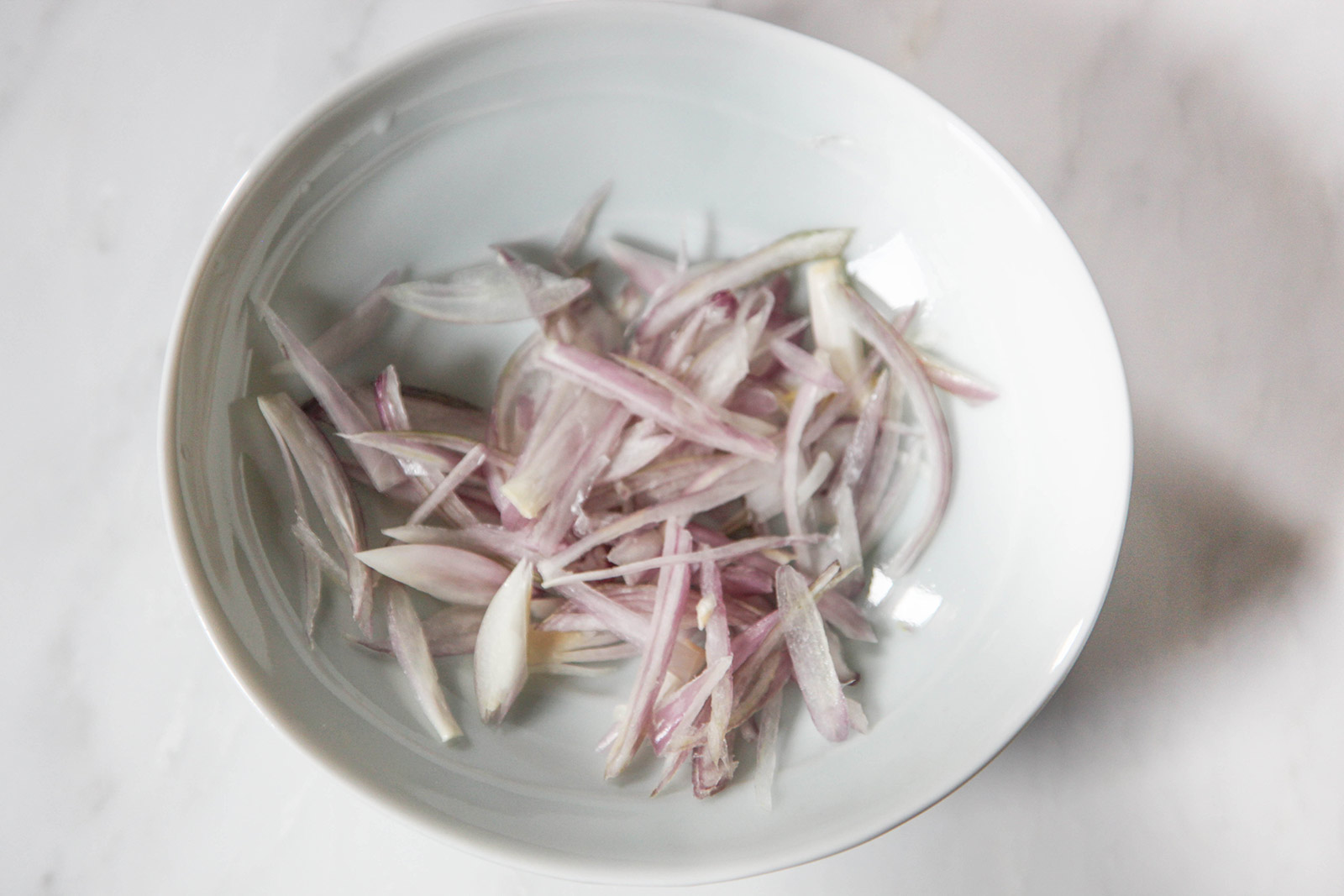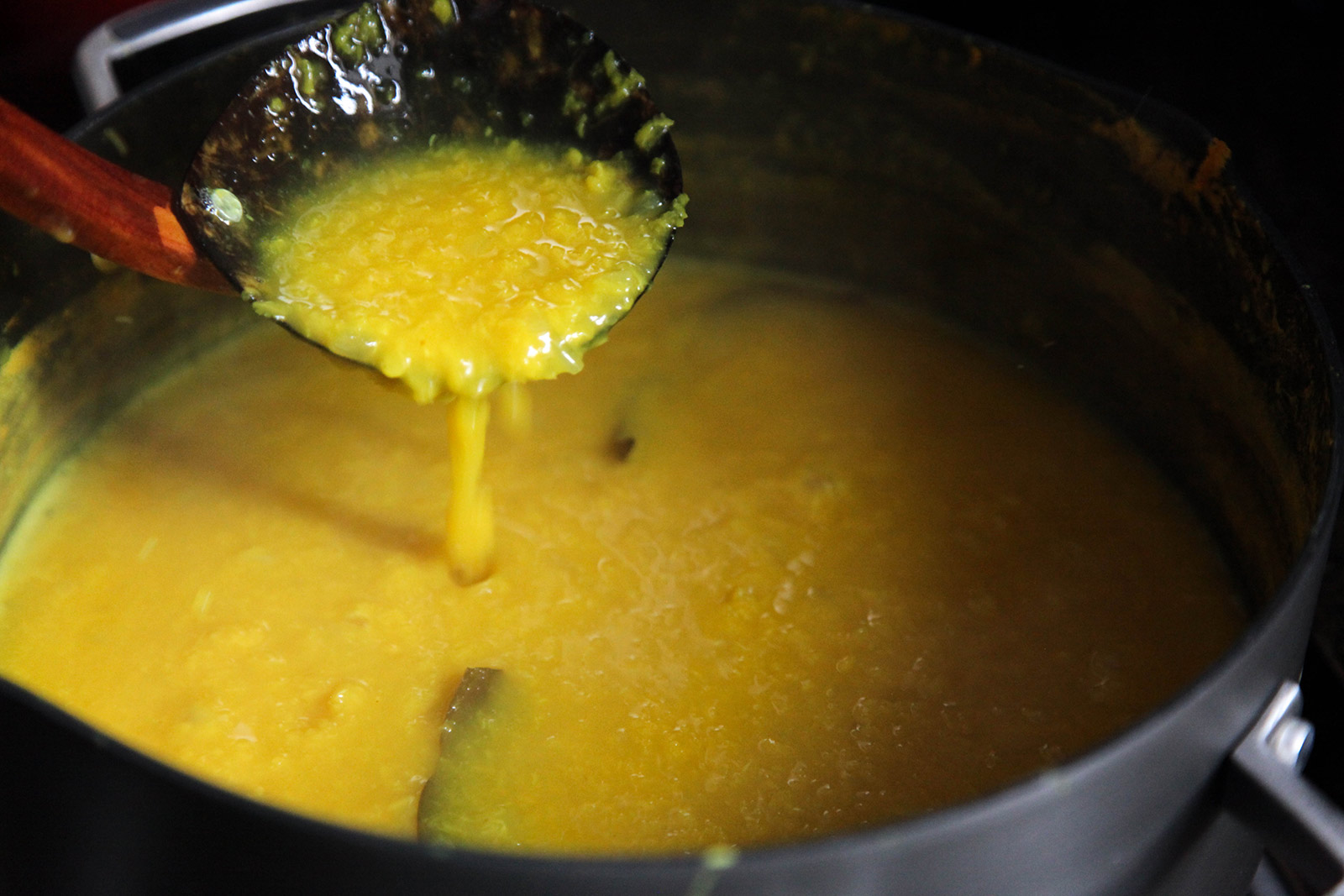 Golden Yellow Dal (Lentil Soup) with Turmeric, Garlic, and Cilantro
YIELD: about 3.5 cups cooked dal
INGREDIENTS
3/4 cup yellow lentils, known as moong/mung dal (can instead use red lentils/masoor dal)

2 shallots or small onions (1/2 cup chopped for cooking dal, remainder thinly sliced for tempering)

1 teaspoon turmeric

2 bay leaves
3/4 to 1 teaspoon salt (or to taste)
1 teaspoon ghee i.e. clarified butter (you can substitute oil instead)
1/2 clove of garlic, thinly sliced (optional)
1 teaspoon black mustard seeds (optional)
2 dried red chili peppers (optional)
a few cilantro springs, with stems on
8 cups water
METHOD
Put the lentils in a wide and deep cooking pot. Fill the pot with water under a running faucet in the sink, it will be cloudy and frothy. Pour the water out, refill and repeat, until the water is clear (no longer cloudy or frothy). Pour the water out.

Fill the pot with about 8 cups of water. If you're using a smaller pot, that's ok – you can add more water later as the dal cooks and thickens.

Put the pot over high heat on the stove. Add salt, turmeric, bay leaves, chopped onions. Once it comes to a boil, reduce heat to medium high and cook uncovered for about 40-45 minutes.

In the meantime, thinly slice the remaining shallot.

Heat the ghee over medium-low heat in a small shallow skillet. When the oil is hot enough (drop in a slice of onion, if it starts bubbling, it's hot), add the shallots. Fry the shallots, stirring regularly, till golden brown. Remove with a slotted spoon to a small plate and spread out to dry. Leave the ghee in the skillet.

When dal is cooked through, the consistency will be smooth and medium thick (but not too thick or dry). Turn off heat. Taste to make sure no more salt is needed (I tend to add less salt when I start cooking, and add a little more at the end if needed).

Add the cilantro sprigs to the hot dal and stir in (leave the stems on, they add a nice flavor to the dal).

Heat the skillet with the ghee (that you used for frying the shallots) over medium heat. Add the garlic slices, and fry till they start to brown. Add the dried chilies and mustard seeds and fry till the seeds start to sputter. Transfer contents of the skillet to the dal (dal should still be hot).

Add the fried shallots to the dal. Serve immediately.