Soft Baked Eggs Nestled in Crispy Potato Pancake, topped with Fresh Chives and Toasted Pumpkin Seeds
At Christmas we saw our friend from Vermont, and he gave me a gift of blue and green eggs! These eggs are beautiful, I can't stop staring at them. I hadn't known before that a few breeds of chickens naturally lay blue and green eggs – so fascinating. He has the Ameraucana chickens and each chicken lays eggs a specific shade of color. So looking at the particular shade of blue or green, he can tell which chicken laid it. How cool. I wish I could have a little farm, and have chickens that laid blue eggs, and goats and cows and bees. I wonder if there are other Manhattanites living in our dense urban environments who also have similar wanna-be-farmer dreams. (Our friend isn't a farmer though, he used to be a chef. And living in Vermont, he has enough space to have chickens. Lucky guy.)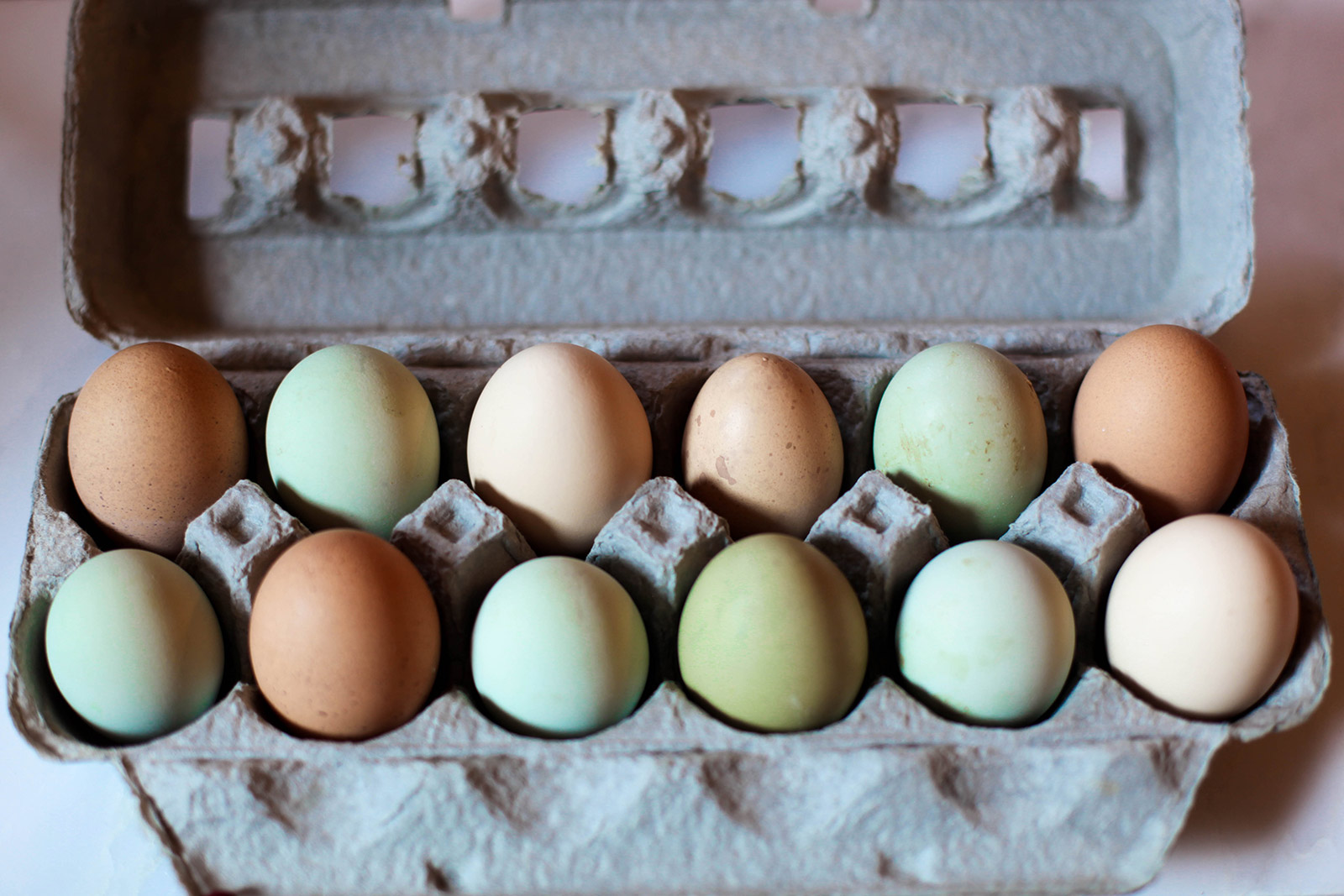 Anyway, I had to make something with these eggs. While I was told they taste the same as regular brown eggs, I just didn't want to make plain scrambled eggs or an omelette with these. These special blue and green eggs deserved a less boring treatment. So, I thought why not showcase them nestled snugly in a crispy potato cake.
Potatoes and eggs go so well together. Every culture seems to have a variation of this breakfast/brunch item. Americans have hash browns, the Swiss have rosti, Bangladeshis have alu bhaji (I'll have to share the recipe for that at some point). My recipe here is kind of like alu bhaji turned into rosti, soft on the inside, crisped on the edges with a crunchy bite. And with little nests of gooey baked eggs. I decided to top it off with toasted pumpkin seeds, fresh chives, and cilantro. Turned out really well. My sister who dropped by, had some, and she thought so too.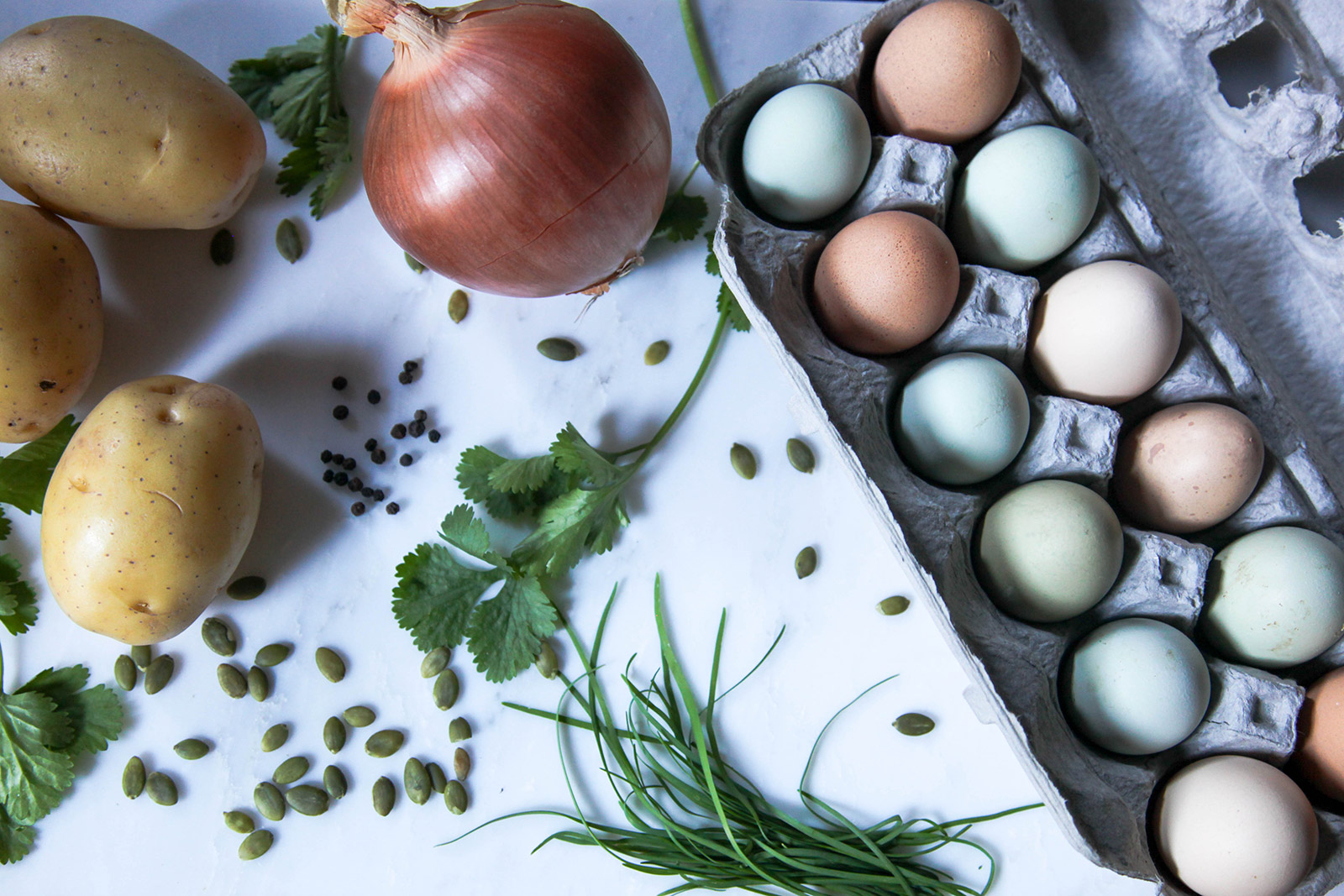 I served it straight from the cast iron skillet. And we had fun scraping out the crispy bits from the bottom. Tasted sooo good biting into it with the soft eggs. Did justice to the blue eggs!
To get the crispiness, you'll have to spend a little effort and squeeze the liquid out of the shredded potatoes and onions (otherwise the cooked mix will just be soft and soggy). And use the broiler to get the top to crisp lightly.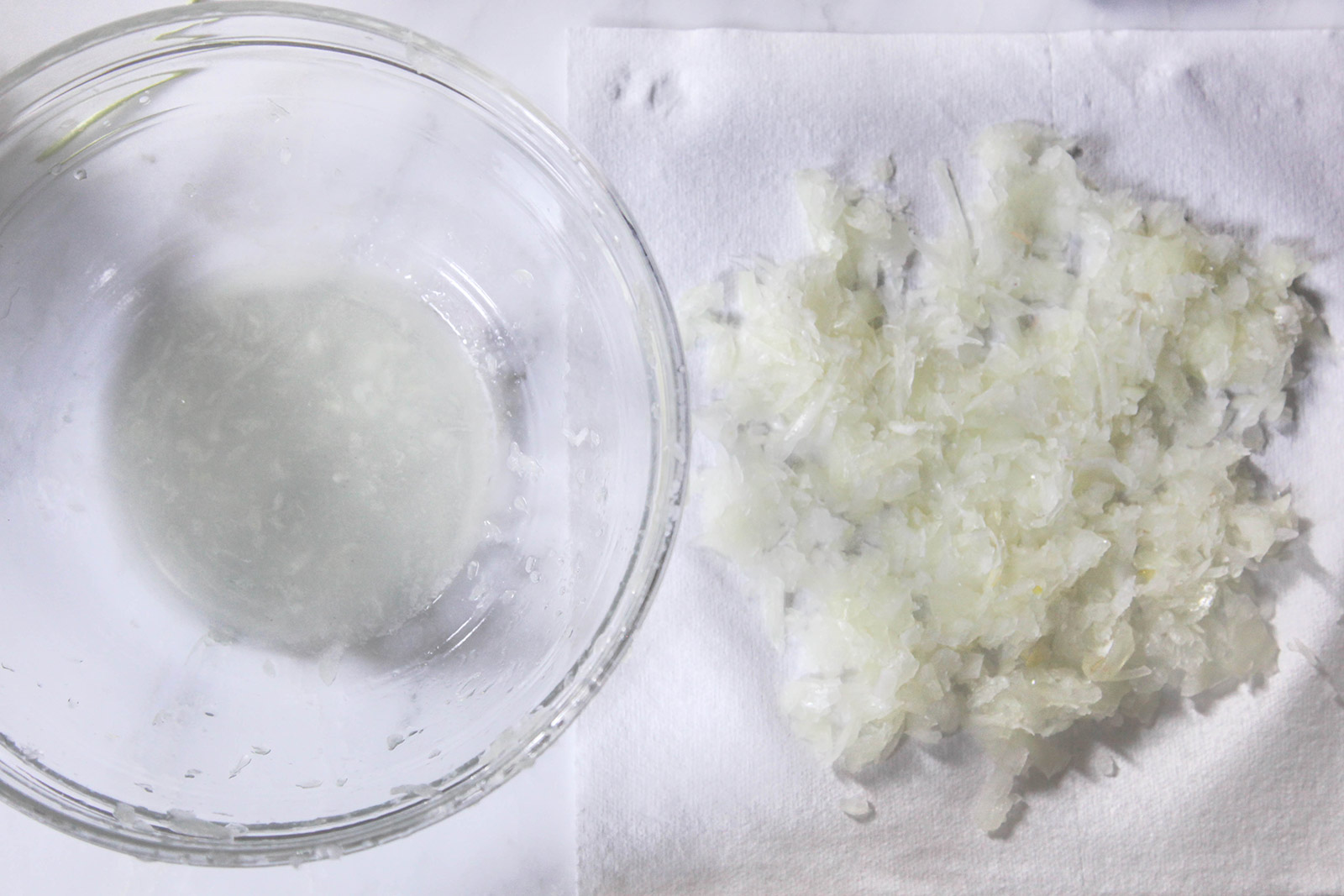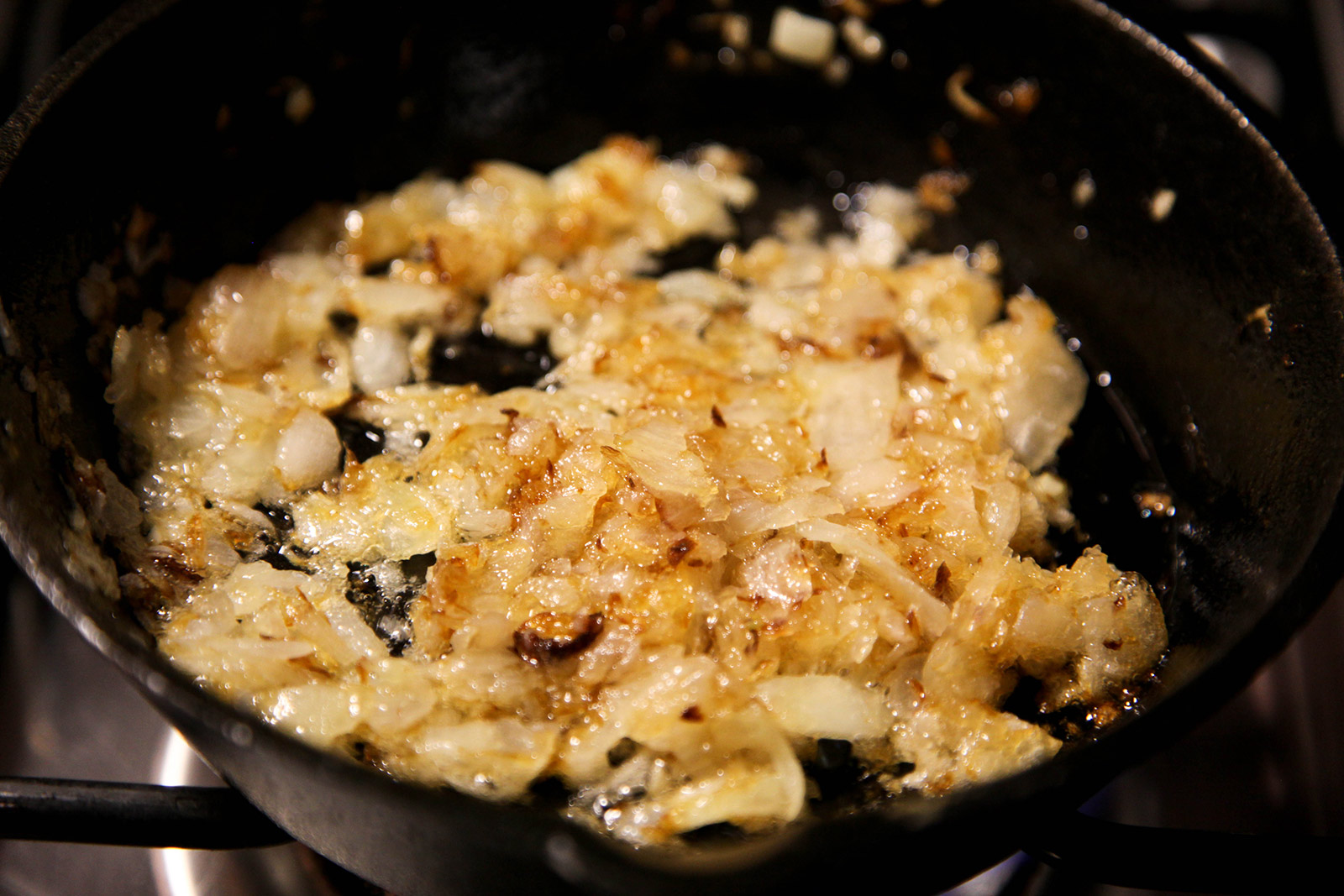 Soft Baked Eggs Nestled in Crispy Potato Pancake, topped with Fresh Chives and Toasted Pumpkin Seeds
SERVES: 2
INGREDIENTS
3 potatoes (2 cups), peeled and shredded

1 onion (3/4 cup), peeled and shredded

3/4 teaspoon salt (or to taste)
1/2 teaspoon freshly ground black pepper
2 tablespoons oil
1/2 tablespoon butter
3 eggs
1 teaspoon pumpkin seeds, toasted
1 tablespoon fresh chives, chopped, for garnish
Handful of cilantro leaves, chopped, for garnish
METHOD
Peel and grate onion using the large holes of the grater. Squeeze out liquid from the shredded onion using your hand, and transfer the squeezed shredded onion to a paper towel.

Peel and grate potatoes using large hole of grater.

Squeeze the shredded potatoes with your hand to remove excess liquid (potatoes have quite a bit of liquid, and in order to get the crunchy texture, try to remove as much of the liquid as possible).

Transfer the shredded squeezed potatoes to a platter lined with a paper towel to absorb any additional liquid.

Heat a small oven-proof skillet over medium high heat on the stove (I use a cast iron skillet). Add oil; the oil should form a thin layer over the bottom of the pan. Test with a slice of onion to make sure oil is hot enough – if the oil starts bubbling when you drop in the onion, it's hot enough.

Add the shredded onions, stir-fry until light brown.

Add butter, potatoes, salt, pepper, and stir-fry for about 10 minutes, till potatoes are soft and cooked through. Flatten the potatoes down with back of your spoon or spatula, and cook for another 5 minutes till they look golden on top.

Remove the skillet from the stove, and slide it under the broiler. Leave for about 2 minutes, until crisp on top. (If you leave it in for more than 2 minutes, it may get burnt).

Remove skillet from broiler, turn off broiler, and heat oven to 450 F. Let the skillet cool on the stovetop for 5 minutes.

In the meantime, toast pumpkin seeds on a small dry pan over medium heat.

After about 5 minutes, when potatoes have cooled a little, make 3 holes in the pancake, drop in the eggs in the holes. Put skillet into the oven and bake till eggs are done to your desired level of runniness. I leave the light on in the oven and open the door to check after a couple of minutes to make sure the whites have cooked through but the yolk is still soft.

Sprinkle with chives, cilantro leaves, and toasted pumpkin seeds. Serve immediately.