Sautéed Spiced Butternut Squash
Bengali mishti kumra (no onion, no garlic)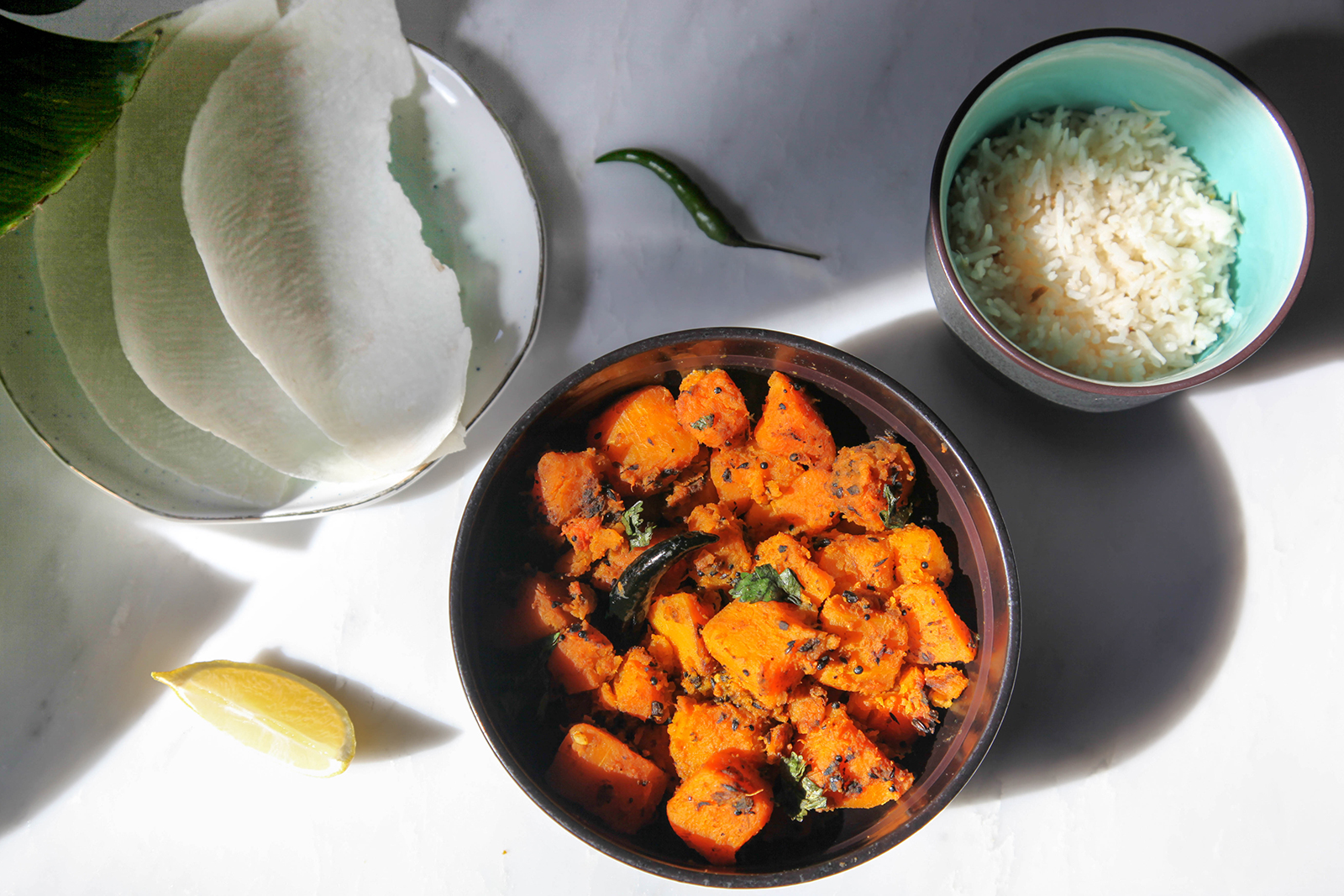 I love Bangladeshi style sautéed pumpkin, and I shared the recipe for it on my blog here. My brother also loves this dish, and he thinks when I cook it it's close to how our mom used to make it. So when he comes visiting from Switzerland, he always asks me to make it. He was visiting from Geneva recently, and the "mishtikomor" dish was one of his two requests for a little dinner gathering I had for him.
Unfortunately, since I was on the fodmap diet I wasn't allowed pumpkin, or onions or garlic. I could substitute butternut squash for pumpkin so that wasn't a problem. The bigger issue was how to cook this dish without onions or garlic. Onions and garlic form the base of a majority of Bangladeshi dishes, so my first instinct was it was sacrilege to even think of making it without them. Then I remembered a simple style of bengali cooking where vegetables are cooked sometimes without onions and garlic. I pulled out my bengali cookbooks, looked at recipes for inspiration, and finally created this version that seemed like it would work. I was worried of course that it might turn out to be a disaster. I don't usually use my guests as guinea pigs for something I've never cooked before. But big relief! My brother loved it and so did everyone at dinner. There wasn't even one bite left, and there were actually requests for the recipe.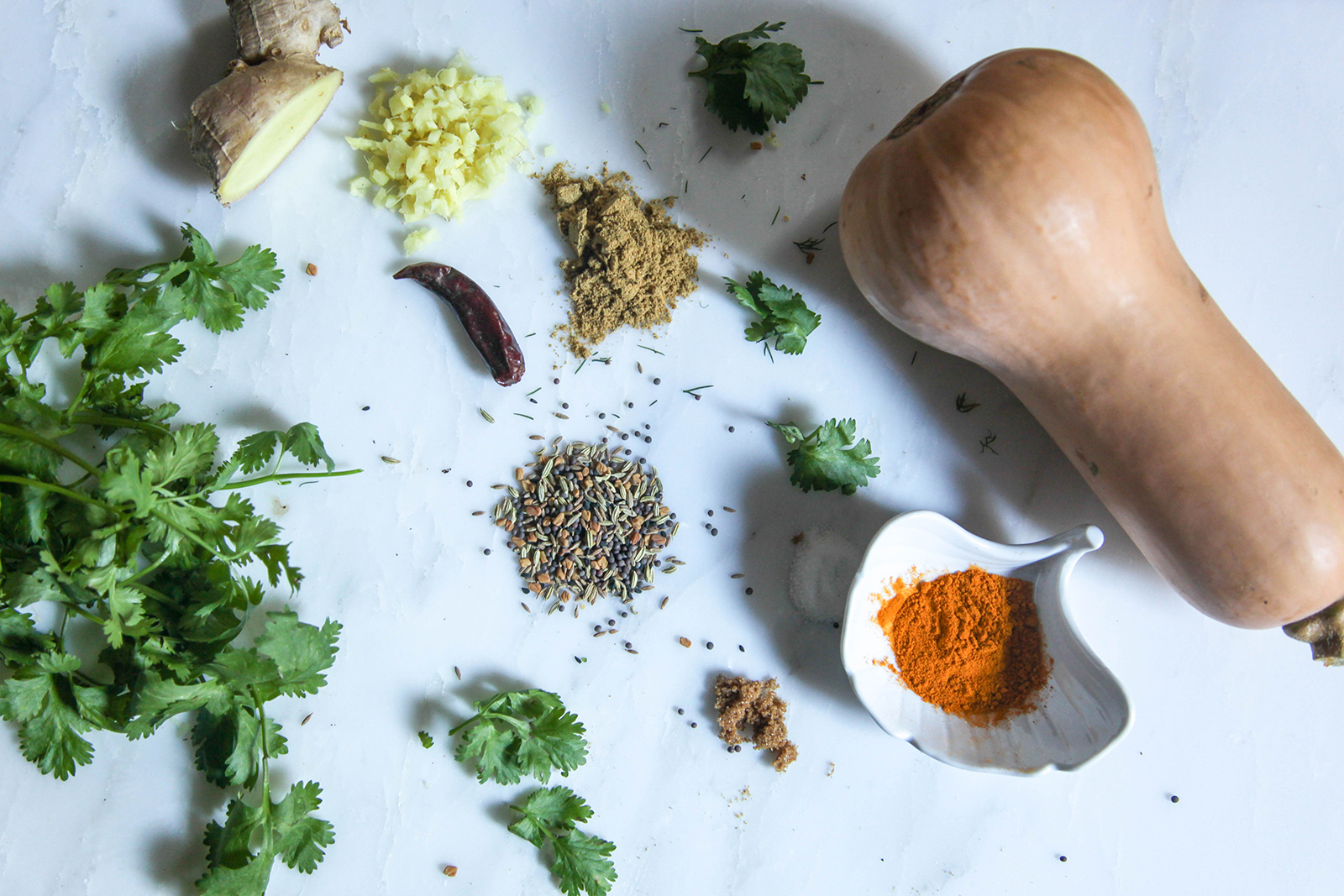 Since this recipe has no onion and no garlic, it's even simpler to prepare. I've used panch phoron seeds for flavor. They give off a fantastic aroma as soon as you start dry-roasting and add a wonderful taste to the dish. You can find them in international spice stores, or make your own. It's basically a 5-spice blend that is used in Bengali cooking, and includes in equal parts the whole seeds: cumin, fennel, fenugreek, black mustard, and nigella.
Sautéed Spiced Butternut Squash | Bengali mishti kumra (no onion, no garlic)
INGREDIENTS
3 cups butternut squash, cubed
2 tablespoons ginger, minced
1 teaspoon turmeric powder
1 whole dried red chili
2 teaspoons panch phoron seeds
1 teaspooon salt (or to taste)
1/2 teaspoon brown sugar (optional)
about 3 tablespoons oil
1/4 cup water
coriander leaves, for garnish (optional)
fresh lemon slices, to serve on the side when eating
METHOD
Heat pan on medium heat and add oil.
When oil is hot (about 2 minutes, it will start shimmering, but make sure it's not so hot that it starts smoking), add dried red chili and the panch phoron seeds. Since the oil is hot enough at this point, the seeds will start sputtering immediately and there'll be a wonderful aroma. Stir-fry for 30 seconds (no longer, otherwise they'll burn).
Add ginger and stir-fry for about 2 minutes (or until the ginger starts getting brown).
If using shrimp, add the shrimp, stir and cook for a minute.
Add the butternut squash, and stir throughly to make sure the cubes are all coated in the oil and ginger-seeds mix. Stir-fry for about 2 minutes.
Add turmeric, coriander powder, sugar, and salt. Stir for a minute, incorporating the spices.
Add water, stir thoroughly, cover and cook over low heat for 7-10 minutes. Open the lid and stir occasionally during this time to check the texture, and make sure the squash isn't overcooking or disintegrating. Final texture should be soft, but the cubes should retain their shape.
Garnish with fresh cilantro leaves when done.
Remove from heat, serve with rice or tortilla or chapati. This makes a great side dish, but you can have it as a main dish too.